By Ken Silva pastor-teacher on Aug 18, 2011 in AM Missives, Current Issues, Emergence Christianity, Emergent Church, Features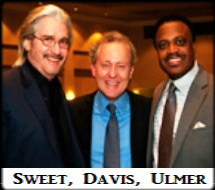 In articles like Rick Warren, John Piper & Contemplative Spirituality/Mysticism and Word Faith Heretics Like Creflo Dollar Draw Nearer To Evangelical Acceptance here at Apprising Ministries I've been showing you that there's a growing inbred spiritual monkey business going on within spineless evanjellyfish.
The more technical term for this New Downgrade No-Controversy would be syncretism, which means there are indeed Dark Days Ahead for God's actual people to walk through with Jesus as He sends His judgements upon the visible Christian church (cf. 1 Peter 4:17).
Yet another example of doctrinal lines blurring would be "The Adrian Rogers Preaching Symposium" where this September 7-9 the North American Conference on Biblical Preaching tells us they:
will honor one of the greatest Biblical preachers of all time, through "The Adrian Rogers Preaching Symposium." Throughout the entire conference, we will hear directly from Dr. Rogers in every plenary session, regarding pertinent elements of effective expository preaching for today. (Online source)
One of the events co-hosts is Dr. James Davis, AoG background and:
Founder of Cutting Edge International and Cofounder of Billion Soul Network, a growing coalition of Christian ministries and denominations.

Working together, this coalition is building the premier community of pastors worldwide in order to facilitate a global thrust to plant five million new churches and lead one billion people to Christ. (Online source)
The other is Dr. James Merritt, president of the Southern Baptist Convention from 2000-2002, and:
one of the most sought after presenters in the global Church today. Having served as the President of the Southern Baptist Convention and founding pastor of Cross Pointe in the Greater Atlanta area, he brings enormous creativity to the North American Conference on Biblical Preaching. His weekly messages are heard around the world have stirred millions to follow Christ. (Online source)
If you don't know, the late Adrian Rogers was the pastor of:
 Bellevue Baptist Church in Memphis, Tennessee, [which] grew from 9,000 members in 1972 to more than 29,000 at his retirement in 2005.

And Adrian Rogers was a leader in his denomination, serving three terms as president of the Southern Baptist Convention. (Online source)
Now don your mud gear as we're about head out mentally off-roading into the postmodern Wonderland of Humpty Dumpty language. In fact, this is a big reason for the near obliteration of doctrinal lines.  
Adrian Rogers was undoubtedly a conservative Protestant evangelical, and was actually instrumental in advancing Biblical doctrine during the liberal-conservative controversy within the SBC in the late 1970's.
This all in mind, in a letter addressed, "Dear Visionary Leader," we're told by the North American Conference that:
For 48 hours, immerse yourself in the creative wisdom of some of North America's leading expositors with a spectacular group of pastors and ministers who live your dramas and share your dreams. (Online source)
Ok, so we're to bask in "the creative wisdom" of a group of "North America's leading expositors," and to exposit is to carefully explain the Scriptures, with "a spectacular group of pastors and ministers." We focus on but one here.
Before we do, let's note that this superstar selection of pastors and ministers live our "dramas and share [our] dreams." Whatever that means, one of these is early Emergent Church theologian Leonard Sweet:
I told you we were headed into a land where words have no fixed meaning; as we're told Leonard Sweet is "one of the top Evangelical leaders." Essentially the word has become meaningless; and Sweet is a minister in the rather liberal United Methodist Church.
As someone who's tracked the neo-liberal cult of the Emergent Church aka the Emerging Church I can tell you that Sweet is hardly known as anything close to being an expositor of Holy Scripture; nor is he consistent with historic evangelicalism.
Furthermore we're told Sweet's about "converting a post-Christian generation to faith in Christ." Post-Christian is a meaningless term; no one who has become a Christian becomes "post-Christian." Either you are a Christian; or you're not.
Likely it refers to the fallacious idea that we are living in a post-Christian nation; however, that assumes it was once Christian. Specific to Sweet himself and "converting" people to Christ, to have any part in doing so, you'd have to preach the Gospel.
This is heart of the matter as to why Leonard Sweet should never have been included in an event involved in any way with Adrian Rogers. In Giving Leonard Sweet A Nudge I reminded you of an earlier book of Sweet, which he co-wrote with Frank Viola.
I told you that its title, Jesus Manifesto (JM), is a bit of a play on words as in Jesus Manifest-o. You need to know that in JM Sweet and Viola use the mystic Meister Eckhart in chapter four to attempt to make this point: God is nearer to me than I am to myself.
This would only be true for the regenerated Christian; and later Eckhart's brought in again to try and establish the mystic belief of some alleged "true self" as Eckhart is cited as saying: "No one can know God who does not first know him/herself."
In a footnote in the back of the book we're told Eckhart actually said: "How can man know that he knows God, if he does not know himself." But this is merely the kind of nonsensical i.e. irrational Eastern philosophy enjoyed by mystics.
The Christian knows the Scripture teaches that no one can know God without Christ. You should know that Meister Eckhart was even considered heretical by the apostate Church of Rome, whom he served spreading its non-gospel in the antibiblical Dominican monastic tradition.
Eckhart, like all classic mystics, was a universalist. In fact, in his own book Emerging Church leader Samir Selmanovic, who is also a universalist known for his "interspiritual" work, tells us:
Meister Eckhart said that our religions are like houses. Each house has a trap door somewhere down in the basement, and if we go deep enough, we will fall through the trap door into a river that flows beneath all of us. Beautiful, I thought. [1]
Translation: Eckhart is talking about what's commonly called "a spark of the divine," which is supposedly within each "house"; i.e. all of mankind, and the flowing "river" is God. [2]
Eckhart also clearly contradicts God's Word in Scripture with a denial of the doctrine of regeneration when he teaches, "Every creature is full of God and a book about God."
That Leonard Sweet himself believes this is easily confirmed in the tweet Sweet sent May 12, 2010, which I personally captured below:
The fact of the matter is, Sweet's panentheistic theology and mystic mythology hasn't changed despite what he said in his rather patronizing A Response to Recent Misunderstandings, which is just chock full postmodern Humpty Dumpty language, i.e. doublespeak.
In closing this. for now, Christian missionary Sandy Simpson of the respected online apologetics and discernment ministry Deception In The Church put together an excellent and detailed piece where he collected together many Leonard Sweet Quotes.
And the truth is, despite his insinuations to the contrary, absolutely nothing Simpson quotes Sweet as saying in there, or in my own earlier article Emergence Christianity: Quantum Shift To Panentheism, has been formally retracted by Leonard Sweet.
________________________________________________________________________________
Endnotes:
Back to note 1 — Samir Selmanovic, It's Really All About God: Reflections of a Muslim Atheist Jewish Christian [San Francisco: Jossey-Bass/Wiley, 2009], 262.
Back to note 2 — I refute this Biblically in Understanding The New Spirituality: God Indwells Mankind.
 See also:
EMERGING CHURCH THEOLOGIAN LEONARD SWEET AND CALVARY CHAPEL OF ALBUQUERQUE