By Ken Silva pastor-teacher on May 27, 2010 in Current Issues, Emergence Christianity, Emergent Church, Features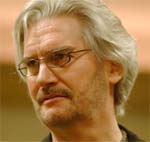 Yesterday Emerging Church evangelical theologian Leonard Sweet tweeted:
 "Go tell your friends what great things the Lord has done for you" (Mark 5:19). The "good news" is about "great things" stories . . . (Online source)
No Leonard Sweet, the Gospel is about repentance and the forgiveness of sins in Jesus' Name; the great thing our Great God and Savior Jesus Christ did in His finished work on the Cross.
Odd that he would tweet the above because Leonard Sweet himself wrote, along with Frank Viola, in their "Manifesto" last year:
Christians don't point people to core values; Christians point people to the cross.
(Online source)
See also:
EMERGING CHURCH THEOLOGIAN LEONARD SWEET AND CALVARY CHAPEL OF ALBUQUERQUE
CONCERNING LEONARD SWEET OF THE EMERGING CHURCH AND CHRISTIAN EDUCATION
EMERGENCE CHRISTIANITY: QUANTUM SHIFT TO PANENTHEISM
EMERGENT CHURCH LEADERS AND ODMS—ONLINE DISCERNMENT MINISTRIES
PHOENIX PREACHER SAYS "ENOUGH" OF ALLEGED "ODMS"
SHAME ON SILVA; PERHAPS IT SHOULD BE ON NEWNHAM