By Ken Silva pastor-teacher on May 27, 2010 in Current Issues, Features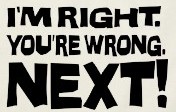 Pastor Michael Newnham aka Phoenix Preacher is angry that his friend, Emerging Church evangelical theologian Leonard Sweet, was "disinvited" to a conference which is to use a Calvary Chapel church's facilities.
And so he shares the below concerning the online apologetics and discernment works Moriel Minstries, Lighthouse Trails Research and Apprising Ministries:
A cursory look at these websites will reveal everyone from Billy Graham to Mark Driscoll to be either heretics or apostates…smeared with vague accusations of being "emergent" or "contemplative" without defining either term.

In the past these sites have been a shameful annoyance, now they've drawn blood… It's time to say ENOUGH! to the accusers of the brethren… (Online source)
See also:
CONCERNING LEONARD SWEET OF THE EMERGING CHURCH AND CHRISTIAN EDUCATION
EMERGENCE CHRISTIANITY: QUANTUM SHIFT TO PANENTHEISM
SHAME ON SILVA; PERHAPS IT SHOULD BE ON NEWNHAM
NEWNHAM: NO CORRECTION WANTED?