By Ken Silva pastor-teacher on Jun 9, 2011 in AM Missives, Current Issues, Emergence Christianity, Emergent Church, Features, Rob Bell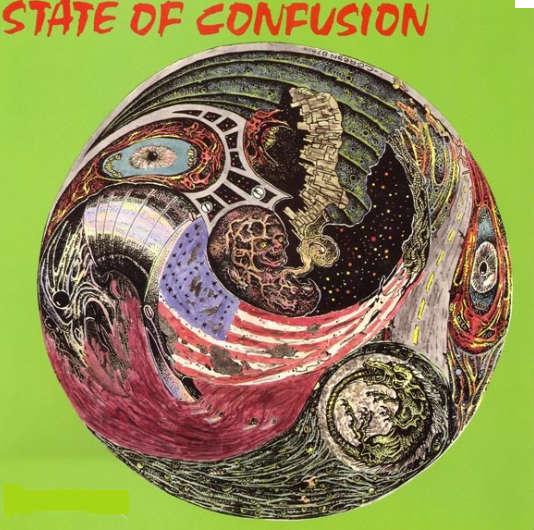 For I want you to know how great a struggle I have for you and for those at Laodicea and for all who have not seen me face to face, that their hearts may be encouraged, being knit together in love, to reach all the riches of full assurance of understanding and the knowledge of God's mystery, which is Christ, in whom are hidden all the treasures of wisdom and knowledge.
I say this in order that no one may delude you with plausible arguments… See to it that no one takes you captive by philosophy and empty deceit, according to human tradition, according to the elemental spirits of the world, and not according to Christ.
(Colossians 2:1-4, 8)
Don't Look Now, But You've Just Entered Into The State Of Confusion
Today the church visible of Jesus Christ world-around is growing to be a very, very confused place as we witness a New Downgrade No-Controversy. Lately I've been pointing this out here at Apprising Ministries, and as long as the Lord chooses to sustain me, I shall continue to bring out that much of evangelicalism never renounced its inherent humanism, and sadly, was crippled from the very inception of the neo-evangelicalism ala Billy Graham et al.
Indeed the testimony of history is clear that the man-centered seeds of the false philosophy of postmodernism, and the centered on self psychobabble of the "new reformation" of Robert Schuller at the corrupt heart of new evangelicalism, were a perfect fit for each other. And later, the postevangelicalism that it would spawn is far worse with its mind-altering Contemplative Spirituality/Mysticism. Anyone with eyes that see will plainly observe it's actually this neo-Gnostic mysticism that's weaving together the three major pillars of Satan's Ecumenical Church of Deceit (ECoD).
The ECoD, daughter of the corrupt Church of Rome with her apostate Roman Catholicism, faithfully following her mother's deceitful spirits and spreading her teachings of demons (cf. 1 Timothy 4:1) has actually been able to sow much confusion into this spineless evanjellyfish camp. A timid bunch of rather spiritually obtuse leaders has been duped into accepting a twisted tolerance, which is actually steeped in the flawed philosophy of relativism–masquerading as postmodernism–until they are now almost convinced that the Protestant Reformation has somehow been done away with.
Such is the price paid by the mainstream of the visible church for embracing false brethren like the unholy trinity of apostates, Living Spiritual Teacher and EC guru Brian McLaren, universalist Emerging Church pastor Doug Pagitt, and his friend Tony Jones, the progressive "theologian in residence" at Solomon's Porch, as well as apostates in the sinfully ecumenical neo-liberal cult of the Emergent Church aka the Emerging Church such as the Emerging Church rock star pastor Rob Bell, co-teaching pastor at Mars Hill Bible Church along with his good friend and fellow apostate Shane Hipps.
Some whine: You dare call Rob Bell an apostate. Read my keyboard; yep, absolutely. As with the unholy EC trio Bell spews the same quasi-universalism in their new version of postmodern Progressive Christian theology under the spiritual circus "big tent" of Emergence Christianity. I'm hardly alone; consider the following from Dr. John MacArthur, a prominent elder in the wider visible church, concerning Rob Bell who:
makes it inescapably clear that he "advocates a different doctrine and does not agree with sound words, those of our Lord Jesus Christ" (cf. 1 Timothy 6:3). He is wrong—seriously wrong—heretically wrong—to question the justice of God and to hold out false hope to unbelievers. He is, as we have seen from the start of this series, a textbook example of the false teacher who secretly introduces destructive heresies (2 Peter 2:1).

That must be said plainly and emphatically. Just how serious is Rob Bell's heresy? It is not merely that he rejects what Jesus taught about hell; Bell rejects the God of Scripture… [Bell] tries to eliminate the authority and clarity of Scripture so that he can reinvent a god who is more to his liking. It is the sin of all sins; the sin of the serpent. Like Eve's tempter, Bell is subtly but undeniably fomenting rebellion against the true God.

He suggests that he is better—nicer, more kindly, more tolerant, more lenient—than the God who has revealed Himself in Scripture. He therefore sets aside God's revealed Word and makes his own musings the inviolable standard. In effect he wants to assume the role of God for himself. That is not a minor evil; it is epic. It is the original sin of Lucifer. (Online source)
As I said before in Rob Bell And Postmodern Neo-Liberalism, concerning those who perpetrate this different gospel Rob Bell rings, the question then becomes: Why aren't evangelicals having no small dissension and debate with them (cf. Acts 15:1-2), but instead continue to allow these enemies of the cross of Christ (cf. Philippians 3:18) free reign within mainstream evangelicalism to teach their younger sectors? So I wonder, has the heart of the visible church really become so pathetically weak that we won't even defend the Gospel of Jesus Christ anymore?
I do shudder to think what would happen today if Arius had arisen in this gelatinous generation within spiritually squishy mainstream evanjellyfish. It's against this canvas of compromise that I now point you to the The Christian Post piece Postmodernism Myth Fueled Rob Bell vs. Piper Debates, Says Author where CP correspondent Eryn Sun reports:
We are not in postmodern times, one author emphasizes, saying the sooner we realize that, the better. Hoping to debunk what he calls the myth of modernist Christians vs. postmodern Christians, author and speaker Mark Sayers posted an article on his website explaining why he believed there was no such thing as a postmodern Christian – because to him, postmodernism was never an epoch.

"For the last ten to fifteen years a great fallacy has clouded debate around the future of the Church in the West. The fallacy goes something like this. At some stage…the postmodern era began.  All of a sudden everything changed and a line was drawn in history. On one side were the postmodernists and on the other the modernists."

The postmodernists…were everything that the modernists were not. They loved spirituality instead of religion, embraced the non-West, the past, and anything experiential.
(Online source)
Not that I necessarily agree with all of the conclusions reached by Sayers, however, he just precisely described the Emerging Church rebellion against the final authority of God's Word; which in closing this, for now, brings us nicely back around to Rob Bell, with his postmodern neo-liberal Love Wins mythology, and the tweet below from Tripp Fuller. You may recall Fuller from The Emerging Church And Progressive Christian Theology After Google where the aforementioned Tony Jones explained that he works closely with process/panentheist theologian Dr. Philip Clayton as part of his Transforming Theology (TT) team.
Clayton has said this TT project is designed to "move beyond" the historic, orthodox, Christian faith preached through the years by men e.g. like Charles Spurgeon and A.W. Tozer, which Clayton calls "an irrelevant, and abstract, theology." So Clayton and TT got in lock-step with Heretics-Я-Us in the now upgraded Emerging Church 2.0 to cobble together a new kind of "theology which is transformative"[1]; one that has now become the "big tent" postmodern Progressive Christianity I mentioned above.
Fuller is also host of the aptly titled Homebrewed Christianity, where in true postmodern centered on the self form he tells us we can "brew [our] own faith in [our] own context."[2] See, now we can all have our very own Christianities. Today in response to EC Presbymergent Adam Walker Cleaveland Fuller would tweet:
The link takes us to Love Wins with Rob Bell: Homebrewed Christianity 106 where Fuller divulges:
This week Rob Bell is on the podcast. That's right, Rob Bell brings his awesomeness to the number one theological podcast on the interwebs. We would like to thank Deacon Zach Lind of Jimmy Eat World for the hook-up! (Online source)
You might remember I told you in Contemplative Spirituality/Mysticism Produces A False Sense Of Reality that Zach Lind is a good friend of EC icon Rob Bell. More on this another time; for now, keep in mind as you listen to this interview with Rob Bell that he's with his own kind here. Remember, the spiritually warped Fullers and Linds of the world are as sympathetic to Bell's mythology as he is to their synthetic sense of reality. In other words, they're all peas in the same corrupt spiritual pod.
Such as these can't even see the genuine Christian faith from their position in spiritual outer space…
_________________________________________________________________________
End Notes:
[1] http://tiny.cc/m4c05, accessed 6/9/11.
[2] http://tiny.cc/ky1rp, accessed 6/9/11.
See also:
PHILIP CLAYTON AND HIS TRANSFORMING THEOLOGY
THE EMERGING CHURCH, PHILIP CLAYTON, AND NEW PROGRESSIVE THEOLOGY
ROB BELL DEFENDING LOVE WINS MYTHOLOGY
THE NEW CHRISTIANITY OF BRIAN MCLAREN AND THE EMERGING CHURCH
TONY JONES, THE EMERGING CHURCH AND PROGRESSIVE CHRISTIANITY
THE EMERGING CHURCH AND THE NEW PROGRESSIVE THEOLOGY ON OTHER RELIGIONS