By Ken Silva pastor-teacher on May 27, 2011 in Current Issues, Features, Rick Warren, Southern Baptist Convention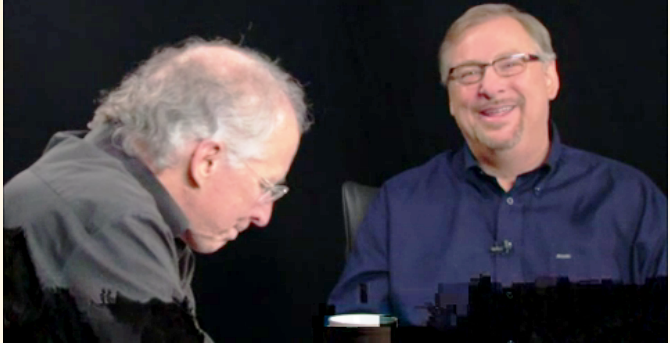 Apprising Ministries has pointed out that a part of our labor in the Lord is our documenting of the painfully obvious New Downgrade going on within mainstream evangelicalism; not unlike The Downgrade Controversy Charles Spurgeon dealt with many years ago, which should be more and more obvious, at least for those blessed by God with eyes that see.
You should know that the root of this growing apostasy roughly begins with the charismatic revival circa 1960 as it later spreads through the Jesus People/Movement in the early 1970′s and out into various mainline denominations as well as into what became the Fuller Theological Seminary School of World Mission.[1]
I've pointed out before it's critical for you to realize that this is the spiritual cesspool from which the new liberalism of the seeker-friendly/sinner-sensitive methodology of letting culture define the church visible would spring.
Then, because coverting this pathetic people-pleasing compromise is a large part a part of my labor in the Lord, I will tell you again that it's very likely history will come to remember this gelatinous generation for it's Downgrade No-Controversy unlike Spurgeon's time in history. Unfortunately, it doesn't appear there's a Charles Spurgeon anywhere on the immediate horizon.
Herein lies the proper backdrop upon which to see that in John Piper Interviews Rick Warren At Saddleback it's becoming much clearer that Dr. Piper has decided to continue with his reconstruction of the ministry of the Purpose Driven Pope Rick Warren. It actually begins when Dr. John Piper made the decision to ask Rick Warren to be a keynote speaker for the Desiring God Conference 2010, which briefly opened up a little bit of a Warrengate along the blogosphere.
Now, it seems, Piper's become "appalled at the kinds of slanders" that have supposedly been leveled at Warren; and Piper is already on the record as having stated:
At root I think [Rick Warren] is theological and doctrinal and sound. (as cited Online source)
In my aforementioned piece I noted via an update that not more than an hour or two after my piece went online at AM the page to the interview of Rick Warren by John Piper would vanish. I already had on file the pdf transcript done by Warren's people and also put it at the bottom of that article because it had been removed from the Pastors.com website as well.
So I will remind you here that previously in John Piper Interview With Rick Warren Vanishes I provided all of the documention that was originally there, e.g. the below:
As you can see, Saddleback's spin is that this "inspiring interview gives us deeper insight in to" its pastor Rick Warren. Upon further investigation sources close to both Warrens' Saddleback and Piper's Desiring God made it clear there had been an apparent mixup and Saddleback wasn't supposed to have put this online; it seems DG wanted it to be on their website being that it was John Piper interviewing Rick Warren.
Today this interview reappears, sans the transcript at the bottom of this article, on the DG Website as Piper's post John Piper Interviews Rick Warren on Doctrine.
*Note* As of 5/30/11 This video was embedded within this post but now apparently the embed is no longer available.
In closing this, for now, I bring to your attention that Piper tells us:
This 98 minute interview that I did with Rick Warren was recorded on May 1, 2011, during the Desiring God Regional Conference at Saddleback Church. It's the fulfillment of a commitment we made when Rick was not able to come in person to the Desiring God National Conference in Minneapolis in October, 2010.

The nature of the interview is mainly doctrinal. I read Rick's The Purpose Driven Life with great care. I brought 20 pages of quotes and questions to the interview. You will hear me quote the book dozens of times. With these quotes as a starting point I dig into Rick's mind and heart…

My aim in this interview is to bring out and clarify what Rick Warren believes about these biblical doctrines. In doing this my hope is that the thousands of pastors and lay people who look to Rick for inspiration and wisdom will see the profound place that doctrine has in his mind and heart…

Rick and I are very different in methodological instincts and inclinations… But then I am not even close to the fruitful evangelist that Rick is. We both have chosen risky ways. There are pitfalls of short- and long-term unfruitfulness. But in the end we do not govern the impact of our lives. God does.

We do what the Bible and our hearts call us to do. I believe Rick's is a faithful heart. Listen to the clarity of his doctrinal commitments and hear the heartbeat of his love for Christ and those perishing without him.

Let this remarkable testimony of faith send you down into the Word of God for a deeper understanding of God and his ways. (Online source)
John Piper Interview Pastor Rick Warren Transcript
________________________________________________________________________________
Endnotes:
[1] http://tinyurl.com/2do9obh, accessed 5/22/11.
See also:
IS THIS DOCTRINAL AND SOUND DR. JOHN PIPER?
SADDLEBACK CHURCH OF RICK WARREN USING ROB BELL TEACHINGS
RICK WARREN AND ROMAN CATHOLICS
KAY WARREN, RICK WARREN, & PRAISING MOTHER TERESA
SADDLEBACK CHURCH, RICK WARREN, AND SPIRITUAL DISCIPLINES
THE DANIEL PLAN OF RICK WARREN ENCOURAGES UNBIBLICAL MEDITATION