By Ken Silva pastor-teacher on May 19, 2011 in Current Issues, Features, Rick Warren, Southern Baptist Convention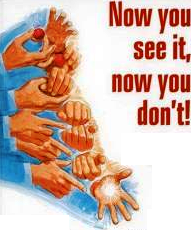 Yesterday in John Piper Interviews Rick Warren At Saddleback the online apologetics and discernment work Apprising Ministries drew your attention to the Pastors.com website of Rick Warren and the Piper & Warren Interview video, which I said you can view on that page itself right here:
As you can see Saddleback's spin is that this "inspiring interview gives us deeper insight in to" Purpose Driven Pope Rick Warren.
However, as I later told you via an update, almost immediately after the article went online here at AM in the early afternoon that page link to the interview of Rick Warren by John Piper vanished into the Internet ether.
Since I've been covering Warren's antics for 6 years now I know it's not uncommon for the long arm of Saddleback Church to remove or hide webpages for their pastor, kind of like a spiritual version of the Teflon Don.
Well, sure enough, as soon as I double-checked the links later, it and the pdf transcript I quote from in the aforementioned article, were gone.
However, I was able to retrieve the video page, which you can still see here:
At the time of this writing, if you use "the link to this page" you are directed right back to the front page of the website. In addition, where once you could still access and watch the video, now the server cannot be found:
Then when one tries to search for this interview now you get the following:
If you click on the first two links, "John Piper interviews Rick Warren," for some reason unknown at this time you're simply again directed back to the front page.
The bottom link Desiring God Regional Conference at Saddleback Church – Pastors.com brings you to the promo below:
So, it strikes me as rather odd that a May 1st interview conducted by John Piper with Rick Warren, which was available at this website of Warren would suddenly be withdrawn from availability, with no explanation I've seen, just a short time after Apprising Ministries pointed you to it.
There had been a full transcript of the interview as well as video and audio downloads that are also not available anymore. However, I was able to procure a copy of the transcript where in the introduction we're told:
On May 1, respected author and speaker  John Piper sat down with Rick Warren, pastor of Saddleback Church. Piper quizzed Warren on the doctrine surrounding his book, "Purpose Driven Life." Piper presents Warren with direct and relevant questions about his influences, why he wrote the book, and how he defends the declarations he makes.

Watch as Piper and Pastor Rick discuss topics such as the glory of God, whether negative life circumstances are caused by God, and more. This informative and inspiring interview gives deeper insight in to the author and pastor.
I don't know about you but this raises some questions for me. Why suddenly wouldn't Rick Warren want us to see, or read, his answers as "Piper quizzed" him? Shouldn't Warren want us to see "how he defends the declarations he makes?"
Perhaps you should contact Saddleback Church to find out why this "informative and inspiring interview" that we're told "gives insight into the author and pastor" Rick Warren is no longer available at Pastors.com at this time.
As a service to you I'm providing this link to Purpose Driven & Rick Warren at Monergism.com with many fine resources that will also provide much insight into the pragmatic Church Growth Movement stylings of Rick Warren.
And then perhaps you might also contact Desiring God and inquire as to why it is that New Calvinist mentor John Piper feels such a great need now to do damage control for Warren and open the door for his human potential semipelagian (at best) teachings into the Reformed camp.
John Piper Interview Pastor Rick Warren Transcript
See also:
IS THIS DOCTRINAL AND SOUND DR. JOHN PIPER?
THE DANIEL PLAN OF RICK WARREN ENCOURAGES UNBIBLICAL MEDITATION