By Ken Silva pastor-teacher on Oct 22, 2010 in Current Issues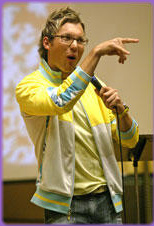 Previously in the Apprising Ministries post Charismatic Quasi-Prosperity Preacher Judah Smith I also reminded you that in Rick Warren Brings Love On Record  Purpose Driven Pope Rick Warren has officially placed his blessing upon the the ministries of the men below in the following tweet:
Here I bring to your attention the last pastor mentioned, Judah Smith, who tweeted a coupe of weeks ago about a conference, which is now underway:
Just a few minutes ago Smith sent out the below tweet:
The interested reader will find the really odd back story for The Prosperity with a Purpose Conference (TPPC) in the aforementioned article on Smith; an leaving aside Rick Warren blesses a ministry with a co-lead pastrix, here I'll just show you that this year's TPPC features Brian Houston of the heretical Hillsong Church and Chris Hill, pastor of Potter's House Denver:
If Potter's House rings a bell; yeah, Hill is undeed a disciple of Oneness Pentecostal heretic and Word Faith mogul T.D. Jakes:
Then in T.D. Jakes Protege, Pastor E. Christopher Hill, to Succeed Bishop Dennis Leonard as Senior Pastor at One of Denver's Largest Churches we're told:
Pastor E. Christopher Hill, protege of influential televangelist T.D. Jakes, is succeeding Heritage Christian Church founder Dennis Leonard as senior pastor of one of the city's largest churches, newly renamed Potter's House Church of Denver… Hill, with 20 years of experience in the ministry, is a former youth and associate pastor of The Potter's House of Dallas, the 30,000-member megachurch founded in 1996 by Jakes. Hill has been an elder of that church for 10 years.

Hill spent the past seven years, however, as a self-described "prophetic traveling evangelist,"… Jakes was in Denver on Wednesday night to preside over Hill's installation as the church's leader… Hill's biography says he began preaching the Gospel before he was 5… While Hill was a child, he said, God gave him a prophetic dream for his future, and his ministry has been devoted to helping others learn how to "discover, develop and deploy their God-given dreams."

Hill's mentor, Jakes, was once strongly identified as a leading purveyor of so-called "prosperity theology," a belief that God rewards his faithful followers with material as well as spiritual gifts. Leonard, also an advocate of the prosperity gospel, drew attention for his lifestyle, including a $1.4 million home in a gated community. (

Online source

)
And this is Chris Hill in action:
In closing this out, for now, I'll simply say such is the way it is now in anything goes evangelicalism.
See also:
ONENESS PENTECOSTAL T.D. JAKES GOES MAINSTREAM EVANGELICAL
KEEPING YOU APPRISED OF: T.D. JAKES ON THE TRINITY
T.D. JAKES: JESUS IS THE PRODUCT
ED YOUNG, JR PAYS HOMAGE TO JOEL OSTEEN
JOEL OSTEEN: APPRISING HIS WORD FAITH TEACHINGS