By Ken Silva pastor-teacher on Oct 10, 2010 in Current Issues, Features, Richard Foster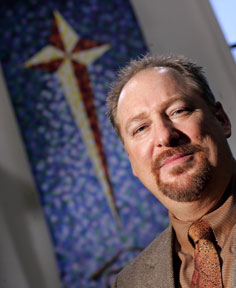 A brother offended is more unyielding than a strong city. (Proverbs 18:19)
 A Big Name In The Visible Church Doesn't Somehow Get A Pass From Their Sin
That's the sad fact. Purpose Driven Pope Rick Warren of the highly influential Saddleback Church is caught in a lie, unless the following—which Apprising Ministries first showed you in Apprising Ministries, Rick Warren, & Twitter—is actually a retweet:
Here's a brief recap concerning the backstory; I showed you before that this is, indeed, the Verified Account of Southern Baptist pastor Rick Warren:
The same alleged retweet is also repeated at Rick Warren's Facebook page as well:
Over the years here at Apprising Ministries I've found that tweets, videos, and posts, regarding Rick Warren have a nasty habit of suddenly diappearing when held up to scrutiny; so to his credit, I'll tell you he has left these online. Now I'm certainly no expert when it comes to Twitter, but I'm informed that "RT" is shorthand for "retweet"; as in when you're reposting something someone else has said.
The key issue in all of this is as follows; for Rick Warren to retweet the tweet in question concerning me, Ingrid Schlueter of the Crosstalk Blog, and Christian apologist Chris Rosebrough, host of the Fighting for the Faith, then something called ApprisingMin and/or something else called DespisingMin would've had to have posted it in the first place.
But as I showed you before, the evidence clearly suggests there never was any intial tweet from either ApMin or DeMin for Warren to have retweeted i.e. he is the originator of this tweet:
As of this writing this remains ApMin's last tweet:
I told you before that based upon some of the *ahem* content on ApMin and DeMin, it's likely these two accounts actually originate with someone who is aligned with a rather rapscallion—and largely Biblically illiterate—bunch crowning themselves Outlaw Preachers, who have slithered up around the original outlaw preacher, the apostate gay-affirming Emerging Church "pastor" Jay Bakker. Being they are hostile to me, we're probably never going to be able to arrive at the truth unless they are honorable.
Having said that, as far as DeMin is concerned, its last tweet indicates that whomever this is has become aware of my Apprising Ministries, Rick Warren, & Twitter post. Interesting to note here that, quite conspicuous by its absence, is any claim to have originated the tweet in question. In other words, if they had written it, this would have been the perfect time to own it; but they did not:
Let's be clear: I have spoken at length with both Ingrid Schlueter and Chris Rosebrough, whom Rick Warren has even met with in person a year or so back, and I know we're not the least upset that Warren has a low opinion of us. All one has to do is Google my name and you'll quickly discover I've been spoken of way more harshly than anything Rick Warren has said publicly concerning me.
It makes no difference to me because everyone who knows me knows I'm nothing at all like the "Ken" of blogosphere lore. This is not about what the tweet says and infers. Here's the issue in a nutshell: If there was no initial tweet, and it's looking more and more like there was not, then Rick Warren has attributed his sophomoric insult to SOMEONE ELSE. If neither Twitter account originated that tweet, then by claiming he's retweeted them Rick Warren is actually lying by implicating them as the source.
Then on top of what is looking like a lie, Rick Warren later attempts to present himself honorable and eloquent by avoiding a "fight" that he himself has instigated; and with this seems to be saying he'll have no further comment to "fools" on this unfortunate matter:
Chris Rosebrough has likened Rick Warren to Bill Clinton; I'll see that and raise it to Warren strikes me as a spiritual version of "The Teflon Don" in that nothing seems to stick to him. Well, as a fellow pastor in the Southern Baptist Convention with Rick Warren, the only thing I insist on is that he be held accountable, if indeed, he is attributing his own words to someone else. To contextualize for the missiologists out there: Warren needs to man up; and he owes those accounts a public apology.
To think, Chancellor of the Bethlehem College and Seminary Dr. John Piper, said of Rick Warren:
I don't think so; and Rick, while we're quoting Proverbs, here's one from my daily meditation in the Scriptures today. Perhaps before you get to your Henri Nouwen material later you'll contemplate this:
Whoever heeds instruction is on the path to life, but he who rejects reproof leads others astray. (Proverbs 10:17)
*UPDATE*
Rick Warren is lying; the tasteless tweet in question was not a retweet at all, as you will clearly see by the following:
See also:
RICK WARREN AND DESTINY DOCTOR LAVERNE ADAMS
DECADE OF DESTINY WITH RICK WARREN
RICK WARREN WANTS US TO LEARN FROM HENRI NOUWEN
RICK WARREN AND PURPOSE DRIVEN ROMAN CATHOLICS
SADDLEBACK CHURCH, RICK WARREN, AND SPIRITUAL DISCIPLINES
REDEFINING THE CHURCH: THE CHURCH GROWTH MOVEMENT'S UNBIBLICAL DEFINITION OF THE CHURCH