By Ken Silva pastor-teacher on Oct 8, 2010 in Current Issues, Features, Rick Warren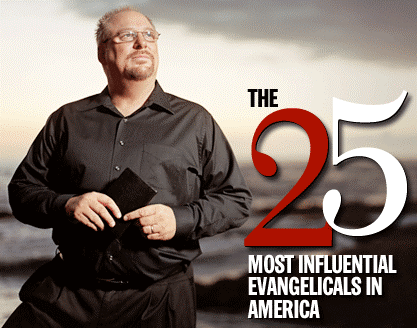 By now likely you know that Dr. John Piper made the dubious decision to feature Purpose Driven Pope Rick Warren as the keynote speaker at the DG 2010 conference Think: The Life of the Mind & the Love of God. Afterward Apprising Ministries showed you what some of the finest writers in online apologetics and discernment ministry had to say by carrying posts like Desiring God Selling Bible Study Method Of Rick Warren!?, Rick Warren—Scripture Twisting Is Not 'Doctrinal And Sound', and Rick Warren: Piper Approved!
One of these, AM and Christian Research Net correspondent Christine Pack of Sola Sisters, has now written an interesting piece called 10/10/10 – Proving Once Again that Paganism is the Natural Default Setting of the Human Mind where she brings out with penetrating insight:
Lots of people are abuzz right now with 10/10/10 fever.  This Sunday, October 10, 2010 – 10/10/10 –  people all over the world are marking this unusual date in interesting ways… One website attempts to imbue this date with significance by claiming a link to the paranormal, metaphysics, chaos theory, destiny, fractals, etc.

Another website promotes an enter-to-win giveaway package, in which 10 lucky couples will win a trip to Las Vegas for the weekend of 10/10/10. That's right, gamblers – who are also romantics! – can get hitched and try to hit the jackpot on one lucky weekend.

Getting married on a "lucky numbers" day?  "Seeing" supernatural significance in numbers that coincide? Scheduling special trips to commemorate the date?  In spite of our supposed sophistication today, isn't this kind of thing, well, suspiciously superstitious…and dare I even say, somewhat pagan? (Online source)
Yes, Christine; it is. And yet, in Dr. Laverne Adams And Rick Warren Driven By Destiny? and Rick Warren Teaching The Law Of Attraction?, I've told you about a spiritually whacked Word Faith flake who goes by the name:
Our "Doctor of Destiny"LaVerne Adams, pastrix of a church self-help center called Cathedral of Praise is fond of musing man-centered mythology like:
Notice, it's not the sovereign LORD God of the universe here; O no, ala the DG 2010 lecture by Rick Warren, we big "dreamers" are the ones who must frustrate "fate" with our own "destiny decision." And Doctor Destiny, who's also an "author, life coach and transformational speaker," has now apparently even developed creative powers complete with the destiny ability to actually speak things into existence:
Wow, tres impressive! Well, here's where Pack's post ties in. Look at the date the Doctor of Destiny's book drops:
As you can see, Dr. Rick Warren of Saddleback Church did the foreword to pastrix Destiny Doctor's book; of which I have obtained a copy. Not unlike his Purpose Driven Life, where he says it's not about you and then spends a couple hundred pages talking about…well—you. After the man-centered destiny drivel we've just read from pastrix Adams, Warren says of our Destiny Doctor:
focusing on ourselves will never reveal our life's purpose. In her book Driven By Destiny, Dr. Laverne Adams provides a very practical plan for not only determing what your God-given destiny is, but also provides a way to move you forward in fulfilling your destiny.
Leaving aside how much of Warren's own pragmatic people-pleasing approach centers upon focusing people on themselves, 1) am I really supposed to believe that before pastrix Destiny Doctor came along I would have difficulty determining my destiny; and 2) doesn't destiny mean:
Why would I need some Doctor Destiny pastrix if my God-given destiny is a predetermined course of events to which I'm destined anyway; hmm, you don't suppose that Rick Warren has now gone over to the dark side of what his pal, master missiologist Ed Stetzer called "angry Calvinists," do you? Be that as it may, remember Pack's post concerning pagan superstition and 10/10/10; I do find it significant to note that in Pastor Rick Unveils Plan for Decade of Destiny and Challenges the Men of Saddleback we find:
And what do you know, the mentor of Rick Warren, Robert Schuller, whom Bob DeWaay refers to as modern founder of the Church Growth Movement also has a very special service this 10/10/10 as well. Schuller and his pastrix daughter will share "incredibly inspired messages" because they want us to:
Sadly, in the case of Rick Warren, all this kind of skubalon is still stuck on his shoes.
See also:
APPRISING MINISTRIES, RICK WARREN, & TWITTER
DECADE OF DESTINY WITH RICK WARREN
RICK WARREN WANTS US TO LEARN FROM HENRI NOUWEN
WARRENGATE, RICK WARREN AND THE SYNAGOGUE 3000 LEADERSHIP NETWORK
RICK WARREN AND PURPOSE DRIVEN ROMAN CATHOLICS