By Ken Silva pastor-teacher on Oct 8, 2010 in Current Issues, Features, Rick Warren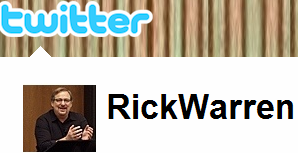 It's no secret that the online apologetics and discernment work Apprising Ministries is a leading critic of Rick Warren of the highly influential Saddleback Church who, like me, is a pastor within the Southern Baptist Convention.
One of my writers over at Christian Research Network made me aware today of the following tweet, which would appear to be from Rick Warren:
As you can see, it is his Verified Account:
It struck me rather odd. However, initially my attention was also drawn to something called ApprisingMin, which apparently tried to pass itself off as being the Twitter account for this labor in the Lord.
While perusing it, I would hope that people would be able to tell this is not me; say what you will about my style, this quite obviously is not it. The fact is, though there are those who have suggested it, at this time Apprising Ministries is not on Twitter at all; and certainly not as something else called DespisingMin.
Thats aside, and I'm certainly no expert, I am informed that "RT" is short for "retweet," as in when you're reposting something someone else has said. However, in looking over those other two accounts Rick Warren RT'd, I wasn't able to locate that tweet on either site.
At the time of this writing, the last one for ApMin is this tweet:
As far as DeMin, this is the last tweet:
Just a quick side note, based upon the tweet below and some of the *ahem* content on DeMin, it's likely that these two accounts actually originate with someone who is aligned with a rather rapscallion—and largely Biblically illiterate—bunch crowning themselves Outlaw Preachers, who have slithered up around the original outlaw preacher, the apostate gay-affirming Emerging Church "pastor" Jay Bakker:
Now, it would appear most peculiar that this retweeted post by Rick Warren doesn't seem to be on either account at all. Although I may have missed it when I checked, being there's a ? in front of this tweet in question, perhaps it isn't a retweet at all.
I'm not very tech saavy, but I'm blessed to have friends who are and I've been told this same quote is on Rick Warren's Facebook page as well:
And by looking here at this Google cache link I was sent, the retweet look as if it shows up without any prior tweet from which to repost:
I can't say for sure; that said however, if he were to have made up this tweet, one might be able to say that this kind of ad hominem is rather close to religious bullying. So, if that's the case, even though I do not recommend the Message paraphrase, I think I'm going to take the salient advice Rick Warren also tweeted today.
At the same time as his tweet concerning Apprising Ministries and fellow online apologetics and discernment ministers Chris Rosebrough and Ingrid Schlueter went online, we read this:
Well, since Rick Warren exhorts me, then I guess I'd best keep right on speaking, as I certainly don't want to "be bluffed into silence" by any "religious bullies." After-all, he is America's favorite Mega-pastor. ;)
See also:
DECADE OF DESTINY WITH RICK WARREN
RICK WARREN WANTS US TO LEARN FROM HENRI NOUWEN
WARRENGATE, RICK WARREN AND THE SYNAGOGUE 3000 LEADERSHIP NETWORK
RICK WARREN AND PURPOSE DRIVEN ROMAN CATHOLICS
SADDLEBACK CHURCH, RICK WARREN, AND SPIRITUAL DISCIPLINES
REDEFINING THE CHURCH: THE CHURCH GROWTH MOVEMENT'S UNBIBLICAL DEFINITION OF THE CHURCH