By Ken Silva pastor-teacher on Aug 23, 2010 in Current Issues, Features, Homosexuality/"Christian"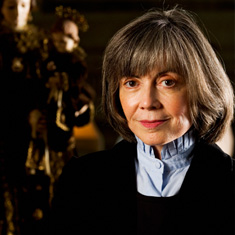 Apprising Ministries has, e.g. in Anne Rice, You Can't Quit Christianity Unless You're A Christian and Anne Rice And Homosexuality, been covering the sad saga of Anne Rice allegedly "quitting Christianity" supposedly "in the name of Christ."
I also said in Anne Rice In Apostasy that if she would drop this, then I wouldn't have to continue to expose her in her apostasy; but as you'll see again below she hasn't. 
Anne Rice tweeted:
The "one woman" in this "ongoing discussion" would be Rice herself, and the link takes us to the post Anne Rice at With Faith and With Feathers, which is a blog of Rev. Dr. David Bard, whom Rice introduces as "another voice." With all due respect, though Bard is among adjunct faculty at Union Theological Seminary of the Twin Cities (UTC), not currently teaching, and pastor of First United Methodist Church (FUMC) of Duluth, Minnesota, he's hard resembles anything close to an important voice in this discussion:
What Bard would be however, is another liberal/progressive, like Rice herself, as the Bio of UTC's Twitter account proudly informs us that it's "the first seminary in mainline Protestantism with an ecumenical charter"; in other words, UTC is infected with the warped and toxic theology of what cult expert Dr. Walter Martin (1928-1989) labeled "the cult of liberalism" circa 1985:
Pastor Bard's FUMC then informs us that it prides itself in Being Inclusive:
But as pious as, "We proclaim that all people are created in the image of God and affirm that each person, regardless of age, economic status, faith history, ethnicity, gender, mental or physical disability, marital status, sexual orientation or lifestyle, is a beloved child of God" sounds, according to the Lord Himself it is a, centered of the self, lie. You may recall in What So-Called Outlaw Preachers Just Don't Get I told you this is the eternally deadly problem with telling unregenerate LGBT people—for whom Christ died—that having sexual relations with another of the same sex, i.e. homosexuality, is also a viable lifestyle for the regenerated Christian.
Their impassable problem will always be that Scripture is crystal clear when it shows us human beings are not all "God's children" by creation. From the inspired Apostle John — But to all who did receive him, who believed in his name, he gave the right to become children of God (John 1:12). Simple logic tells us that if you have to become something, then it's quite obvious that you were not that thing before. What's actually happening is these "inclusive" people are acting in a most unloving manner; despite all their blather about love, such as these are leaving LGBT people locked away in the chains and darkness of their own personal prison cell of sin.
Often someone like myself who is upholding the proper Biblical teaching concerning the same-sex sexual immorality known as homosexuality will be accused of homophobia; but here I ask again: Why No Condemnation For Christians Who Are Homopressive? Where's the outcry for these homopressive allegedly inclusive people who're actually excluding LGBT people from the visible church by withholding the freeing power of God's Gospel from them?  The truth is neither they, or anyone else, can ever be in right standing with God while remaining in willful sin:
Or do you not know that the unrighteous will not inherit the kingdom of God? Do not be deceived: neither the sexually immoral, nor idolaters, nor adulterers, nor men who practice homosexuality, nor thieves, nor the greedy, nor drunkards, nor revilers, nor swindlers will inherit the kingdom of God. (1 Corinthians 6:9-10)
See also:
THE EMERGING CHURCH: "A QUEERING OF EVANGELICALISM"
THE SIN OF HOMOSEXUALITY IS DIFFERENT
JAY BAKKER REFLECTS THE SAD CONDITION OF THE VISIBLE CHURCH
OUTLAW PREACHERS KHAD YOUNG AND JAY BAKKER DON'T LOVE ENOUGH 
BUT DO EMERGENCE CHRISTIANITY AND BRIAN MCLAREN REALLY LOVE GAY PEOPLE?