By Ken Silva pastor-teacher on Aug 23, 2010 in AM Missives, Current Issues, Features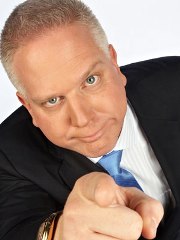 Apprising Ministries told you recently about the upcoming Divine Destiny event by popular conservative talk show host Glenn Beck in Apprising Ministries To Glenn Beck.
It says a lot about the state of the visible church when those who, as far as I know, make no claim to be Christian exercize more discernment than those who do. Such is the case with Beck's Mormon Faith Raising Alarms Among The Religious Right by Kyle Mantyla, who is Senior Fellow and policy analyst at People For The American Way.
Mantyla begins by sharing with us that Glenn Beck "seems to have started undergoing a transformation from a Tea Party leader to a Religious Right leader as he increasingly sells his brand of right-wing conspiracy-theorizing in religious terms." Mantyla continues:
What started with his partnership with David Barton as rapidly expanded to include all sorts of Religious Right activists and now Beck has started claiming that his upcoming "Restoring Honor" rally is literally being orchestrated by God and that "the Spirit of the Lord is going to be unleashed like you've never felt it before" and miracles will take place at the event.

Beck's move to establish himself as a religious leader among conservatives is being met with alarm from some evangelical activists due to the fact that Beck is Mormon, forcing people like Barton to defend his associations with Beck by claiming that Beck shouldn't be judged by the label he wears but by the fruits that he produces. (Online source)
First, it is clear that Beck is claiming this event has the approval of God and He is bringing his people together in a revival; and secondly, we can see David Barton is in full agreement with Beck's mythology:
Beck: I think this is an opportunity to gather God's people together and wake people up. And I just have this feeling that this is the beginning of something gigantic in this country, that it is spiritual awakening… This is the Lord's hand at work.

Barton: And it really is. It's an intervention of God. (Online source)
So if we're to believe Beck and Barton the one true and living God of the Bible is using a Mormon who doesn't even believe in Him to usher in a revival; a note to those of us who live in the real world, no, He isn't. This now becomes a very sticky issue for people like Brannon Howse, because while he's had as change of heart and has now been critical of Glenn Beck, Mantyla is correct when he brings out:
You may recall that, a few months back, Howse severed ties with Janet Porter due to her associations with the "kind of whacked out folks" who preach Dominionism. 

Similarly, Howse's Worldview Weekend has had a long relationship with David Barton, so it'll be interesting to see how Howse handles Barton's increasing involvement with, and defense of, Beck's Mormon faith. (Online source)
Leaving that aside, if you'd like to know why Glenn Beck has such incentive to save America, it's wrapped up in the Mormon's wrong understanding of what they call The New Jerusalem. Below you'll see from the official website of The Church of Jesus Christ of Latter-day Saints that: The place where the Saints will gather and Christ will personally reign with them during the Millennium. Zion (the New Jerusalem) will be built upon the American continent,… The New Jerusalem is to be built in Missouri:
And then in Establishing the Cause of Zion Mormon founder Joseph Smith is reported to have taught: The Lord designated Jackson County, Missouri, as the land of Zion—a place where the Saints of Joseph Smith's day would gather and where the holy city of Zion would eventually be built:
This means it's actually the nonexistent Mormon god who's orchestrating Glenn Beck's destiny…
See also:
MORMONISM: PLEASE SPECIFY SOURCES FOR APPRISING MINISTRIES TO GLENN BECK
MORMON CHURCH: DEITY OF CHRIST
MORMON CHURCH: JESUS LITERALLY GOD'S CHILD
THE MORMON CHURCH'S VIEW OF THE BIBLE
CONTRADICTIONS IN MORMON "SCRIPTURES"
THE CHURCH OF JESUS CHRIST OF LATTER-DAY SAINTS VS. THE GOSPEL
JOHN MACARTHUR: NO SPIRITUAL COMMON GROUND BETWEEN BIBLICAL CHRISTIANITY AND MORMONISM