By Ken Silva pastor-teacher on Jul 29, 2010 in AM Missives, Current Issues, Word Faith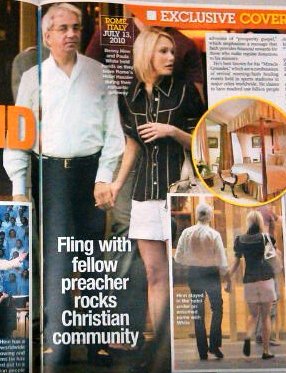 In posts such as Reports Of Benny Hinn And Paula White Affair (Pictures Included), filed by Apprising Ministries correspondent Chrystal Whitt of Slaughter of the Sheep who broke the story, and Benny Hinn And Paula White Respond To "False And Misleading" News we've pointed you to reports by The National Enquirer and The Toronto Star of alleged romantic involvement between Word Faith healer Benny Hinn and Word Faith pastrix Paula White.
Then after statements each had released, with such similarities it seemed to some to have been written by the same person, disappeared I retrieved them and placed Benny Hinn And Paula White Side By Side. In this post we point you to the July 27 Tampa Bay Online report below:
Watch this at Tampa Bay Online
HT: Christian Research Service
See also:
POINTS TO PONDER: TODD BENTLEY, BENNY HINN, RICK JOYNER, AND FALSE TEACHERS
RISING WORD FAITH STAR MANASSEH JORDAN IMITATING BENNY HINN
E. BERNARD JORDAN: MASTER FALSE PROPHET
JOSH MCDOWELL AND PAULA WHITE: "WON'T YOU LET ME TAKE YOU ON A SEA CRUISE!"
CAN YOU BE AN EVANGELICAL CHRISTIAN AND DENY GOD?
CHRISTIAN RESEARCH SERVICE ON THE PROPHETIC MOVEMENT
WOMAN "PASTOR" AND HER PRAYER SHTICK DRAWING MEDIA ATTENTION