By Ken Silva pastor-teacher on Jul 13, 2010 in AM Missives, Current Issues, Features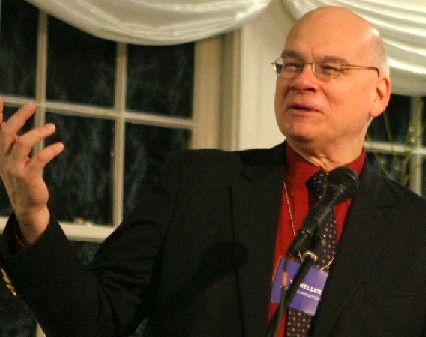 For the word of the cross is folly to those who are perishing, but to us who are being saved it is the power of God. For it is written, "I will destroy the wisdom of the wise, and the discernment of the discerning I will thwart." Where is the one who is wise? Where is the scribe? Where is the debater of this age? Has not God made foolish the wisdom of the world? For since, in the wisdom of God, the world did not know God through wisdom, it pleased God through the folly of what we preach to save those who believe.
For Jews demand signs and Greeks seek wisdom, but we preach Christ crucified, a stumbling block to Jews and folly to Gentiles, but to those who are called, both Jews and Greeks, Christ the power of God and the wisdom of God. For the foolishness of God is wiser than men, and the weakness of God is stronger than men. For consider your calling, brothers: not many of you were wise according to worldly standards, not many were powerful, not many were of noble birth.
But God chose what is foolish in the world to shame the wise; God chose what is weak in the world to shame the strong; God chose what is low and despised in the world, even things that are not, to bring to nothing things that are, so that no human being might boast in the presence of God. And because of him you are in Christ Jesus, who became to us wisdom from God, righteousness and sanctification and redemption, so that, as it is written, "Let the one who boasts, boast in the Lord." (1 Corinthians 1:18-31)
Always Learning But Never Able To Arrive At A Knowledge Of The Truth
Apprising Ministries showed you in Book On Old Earth View Influences Dr. John Piper that, unlike his friend Dr. John MacArthur, Dr. Piper is influenced by a book called Genesis Unbound: A Provocative New Look at the Creation Account by John Sailhamer. In Dr. John Piper Ok With Old Earth View via a post by Ken Schenck, who is "Dean of Wesley Seminary at Indiana Wesleyan University," I gave you the link to What Should We Teach About Creation?
That particular post contains a partial transcript of the video below where Dr. Piper is answering the above question. You'll hear Dr. Piper say:
we should teach that man had his beginning not millions of years ago but within the scope of the biblical genealogies. Those genealogies are tight at about 6,000 years and loose at maybe 10 or 15,000. So I think we should honor those genealogies and not say that you can play fast and loose with the origin of man.

That's not the age of the earth issue there. That's the origin of what is a human being, when did that human being come into existence. I think we should say he came into existence by God's direct action and that it wasn't millions of years ago. That was within the scope of these genealogies.

Now, when it comes to the more controversial issues of how to construe Genesis 1-2 about how God did it and how long it took him to do it, there I'm totally sympathetic with a pastor who is going to lay his view down, having studied it, and is going to say to his people, "Here is my understanding of those chapters. These six days can't be anything other than six literal days, and so that's how long God took to do it. And this universe is about 10 or 15,000 years old. Though it looks old, that's the way God made it. He made it to look old," or something like that.

Or he might take another view that these days are ages.

Or he might take Sailhamer's view, which is where I feel at home. His view is that what's going on here is that all of creation happened to prepare the land for man.

In verse 1, "In the beginning he made the heavens and the earth," he makes everything. And then you go day by day and he's preparing the land. He's not bringing new things into existence; he's preparing the land and causing things to grow and separating out water and earth. And then, when it's all set and prepared, he creates and puts man there.

So that has the advantage of saying that the earth is billions of years old if it wants to be—whatever science says it is, it is—but man is young, and he was good and he sinned. He was a real historical person, because Romans 5 says so, and so does the rest of the Bible.

That's where I am, and I think every pastor should go ahead and say what he believes. (Online source)
On the other hand, Dr. Piper's friend John MacArthur has said that he would wonder of those with such a view as the one Dr. Piper appears to have layed out above:
"Do you believe completely in the literal interpretation of Genesis chapter 1 and chapter 2?" Ask them that. There are 106 Christian colleges in what is called "The Christian College Coalition." Five would say yes to that. A hundred and one would say no. Just exactly [what] does Genesis 1 and 2 mean then if it doesn't mean what it says which even a child can understand, then how are we to know what it means? And at what point can we trust anything that the Bible says?

The answer to the question, "What is your view of Genesis 1 and 2?" will reveal the attitude of any organization, any ministry toward Scripture. And if they believe that Scripture is inerrant and authoritative and complete, you'll get the right answer. If you get the wrong answer, then they have a weak view of Scripture. And if they reject Genesis 1 and 2, then you can ask them the other question that I posed a little while ago, "Just exactly where do you start believing the Bible?" (Online source)
We should now also begin asking the same question of another "New Calvinist," Dr. Tim Keller. Dr. Keller's good friend Dr. Ed Stetzer reminds us that Dr. Keller was feaured a couple of years ago in the Newsweek piece The Smart Shepherd by Lisa Miller. Dr. Stetzer informs us:
Tim and I dialogued a bit last night and this morning about his Newsweek profile… Some have been discussing a few problems with the story, and a couple have mentioned the reference to evolution in the article.

Tim wrote (with permission for me to share).

We should be charitable to the writer on the issues mentioned. They are pretty minor… I wouldn't in the least style myself a new C.S. Lewis (who would want a new one when the old one is still so great) but she got that from publicity copy written by well-meaning people at Penguin.I wouldn't want to characterize myself as another Rick Warren but she likes Rick and wouldn't see that as a negative statement.

I believe in the historicity of Gen 1-11 and Adam and Eve and I don't believe in young earth-creation or six 24-hour day creation, but, as far as she's concerned, that means I believe somewhat in evolution. She's not used to the fine distinctions on these things we make inside the church. (Online source, emphasis mine)
This would be a very similar to, if not the same, position that Dr. Piper holds and which Dr. MacArthur rightly criticizes. My friend Dr. John Morris, president of the Institute for Creation Research and author of The Young Earth, happens to be a geologist; in other words, he's a legitimate scientist qualified to speak on the age of the earth. In his piece Is Belief In The Young Earth Necessary To Be A Christian? Dr. Morris points out:
The main reason for believing in the young earth is that the earth is young! The Bible tells us so, and the weight of the scientific evidence points to a young earth. While the Bible may not specify a precise date for creation, it does indicate that the earth is only a few thousand years old. Similarly, while the geologic and physical evidence cannot give a precise age, all the evidence is compatible with the young earth doctrine, with far greater evidence supporting a young earth than an old earth. There is much evidence incompatible with the old earth idea.

Furthermore, many Biblical doctrines are based on the recency of creation and the corollary doctrine, the global flood. One cannot hold the old earth position and believe that the flood was global, for if the flood was global, then the entire earth's surface was altered. The flood would leave in its wake the rock and fossil record which now is misinterpreted by geologists as evidence for an old earth. (Online source)
Don't let the slide of Dr. John Piper and Dr. Tim Keller fool you; believe what God has said in His Word, after all, He was there and these evolutionary scientists weren't. Dr. John MacArthur is right in that if Genesis 1 and 2 "doesn't mean what it says, which even a child can understand, then how are we to know what it means? And at what point can we trust anything that the Bible says?" As more and more around him continue to capitulate to culture and science, we need to be praying for men like Dr. MacArthur; it's going to make these friendships tenuous, at best, around the "Reformed" camp.
Because Phil Johnson, executive director of John MacArthur's Grace to You, was dead-on-target in his post Socinianism in Lab Coats yesterday at Pyromaniacs. Johnson was writing about an organization called BioLogos; and may remember Dr. Tim Keller's Creation, Evolution, and Christian Laypeople, which was, "The fifth of seven white papers from BioLogos' November workshop." [1] As more and more evangelicals lust for acceptance by the world, and bow before the wisdom of man, Johnson zeroes in on the heart of the matter before us in the church visible when he says:
And this is the key point: You can't legitimately claim to be trying to reconcile science and the Christian faith if your methodology entails systematically dismantling the very foundations of Christianity. (Online source, bold his)
Sadly, the views expressed above by Drs Piper and Keller have now opened the door into the neo-Reformed camp for this precisely.
_________________________________________________________________________
Endnotes:

1. http://tinyurl.com/2fdwxs8, accessed 7/13/10.
See also:
KEEPING YOU APPRISED OF: EVOLUTION