By Ken Silva pastor-teacher on Jul 9, 2010 in Current Issues, Emergence Christianity, Emergent Church, Features, Homosexuality/"Christian"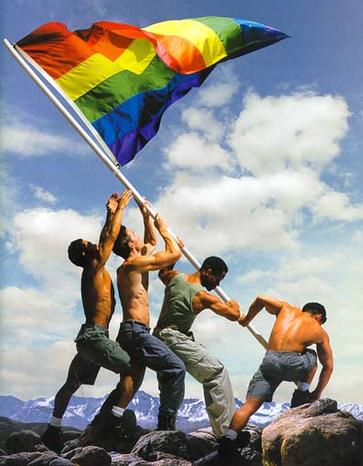 Apprising Ministries points you to a short post by Steve Knight, who started the Emerging Church group TransFORM, called "A Queering of Evangelicalism". Knight tells us about "the July/August 2010 issue of Tikkun magazine" wherein there's an article entitled "Dismantling Hierarchy, Queering Society" by Andrea Smith, which he sees as containing an "interesting observation/comment about 'the emergent movement.'"
Knight also informs us that "gay affirming pastor" Jay Bakker, who heads up the Emergent Church gang of Outlaw Preachers, a largely biblically illiterate and rather rapscallion bunch now slithering up around him, "also has an editorial in this issue of Tikkun."
Then Knight says:
I wanted to post an excerpt here that's a bit longer than Twitter will allow to give a space for people to read and reflect and respond in civil dialogue. Here's what Smith says,
"By describing the emergent movement as a queering of evangelicalism, I don't necessarily mean that it offers an open critique of homophobia (although some emergent church leaders such as Brian McLaren have spoken out against homophobia). Rather, I see this movement as challenging of normalizing logics within evangelicalism. This movement has sought to challenge the meaning of evangelicalism as being based on doctrinal correctness, and instead to imagine it a more open-ended ongoing theological conversation."

What do you think? (Online source)
Well, he did ask; I think Smith's right, the sinfully ecumenical neo-liberal cult of the Emerging Church has long been working with their irrational postmodern philosophy of Humpty Dumpty language to redefine the historic, orthodox, Christian faith. As I've said before a main goal for this the Emerging Church 2.0, which claims its "big tent" Progressive Christianity aka Emergence Christianity is the historic Gospel of Jesus Christ, is to make the deviant lifestyle of unrepentant homosexuality acceptable for the evangelical Christian.
This is precisely why I've told you that there's a very dark and threatening same-sex storm—right now—approaching hurricane force, and which is currently only slightly off the coast of your own local church. And furthermore, it also happens to be my opinion that, the Emerging Church will "soon" more boldly press its attack on Sola Scriptura with a high profile evangelical who'll come out of the closet as a practicing homosexual in order to detonate this issue within the mainstream denominations, just as the original liberals once did in the mainline church.
See also:
THE SIN OF HOMOSEXUALITY IS DIFFERENT
JAY BAKKER REFLECTS THE SAD CONDITION OF THE VISIBLE CHURCH
OUTLAW PREACHERS KHAD YOUNG AND JAY BAKKER DON'T LOVE ENOUGH 
BUT DO EMERGENCE CHRISTIANITY AND BRIAN MCLAREN REALLY LOVE GAY PEOPLE? 
HOMOPRESSION IS AT LEAST AS BAD AS HOMOPHOBIA