By Ken Silva pastor-teacher on Jun 27, 2010 in Current Issues, Devotions, Features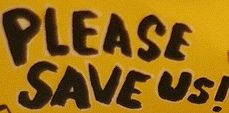 You adulterous people! Do you not know that friendship with the world is enmity with God? Therefore whoever wishes to be a friend of the world makes himself an enemy of God. Or do you suppose it is to no purpose that the Scripture says, "He yearns jealously over the spirit that he has made to dwell in us"? 
(James 4:4-5)
Give The People What They Want; The Powerless "Christianity" Of Our Tepid Times
With today's mushy man-centered version of Christianity ruling the roost of squishy evanjellyfish it's very rare to hear the Gospel preached as you will here in this devotion at Apprising Ministries. More often than not you'll find people apologizing about their faith e.g. as in this movie Lord Save Us From Your Followers from a couple of years ago.
Dan Merchant says he's just searching "for meaningful dialogue and the true face of faith." Unfortunately he does so using half-truths and movie manipulation to do it. Essentially the premise of this approach to *cough* witnessing is, "Thank God I'm not like those Christians; you can like me because I'm just a little bit better than they are."
As far as this particular film by "Writer/Director/Producer" Dan Merchant, in the synopsis we're told:
If you were to meet ten average Americans on the street, nine of them would say they believe in God. So why is the Gospel of Love dividing America? Dan Merchant put on his bumper-sticker-clad jumpsuit and decided to find the reason… Lord, Save Us From Your Followers is a fast-paced, highly engaging documentary that explores the collision of faith and culture in America while opening up this important conversation to all of us.

As discussion of religion floods the media, the rhetoric is divisive, hyper, and most often, angry. With humor more common in a comedy-sketch program than a documentary, Merchant brings the sensibilities of someone who is deeply concerned with how his faith is being represented by others. (Online source)
Dan Merchant tells us he's so concerned about "the Gospel of Love dividing America"; well, let's see if we can clear up the big mystery for Merchant by introducing him to the actual Jesus. The following is from "Writer/Apostle" Matthew who shares his eyewitness testimony of Christ's exclusive and "dividing" message; Dan, you do know that He would end up being crucified for it, right:
"Do not think that I have come to bring peace to the earth. I have not come to bring peace, but a sword. "Do not think that I have come to bring peace to the earth. I have not come to bring peace, but a sword. For I have come to set a man against his father, and a daughter against her mother, and a daughter-in-law against her mother-in-law.

And a person's enemies will be those of his own household. Whoever loves father or mother more than me is not worthy of me, and whoever loves son or daughter more than me is not worthy of me. And whoever does not take his cross and follow me is not worthy of me. Whoever finds his life will lose it, and whoever loses his life for my sake will find it." (Matthew 10:34-39)
Well I dunno Dan, of course we take into account that I'm not a Hollywood figure or some big name Christian personality, but that doesn't really sound like Jesus is trying to organize some all-inclusive Love Train to me. It also doesn't sound like those of us who are Christians should be bowing before the feet of unregenerate rebels who hate God. O, I'm well aware that I have no right to judge their hearts; and you know what, I don't.
However, this is what our Creator, Christ Jesus of Nazareth says:
as it is written: "None is righteous, no, not one; no one understands; no one seeks for God. All have turned aside; together they have become worthless; no one does good, not even one." "Their throat is an open grave; they use their tongues to deceive." "The venom of asps is under their lips." 

"Their mouth is full of curses and bitterness." "Their feet are swift to shed blood; in their paths are ruin and misery, and the way of peace they have not known." "There is no fear of God before their eyes." (Romans 3:10-18)
And God does know their hearts because He originally made them. So, if you don't like what you've just read; as Christian apologist Dr. Walter Martin (1928-1989) would often say, "Your argument is with the Lord; when you win that one, come back and argue with me." So I say: Yes Lord, may You save us.
May You save us from weak-kneed world-loving Christian cowards afraid of their own spiritual shadows who masquerade as ministers of God. Wake up Your Church and give us eyes to see the dark red sky this morning. O Lord, please send us some real men of God anointed to preach the Gospel in the Holy Spirit with power!
Men who know the hour grows late and who have the baptism of boldness to preach to the crowds:
"You brood of vipers! Who warned you to flee from the wrath to come? Bear fruits in keeping with repentance. And do not begin to say to yourselves, 'We have Abraham as our father.' For I tell you, God is able from these stones to raise up children for Abraham. Even now the axe is laid to the root of the trees. Every tree therefore that does not bear good fruit is cut down and thrown into the fire." (Luke 3:7-9)
And God, may You raise up men powerful in Christ whose hearts break with Your compassion for those trapped in their sin; men who'll preach to them the Gospel of repentance and the forgiveness of sins in Jesus' Name, and may they love these people enough to tell them the Truth such as the following from Charles Spurgeon:
 No servant can serve two masters: for either he will hate the one, and love the other; or else he will hold to the one, and despise the other. (Luke 16:13, KJV)

O unclean man, how can you dream of salvation while you are defiled by filthiness? What, you and your harlot, members of Christ! Oh, you know not my pure and holy Master. He receives sinners, but He rejects those who delight in their iniquities. You must have done with your indulgence of sin if you would be cleansed from the guilt of it.

There is no going on in transgression and yet obtaining salvation: it is licentious supposition. Christ comes to save us from our sins, not to make it safe to do evil. That blood that washes out the stain brings with it also a hatred of the thing that made the stain. Sin must be relinquished, or salvation cannot be received.

I spoke very plainly just now, but some here of pure heart little know how plainly we must speak if we are to reach some men's consciences, for it shames me when I think of some who year after year indulge in secret sin, and yet are frequenters of the house of God. You would think they surely were already converted or soon would be when you saw them here, but if you follow them home, you would quite despair of them.

O lovers of sin, do not deceive yourselves; you will surely reap that which you sow. How can grace reign in you while you are the slaves of your own passions? How can it be while you are anchored to a secret sin that you should be borne along by the current of grace toward the desired haven of safety? Either you must leave your sin, or you must leave all hope of Heaven; if you hold your sin, Hell will ere long hold you. May God deliver us from the love of sin, for such a deliverance is salvation. (At the Master's Feet, November 7)
See also:
UNITY IS ROOTED IN BIBLICAL DOCTRINE
DEAR CHRISTIAN, LET'S PRESS ON
PASTOR PLEDGE YOUR HEAD TO HEAVEN
THOSE WHO BURY THE GOSPEL WITH TRASH