By Ken Silva pastor-teacher on Jun 15, 2010 in AM Missives, Devotions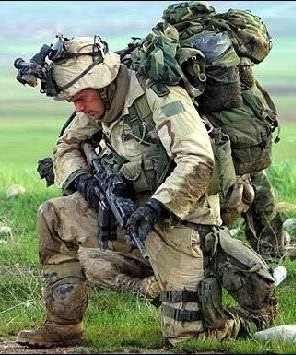 But one thing I do: forgetting what lies behind and straining forward to what lies ahead, I press on toward the goal for the prize of the upward call of God in Christ Jesus. Let those of us who are mature think this way, and if in anything you think otherwise, God will reveal that also to you. Only let us hold true to what we have attained. (Philippians 3:13-16)
The Battle Begins To Intensify
You need to know that this age in which we live will be one of increased spiritual warfare, and that our time grows ever shorter before the return of our Lord. Now I make no prediction as to when Christ comes again—it may not be in our lifetime—but, I can tell you this: When Jesus returns, He will not be in a good mood. And further, because Christ Jesus is God, Paul is trying to remind us in our opening text, that we must put forth some kind of an effort, if we really want to know Him. Just because you are a Christian doesn't mean that you immediately have a deep, intimate, personal relationship with God.
This is not to confuse Law and Gospel; there's nothing we can add to what God in Christ has done, I'm speaking of the working out of our salvation (Phil. 2:12). The Lutheran Study Bible puts it well in reminding us why we can press on:
the fulfillment of the imperative to live like Christ is supported by all Christ gives freely: the encouragement, comfort, love, and the mind of Christ, along with the participation of the Spirit. [1] 
The truth is the life of the genuine Christian can be very hard at times, and especially so in an evil generation like this when men call what is good, evil and what is evil, good (Is. 5:20). More than ever we must really be a family in Christ—united around our Savior and Lord—Jesus of Nazareth, the King and Commander of the Army of the living God, which is a real good reason to come home into His Church and to worship your Lord with your fellow soldiers. The Good News is there's repentance and forgiveness of sins in Jesus' Name for all who will come.
Now, the United States Marine Corps is an organization with a very storied heritage, and this nation owes much to them. But what you may not know is that a recruit is not really considered a Marine, until he has finished their Basic Training Program. Then in the graduation ceremony, there is a very special moment when the top Marine Commander turns to these soldiers and calls them a Marine for the very first time. And as you might imagine, it is a special feeling creating an unbreakable bond to a proud organization with a gallant history.
Well I pray that we here in the Body of Christ may feel this way as the Lord addresses us—the Church—His own even more storied and gallant organization of fellow soldiers that God has stationed here in this foreign mission field of increasingly pagan America. As the song goes — "God bless America; land that I love; stand beside her, and guide her; through the night with the light from Above." O how glorious that Jesus—Who is that Light—has called us His Christians. And remember, all of us have special tasks in this Army called the Church of God.
Take Up Your Weapon And Join The Battle
I invite you to end your Basic as a recruit and to join us—fellow Christian—as we go to war for the souls of the lost here in America. As one looks at all the lunacy in the Lord's Name going on in The Ecumenical Church Of Deceit it becomes obvious that God needs more soldiers for the harvest, as we move out on the offensive to take back the aisles of our local churches for Jesus. We need "special forces" who can attack Satan's doomed troops with the Sword of the Spirit. We need "nurses" to tend to the wounded; "engineers" to do maintenance and "drill instructors" to equip our soldiers for battle.
And most importantly we need "Prayer Warriors" to fire our most powerful Weapon—the Prayers of the true Saints of God:
For the weapons of our warfare are not of the flesh but have divine power to destroy strongholds. We destroy arguments and every lofty opinion raised against the knowledge of God, and take every thought captive to obey Christ. (2 Corinthians 10:4-5)
Let me ask you—fellow Christian—does that sound like we should cower before our enemy, and just let him pound us until we break? For Jesus' sake—no! You must understand that not even Satan himself can stand when God's people go to their knees and pray! So beloved of God, won't you come into His Army while there's still room in His Church for you. And finally, don't you realize that no matter how insignificant you may think you are, please understand, just by your coming into your local church each week you will encourage somebody there.
You may not even know which of your fellow soldiers it is, but they need to see you there, because you are an encouragement to them. It's also very important to your pastor—your ranking officer so to speak—to see you there as well; for do you not know he misses you when you're not there. In fact, all of your local church family does. As I close this short teaching, I am reminded of a television drama I've seen which follows a group of soldiers through their tour of duty serving in Vietnam in the late 60's; while it was fiction, it really was pretty well done in showing what went on there.
In one episode as these soldiers are miles from home, on Christmas Eve it so happens that they get the chance to go to an orphanage and share a Christmas dinner with the kids. However, one soldier doesn't have the chance to participate because someone has to stand out on Guard Duty, so the Sergeant volunteers. After a while the Lieutenant goes out to this soldier at his lonely post, and the C.O. tells his Sgt that he's sorry he has to miss out on dinner and on the fun with the children because the Sarge had to stay outside in the cold guarding the orphanage.
However, the man looks at his Commander, slowly smiles and says — "You know sir, it's really ok. I'm a soldier. Yeah, I know I'm miles from my home; but you see, I'm here doing what a soldier does. I like to think that I'm making someone's world a little safer tonight. And you know what sir; it just feels kind of right." So it is with us my fellow soldier; we are not yet in our home because God is using us to preach His Gospel that people may come in and be safe; and I can truthfully say, that deep in my soul; "it just feels kind of right." How about you dear Christian; let's press on…
________________________________________________________________________________
Endnotes:

[1] The Lutheran Study Bible, Edward A. Engelbrecht, General Editor, [St. Louis: Concordia Publishing House, 2009] , 2035 [n. Phil. 2:1-11].