By Ken Silva pastor-teacher on Jun 21, 2010 in Devotions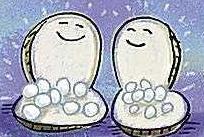 Open my eyes, that I may behold wondrous things out of your law. (Psalm 119:18)
May You Open Our Eyes Lord
I've been meaning to talk about this for some time now, but it seems good in the Lord to mention it here in this piece at Apprising Ministries to encourage your study of the Bible. For those who are being observant God will often do something that will only be noticed by a certain individual.
By this I mean that, as your Father and Creator, He knows what desires He has placed within your heart; the secret things that are just between you and your Lord. As you go through your day God occasionally shows you things, or leads you to places, that He knows will bring you joy and happiness. One of my best friends would refer to them as "little pearls" from the Lord.
And as you go through your day, not only does God do this in the natural world, but the Spirit will also do this as you read the Scriptures which He inspired. You will probably have heard people refer to the Bible as His-story; this is because Holy Scripture was given to us as a testimony that our great God and Savior—Christ Jesus of Nazareth—would be coming into our world.
So as such, for example, as you read the Old Testament you will often find some of these "little pearls" where the Spirit will suddenly show you things that Jesus would later do, and teach, as a testimony to God's mercy and greatness.
Here's one quick instance; we begin in the New Testament with Peter's account of our Lord calming a storm one day. Mark recalls Peter telling him about how the Master's disciples decided to get away to the other side of the Lake of Galilee so as they left:
And leaving the crowd, they took him with them in the boat, just as he was. And other boats were with him. And a great windstorm arose, and the waves were breaking into the boat, so that the boat was already filling. But he was in the stern, asleep on the cushion. And they woke him and said to him, "Teacher, do you not care that we are perishing?"

And he awoke and rebuked the wind and said to the sea, "Peace! Be still!" And the wind ceased, and there was a great calm. He said to them, "Why are you so afraid? Have you still no faith?" And they were filled with great fear and said to one another, "Who then is this, that even the wind and the sea obey him?" (Mark 4:36-41)
Now let's suppose that these disciples, who would have read Psalm 107 many times in their lives, had recalled this "little pearl":
They mounted up to heaven; they went down to the depths; their courage melted away in their evil plight; they reeled and staggered like drunken men and were at their wits' end. Then they cried to the LORD in their trouble, and he delivered them from their distress. He made the storm be still, and the waves of the sea were hushed. (Psalm 107:26-29)
You see there; they actually had nothing to worry about because God had already told them ahead of time that their Lord would take care of them. Although they appear to have forgotten it, in truth, they were in the Father's hands the whole time. And this is but one example of the many little pearls which you will discover when you carefully meditate—in the proper sense of that term—on the Scriptures as you read the Old Testament.
If you ask the Spirit to open your eyes, time after time, you will begin to notice things about Christ Jesus in His Scriptures that have simply been there all the time. And the Master does tell us — "Fear not, little flock, for it is your Father's good pleasure to give you the kingdom" (Luke 12:32).
Now here's a little something else for you to meditate on. Just stop and think about what "little pearls" are already in the New Testament right now that we ourselves aren't even seeing. Our unwillingness to completely surrender to the indwelling Holy Spirit is a main reason why God isn't doing more for the visible church of Jesus Christ in this generation.
But O might we today begin to follow our Lord's advice in Ephesians 6:18 to be — praying at all times in the Spirit, with all prayer and supplication. To that end keep alert with all perseverance, making supplication for all the saints. This admonition is then repeated in Jude — But you, beloved, building yourselves up in your most holy faith and praying in the Holy Spirit (Jude 20).
The above pray in the Holy Spirit means, for those of us who are slaves to Christ, to be praying in line with God's will. And as we begin to do so we wonder; what kind of harvest for the Father will our Lord Jesus have by the Spirit if we as the beloved children of God begin to fervently pray like the psalmist: "Open my eyes, that I may behold wondrous things out of your law."
See also:
UNITY IS ROOTED IN BIBLICAL DOCTRINE
DEAR CHRISTIAN, LET'S PRESS ON