By Ken Silva pastor-teacher on May 20, 2010 in Current Issues, Emergence Christianity, Emergent Church, Features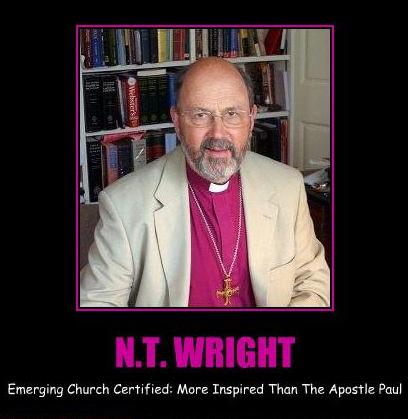 Apprising Ministries has mentioned the Homebrewed Christianity podcast and Tripp Fuller, collaborator and disciple of progressive/process theologian Dr. Philip Clayton, in posts such as The Emerging Church And Progressive Christian Theology After Google and Tony Jones And Tripp Fuller On Theology After Google.
Fuller's co-host is Chad Crawford, whom I'm informed tweeted a bit ago:
Our NT Wright interview edited down to soundbite-sized morsels for you by @jrrozko http://ow.ly/1NT3A (Online source)
The above link takes us to An Interview with N.T. Wright by J.R. Rozko, who tells us of himself:
As a missional follower of Jesus, the life I lead is my participation in God's mission in the world… I have spent a good number of years as a pastor to students and young adults at a handful of different kinds of churches.

I got to study under and alongside some amazing people at Fuller Theological Seminary as I tried to get a handle on a missiology of Western culture – what it means for Christians and the Church if we see our context as a mission field. I also got to work for a while as an academic advisor for Fuller's Master of Arts in Global Leadership program. (Online source)
In his post concerning N.T. Wright Rozko tells us:
The guys over at Homebrewed Christianity recently posted an interview they did with N.T. Wright.  The interview was full of some really great sound bytes that I went ahead and divvied up to make your life easier. (Online source)
If you wish to become more familiar with the theologian who's mightily influenced e.g. Emerging Church rock star pastor Rob Bell, among many others like Emergent Church guru Brian McLaren with his New Perspective on Paul, you can listen to the many smaller soundbites Rozko has assembled right here.
See also:
N.T. WRIGHT SPEAKING AT REDEEMER NYC OF TIM KELLER
INTRODUCTION TO THE NEW PERSPECTIVE(S) ON PAUL 
THE NEW PERSPECTIVE ON PAUL—PART 1
THE NEW PERSPECTIVE ON PAUL—PART 2
THE NEW PERSPECTIVE ON PAUL—PART 3
A GOOD REASON FOR A MASS EXODUS FROM EVANGELICALISM…OR TO RECAPTURE ITS ORIGINAL MEANING