By Ken Silva pastor-teacher on May 1, 2010 in AM Missives, Brian McLaren, Emergence Christianity, Emergent Church, Features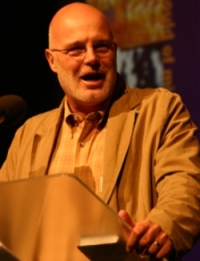 Apprising Ministries has been telling you in articles like Missing Memo On The Death Of The Emerging Church? and The Emerging Church TransFORM East Coast Apostasia-Palooza that the neo-liberal cult of the Emerging Church is not dead; and in addtion, the TransForm East Coast conference currently going on launches the Emergent Church 2.0 with a  new more clearly defined progressive/neo-liberal theology aka Emergence Christianity.
Just a quick update; EC guru Brian McLaren has now addressed the Emergents at TransFORM, and from the buzz across the Twitterverse you'd have thought it was one of the original Apostles. One particularly noteworthy statement made by McLaren confirms that, rather than dying, we are now dealing with an upgraded version of this neo-liberal cult:
@brianmclaren: #Trans4m is emergence come full circle – about being church, but having contemplated theology, God's Kingdom & justice (Online source)
This statement quoted by Drew Tatusko gives us another peek at this sinfully ecumenical EC 2.0 as well as a glimpse concerning its goals for the upcoming Big Tent Christianity conference:
mclaren predicts an evangelical and catholic contraction, and a bigger tent in mainline protestant churches. #trans4m (Online source)
And finally, here's yet another reason that no meaningful dialogue ever really takes place with men like Brian McLaren as he says:
@brianmclaren "can I just find a faith that does't ask me to hate anybody." #trans4m (Online source)
We have to have some new kind of faith that doesn't ask us to hate anyone; huh? Jesus, Who started the historic orthodox Christian faith, teaches us to love the Lord our God with all our heart, soul, mind, and strength; and also, to love our neighbor i.e. our fellow man as ouselves.
So where exactly does the Body of Christ ask Brian McLaren et al to hate? Answer: It doesn't.
See also:
BRIAN MCLAREN DOESN'T WANT TO HURT ANYBODY?
BRIAN MCLAREN SPREADING DIVISION IN THE CHURCH
JESUS, RECONSIDERED: BRIAN MCLAREN AND AL MOHLER ON NPR
BRIAN MCLAREN AND HIS NEW EMERGING PROGRESSIVE THEOLOGY
THE EMERGING CHURCH, PHILIP CLAYTON, AND NEW PROGRESSIVE THEOLOGY
LIBERALISM 2.0 THE NEW PROGRESSIVE CHRISTIAN THEOLOGY