By Ken Silva pastor-teacher on Apr 18, 2010 in AM Missives, Current Issues, Features, Homosexuality/"Christian"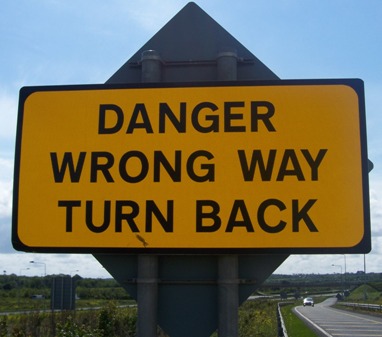 Or do you not know that the unrighteous will not inherit the kingdom of God? Do not be deceived: neither the sexually immoral, nor idolaters, nor adulterers, nor men who practice homosexuality, nor thieves, nor the greedy, nor drunkards, nor revilers, nor swindlers will inherit the kingdom of God. (1 Corinthians 6:9-10, ESV)
The Word Of God Is Off-Limits?
For quite some time now Apprising Ministries has been covering the Growing Gay Agenda In Evangelicalism, which is receiving a big boost as the mainstream more openly embraces the neo-liberal cult of the Emerging Church.
So it was no real shock for me when Chrystal broke the story Christian Singer Jennifer Knapp Comes Out as a Lesbian over at her fine blog Slaughter of the Sheep:
Jennifer Knapp, a Grammy and Dove Award winning Contemporary Christian Music (CCM) artist, has admitted that she is gay and that she is in a special relationship with a woman.  Having gone on hiatus seven years ago, Knapp is back and is openly living her life as a lesbian.  Her new album isn't a Christian album, but she continues to maintain that she is a Christian. 

According to the Baptist Press, Knapp credits the Bible with saving her life, but "remains unconvinced at the often-cited Bible verses condemning homosexuality."  According to Knapp, those are "clobber verses" (google it) and if you follow those, you should also follow the verses that say you shouldn't eat shellfish or wear clothing with five different fabrics.  It's interesting to see the verses people will pull out of their arsenal to justify sin… (Online source)
The term "clobber verses" is a common cop out used by those who remain "unconvinced at the often-cited Bible verses condemning homosexuality" and it's designed to head you down a rabbit trail concerning Old Testament Law. These arguments are the same as those once used by the original cult of liberalism to try and justify this deviant lifestyle; and the fact is, they're having a rebirth through the evil influence of the Emergent Church. A while back in Emerging Church To TransFORM Outlaw Preachers I talked about the EC group TransFORM, a network created by Steve Knight of Emergent Village.
And as I've said before, most all of the familiar names in the EC existential rebellion against the final authority of the Bible are to be found within; and it's very important that you realize the EC has now also embraced a rather rapscallion bunch of largely biblically illiterate, and self-described, Outlaw Preachers (OPs) slithering up all around gay-affirming "pastor" Jay Bakker. OPs include such EC luminaries as Queermergent's Adele Sakler and self-described "Queer Affirming" ELCA pastrix Nadia Bolz-Weber.
Having personally interacted with them, and from watching the growing acceptance of homosexuality as a viable lifestyle for the Christian within society in general, to quote words once sung by that late great pop philosopher Karen Carpenter: We've Only Just Begun. For example, Knapp's announcement follows that of Ray Boltz in September of 2008, followed almost immediately by Clay Aiken, and then about a year later 6 time Stellar Award winning Gospel singer Tonéx would also come out as well.
It's also no surprise that Progressive Christian and EC leader Tony Jones, heretical "theologian in residence" at the EC church of his equally heretical universalist pastor Doug Pagitt, would come out In Support of Jennifer Knapp. Jones is already on record that he believes it is not sin for the Christian to have sexual relations with a member of the same sex. [1] Tony Jones happens to be one of those Red Letter Christians, along with his friend Emergence Christianity guru Brian McLaren, who're supposedly spiritually superior because they are the ones truly living the Words of Jesus.
Well, in Jesus Defines Marriage For Red Letter Christians I showed you how Jesus of Nazareth—our Creator—Who by the way, is speaking from the perspective of an eyewitness, defines marriage. From those Red Letters, as recorded by the Apostle Matthew who was standing right there, Jesus now informs us what marrriage is according to God in His reply to a question below:
And Pharisees came up to Him and tested Him by asking, "Is it lawful to divorce one's wife for any cause?" He answered, "Have you not read that He Who created them from the beginning made them male and female, and said, 'Therefore a man shall leave his father and his mother and hold fast to his wife, and the two shall become one flesh'?"

"So they are no longer two but one flesh. What therefore God has joined together, let not man separate." They said to Him, "Why then did Moses command one to give a certificate of divorce and to send her away?" (Matthew 19:3-7, ESV)
And therefore, no matter what the cultural laws may say, sexual relations between members of the same sex will always be the sin of sexual immorality because it remains outside the marriage covenant as designed by the Creator. But, because they love the praise of men more than they love God, those Red Words they do not wish to live by. But the overarching issue becomes emergent when pro-gay advocates such as Queers United tweet the following:
Christian music star Jennifer Knapp comes back and comes out http://alturl.com/e7uw (Online source)
The Christian Who Unrepentantly Sins In Public Brings Shame To Jesus
Knapp is perceived before the world as a Christian artist, which is why it's important for us to make sure the issues are crystal clear. And this very wrong idea one is acting as a Christian while unrepentantly practicing homosexual relations is generating quite a bit of discussion right now. Take for example that today Knapp herself would tweet:  
Facebook people, a direct message posted http://www.facebook.com/JenniferKnappMusic?ref=search&sid=100000085060604.3131282910..1 (Online source)
The above link takes us to Knapp's Facebook Wall where, understandably, the vast majority of what I saw was supportive of her choice to remain in the sin of sexual immorality while claiming God approves. Such as the following:
David Crenshaw To every one of you bringing condemnation on JK by quoting "clobber verses," do you honestly think she isn't aware of what the Bible says? Do you really think if Jesus was here, he'd be flooding her FB page with verses?

He who dined with tax collectors, he who could have stoned the woman guilty of adultery, he who chos…e to forgive the woman at the well? If there's sin to be had here, the Holy Spirit will convict her – she doesn't need you beating her up as well. Get the log out your eye before you try to get the speck out of anyone else's. (Online source)
Interesting how he says, "If there's sin to be had here," but then we're not supposed to use those aforementioned "clobber verses," which is where God the Holy Spirit might indeed bring the conviction of sin. No one credible is advocating being mean-spirited, after all none of us is without sin; I 've said it before, we need to be as loving, gentle, and patient as possible, but the Christian is an ambassador of Jesus Christ. We don't do Jennifer Knapp any good to lie to her and let her think this choice is not sin.
And as I pointed out in Sadness For "Gay Christians" I don't always see eye-to-eye with Dr. Ron Rhodes, but he was very kind to me when I was just starting out in ministry, and he is a solid evangelical scholar. The point being, he's certainly not someone we would ever call a radical. In his helpful quick reference guide Homosexuality: What You Need To Know Rhodes is dead-on-target when he says:
In a Bible-believing evangelical church, church discipline is appropriate for a person living in unrepentant homosexual sin. If a member of a church chooses—without remorse, and without willingness to change— to remain a practicing homosexuality, then it is appropriate that this person be put out of fellowship with the rest of the church as a means of church discipline (Mathew 18:15-17; 1 Corinthians 5:11-13). The goal is not punishment but restoration to right living. (emphasis his)
Men and women, we have a very serious problem currently brewing within the mainstream evangelical community of the visible church because it has lost its faith in the all-suffiency of God's Word in the Bible. And as you can clearly see, from the people I mentioned above, the Emerging Church is openly and aggressively embracing those unrepentant in their practice of homosexuality. Am I suddenly a mean-spirited unChristian Pharisee to say so; no. Should we embrace a heterosexual professing Christian who's living in open adultery; no. The questions is: Isn't sin, sin anymore? Today in evanjellyfish, no.
So indeed we should be sad for "gay Christians" like Jennifer Knapp because they are being lied to; and those who continue to do so are really the ones who are the hard-hearted Pharisees slamming the door to the Kingdom in the face of these who need Jesus. Having once been one of those trapped in my sin and feeling so helpless, in my song Hellbound, I would later write to the Church, "They need Jesus just as much as you do." Dr. Walter Martin (1928-1989), whom Dr. Ron Rhodes once worked with, used to say: "It's not unloving to tell the truth; you can get in a lot of trouble for doing it, but it's not unloving."
_________________________________________________________________________
Endnotes:  

1. For more specifics the interested reader is referred to Emergence Christianity Theologian Tony Jones And His Unrepentant Homosexual Christians.
See also:
THE SIN OF HOMOSEXUALITY IS DIFFERENT
RICK BRENTLINGER OF GAY CHRISTIAN 101 AND KEN SILVA
QUICK WORD ON SIN OF HOMOSEXUALITY
CORRECTING BRIAN MCLAREN "ON FAITH" AND HOMOSEXUALITY
THE NEW CHRISTIANS WITH CHRISTIANITY WORTH BELIEVING—NO SOLA SCRIPTURA: YES, WOMEN PASTORS AND QUEER CHRISTIANS