By Ken Silva pastor-teacher on Apr 19, 2010 in Current Issues, Features, Rick Warren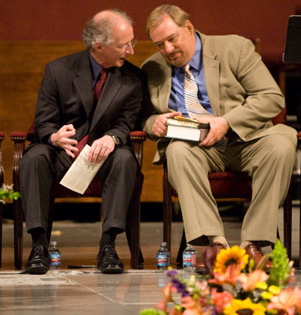 The online apologetics and discernment work Apprising Ministries has been among those who've been reporting on an ill-advised decision by Dr. John Piper to bring Purpose Driven Pope Rick Warren into the Desiring God Conference 2010 as the keynote speaker.
Now Collin Hansen weighs in on Warrengate in a web-only piece for the neo-evangelical Christianity Today, the magazine which would have trouble being convicted as evangelical. He begins:
You only thought junior high was over. But lately the evangelical blog world has been abuzz because John Piper invited Rick Warren to speak for his Desiring God National Conference, October 1–3, 2010. You see, a lot of folks who like John don't like Rick. So now some of John's friends aren't sure they want to hang out with him anymore. They may not come to his party in Minneapolis. And they aren't sure that you should either.

Perspective isn't a virtue often associated with blogs. In a world desperately in need of the gospel, we spend much of our time and energy debating who's in and who's out, who's up and who's down. Though Piper and Warren are two of today's most prominent evangelical leaders, you can hardly blame discerning observers for asking, "Who cares?" At the risk of causing reader whiplash, I want to make the case for caring… (Online source)
Let me help Hansen out a bit here with what appears as grandstanding rhetoric ala Emerging Church icon Rob Bell: In a world desperately in need of the gospel, we spend much of our time and energy debating who's in and who's out, who's up and who's down. What gospel we are to be bringing into the world is precisely the point, which Hansen does appear to understand.
And no doubt during the Reformation a lot of "time and energy" was spent in debate about it. Hansen brings us to the heart of the matter here:
The Reformed ranks have swelled with the refugees of pragmatic evangelicalism. Piper threatened this united front by inviting Warren. But Piper, as the movement's central figure, has always offered more than just critique. He put forward a compelling vision of Christian Hedonism. "God is most glorified when we are most satisfied in him," he writes in his seminal book, Desiring God.

As he explained in a video Q+A session, Piper does not want this Reformed resurgence to bear the mark of separatism, an overriding concern for fence building. With influence comes responsibility for guiding evangelicalism according to a compelling, constructive vision for theological reform and spiritual renewal. Piper's critics may be right that Warren is not the best place to begin this effort…  (Online source)
You can read the rest of Collin Hansen's CT article right here.
See also:
DR. MICHAEL HORTON ON THE CHAMELEON-LIKE RICK WARREN
THE INADEQUATE GOSPEL OF RICK WARREN
SBC PROTESTANT PASTOR RICK WARREN DOUBLE-MINDED ON THE REFORMATION AND ROMAN CATHOLICISM
DR. ROD ROSENBLADT CALLS RICK WARREN'S MAN-CENTERED THEOLOGY "ROMAN CATHOLIC"
HAS THE ROMAN CATHOLIC CHURCH REALLY CHANGED?
WHAT DOES THE ROMAN CATHOLIC CHURCH TEACH ABOUT THE DOCTRINE OF JUSTIFICATION?