By Ken Silva pastor-teacher on Feb 24, 2010 in AM Missives, Current Issues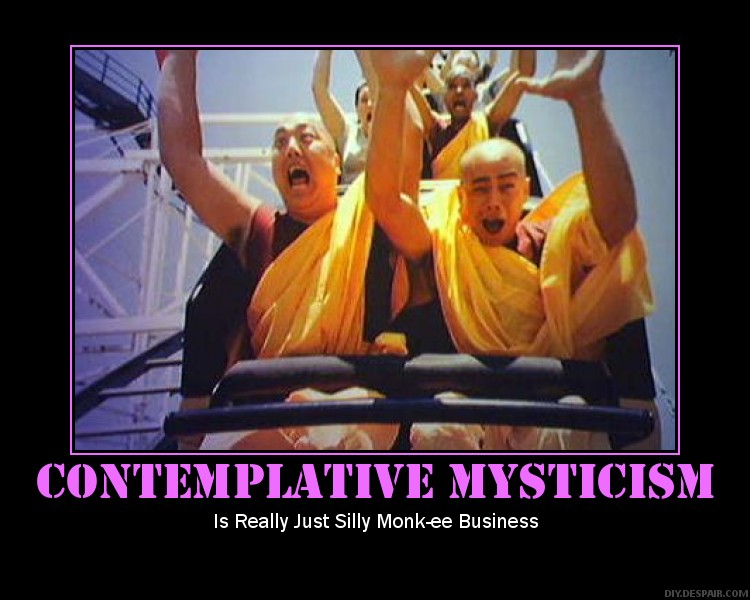 In posts like Monvee To Open Door For Contemplative Spirituality/Mysticism In Evangelicalism and Contemplative Spirituality Of Richard Foster Rooted In The Eastern Desert And Thomas Merton here at Apprising Ministries, I've been following a trail blazed by Lighthouse Trails Research, and have long been exposing the dangers of the new fad in apostatizing evangelicalism of practicing corrupt Contemplative Spirituality/Mysticism (CSM).
By far the most influential teacher of this CSM, which is nothing but a repackaged form of Roman Catholic mysticism, would be Living Spiritual Teacher and Quaker mystic Richard Foster along with his friend and spiritual twin SBC minister Dallas Willard and their spurious Spiritual Formation (SF). You may recall in Is Dallas Willard A Christian? I reminded you of some key information given by Brian McLaren, now himself one of the Living Spiritual Teachers with Foster alongside such as Deepak Chopra, the Dalai Lama, Thich Nhat Hanh, Eckhart Tolle, and Marianne Williamson.
Years ago in the 2004 Christianity Astray Today article "The Emergent Mystique" McLaren informed us that Foster and Willard were "key mentors for the emerging church." Their whole stupid CSM shtick is nothing more than a romanticized Roman Catholic Counter Reformation spirituality such as that promulgated by apostates (at best) like Ignatius of Loyola, who was the founder of the militantly pro-Roman Catholic Church spiritual Gestapo Unit known as the Jesuits. 
So when mainstream evangelicalism made the fateful decision to bring the Trojan Horse of the sinfully ecumenical Emerging Church de-formation of the Christian faith aka Emergent Church—that's now morphed into Emergence Christianity (EC)—inside it's walls it opened itself to the EC version of Liberalism 2.0 that comes complete with the CSM virus which shorts out one's hard drive of critical thinking skills. Years of indoctrination later, evangelicalism is now largely only pretending to be Protestant.
This influx of refried Roman Catholic mysticism as CSM is even affecting the Reformed camp now as you'll see in Calvinist Contemplative/Centering Prayer? as well as in Calvinist Contemplative Spirituality/Mysticism? In that latter article you'll see that  The Village Church (TVC) where Matt Chandler, a professing Calvinist aligned with the Acts 29 Network of Mark Driscoll, is pastor curiously the TVC staff recommends Celebration of Discipline, Streams of Living Water and The Challenge of the Disciplined Life by Richard Foster.
In the former article you'll also see that the work of Foster, as well as another CSM proponent Gary Thomas, is recommended as "helpful" by Mark Driscoll himself in his post Obedience at The Resurgence blog as well. And today over at her fine More Books and Things blog my friend Carla brings us another case in point as she gives us the scoop on popular Christian writer Philip Yancey, who when asked, "Which writers most influenced your thinking about prayer," tells us:
No Protestants come to mind, to be honest, so, much I have learned about prayer is from the Catholics. One book I discovered was by Mark Phibido, called, Arm Chair Mystic. Of course, if you want to go deeper, there's Thomas Merton… (Online source)
Did you catch that; here we have Philip Yancey, an alleged evangelical Protestant and editor at large for Christianity Today magazine, going to apostate Roman Catholic mystics to learn about prayer. Even telling us that if we want to "go deeper" into Contemplative/Centering Prayer (CCP), meditation in an altered state of consciousness which is the crowning jewel of CSM, "there's Thomas Merton." Indeed, however, Merton's practice of CSM/CCP led him to becoming more like the Buddha than the Christ; in fact, you can read his nauseating idolatry for yourself in Thomas Merton And The Buddhas. 
What amazes me as a former Roman Catholic, whom God in His mercy delievered from false religion of apostate Roman Catholicism into the glorious liberty of the sons of God, is people like Yancey can't see that the fruit of the "prayer" of these messed-up mystics kept them in bondage to the Roman Catholic Church, which has actually anathematized the very Gospel of Jesus Christ itself. And now for the spiritually impaired, here's a really big hint for you to meditate upon: That's most definitely not a good thing.
See also:
"CELEBRATION OF DISCIPLINE" BY RICHARD FOSTER AN ENCYCLOPEDIA OF THEOLOGICAL ERROR
ROMAN CATHOLIC MONASTICISM BEGINS WITH "DESERT FATHERS" 
DONALD WHITNEY AND EVANGELICAL CONTEMPLATIVE SPIRITUALITY/MYSTICISM
DISCIPLINES TO DECEPTION IN SOUTHERN BAPTIST CONVENTION
THE TERMINOLOGY TRAP OF "SPIRITUAL FORMATION"