By Ken Silva pastor-teacher on Feb 11, 2010 in AM Missives, Contemplative Spirituality/Mysticism, Current Issues, Features, Southern Baptist Convention, Spiritual Formation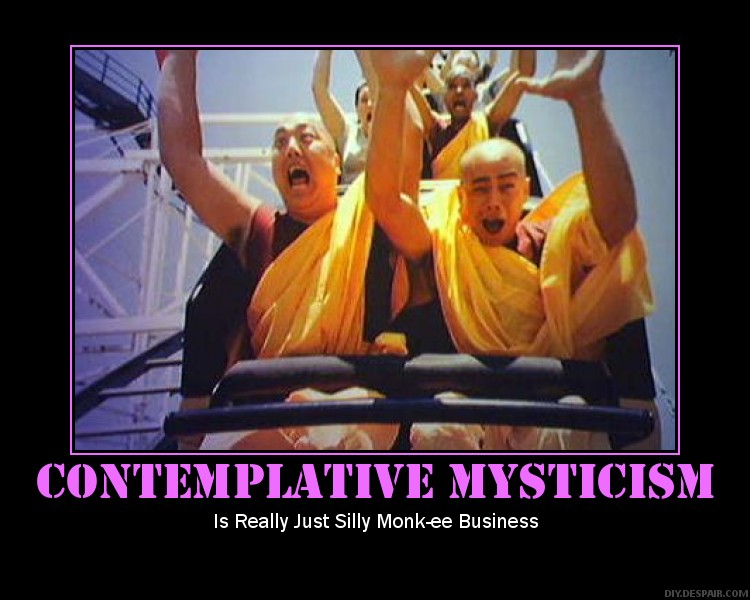 They are full of superstitions from the East; they practice divination like the Philistines and clasp hands with pagans. (Isaiah 2:6)
I'll Worship My Own Way!
Apprising Ministries continues doing what we can to alert spiritually obtuse pretending to be Protestant evangelicals to the grave dangers and deceptions of embracing the Contemplative Spirituality/Mysticism (CSM) perpetrated by Living Spiritual Teacher and Quaker mystic Richard Foster as so-called Spiritual Formation (SF) along with his friend and spiritual twin SBC minister Dallas Willard.
But CSM is nothing more than refried Roman Catholic mysticism with its pietism and asceticism romanticized for those who are ignorant of Church history. With this in mind I will tell you plainly that I do not endorse the work of the following men because of their involvement in, and sympathy for, the sinfully ecumenical Emerging Church aka Emergent Church—that morphed into Emergence Christianity—(EC).
That said, both Scot McKnight and Christopher Hall are recognized biblical scholars. And in his piece Lengthening our Memory 8 today McKnight is going through Hall's book Worshiping With The Church Fathers  concerning "Prayer and Formation." McKnight asks:
Why do you think most Protestants, and especially low church evangelicals, have no monastic tradition, no ascetical tradition, and no emphasis on retreats into the desert? And for those who do find such traditions, why do they have to dip into the [desert] fathers and the Roman Catholic traditions to find it? (Online source, bold his)
Hall then informs us that "St Antony and the desert tradition are synonymous." Lord willing, another time we'll talk further about the spiritually out of tune band Anthony and his Desert Monk-ees; for now though, as I showed you recently in Move Over Pastors For Spiritual Directors/Gurus the above is confirmed by one of the most revered Golden Buddhas of CSM—Roman Catholic monk Thomas Merton (1915-1968).
The fact is Merton dedicated his life to this spurious CSM/SF, and particularly to its main vehicle Contemplative/Centering Prayer, which is actually a form of transcendental meditation in an altered state of consciousness lightly sprayed in Christian terminology. Merton would have forgotten more about this CSM/SF than any of these around the EC and he informs us in his book Spiritual Direction & Meditation that the:
original, primitive meaning of spiritual direction suggests a particular need connected with a special ascetic task, a peculiar vocation for which a professional formation is required. In other words, spiritual direction is a monastic concept. It is a practice which was unnecessary until men withdrew from the Christian community in order to live as solitaries in the desert.

For the ordinary member in the primitive Christian community there was no particular need of personal direction in the professional sense. The bishop, the living and visible representative of the apostle who had founded the local Church, spoke for Christ and the apostles, and, helped by the presbyters, took care of all the spiritual needs of his flock.

(11, emphasis mine)
I tell you again, CSM/SF and monasticism were not taught by Jesus Christ nor by His apostles, and as you can see above, even scholars sympathetic to it know that. And to answer McKnight's lamenting query as to why Protestantism has "no monasticism," let's turn to someone who had intimate knowledge of this kind of monk-ee bizness; the great Church Reformer Martin Luther said:
Idolatry is all manner of seeming holiness and worshipping, let these counterfeit spiritualities shine outwardly as glorious and fair as they may; in a word, all manner of devotion in those that we would serve God without Christ the Mediator, his Word and command. In popedom it was held a work of the greatest sanctity for the monks to sit in their cells and meditate of God, [solitude] and of his wonderful works; to be kindled with zeal, kneeling on their knees, praying, and having their imaginary contemplations of celestial objects, with such supposed devotion, that they wept for joy. In these their conceits, they banished all desires and thoughts of women, and what else is temporal and evanescent. They seemed to meditate only of God, and of his wonderful works.
Yet all these seeming holy actions of devotion, which the wit and wisdom of man holds to be angelical sanctity, are nothing else but works of the flesh. All manner of religion, where people serve God without his Word and command, is simply idolatry, and the more holy and spiritual such a religion seems, the more hurtful and venomous it is; for it leads people away from the faith of Christ, and makes them rely and depend upon their own strength, works, and righteousness. In like manner, all kinds of orders of monks, fasts, prayers, hairy shirts, the austerities of the Capuchins, who in popedome are held to be the most holy of all, are mere works of the flesh; for the monks hold they are holy, and shall be saved, not through Christ, whom they view as a severe and angry judge, but through the rules of their order. (Tabletalk, 1626 AD)
But I guess other than that antibiblical mysticial monk-ee bizness is a good thing, eh.
See also:
JOHN CALVIN ON MONASTIC VOWS AND SPIRITUAL DISCIPLINES
IS DALLAS WILLARD A CHRISTIAN?
CONTEMPLATIVE SPIRITUALITY OF RICHARD FOSTER ROOTED IN THE EASTERN DESERT AND THOMAS MERTON
CALVINIST CONTEMPLATIVE/CENTERING PRAYER?
TIM KELLER ALSO PROMOTING MYSTIC GURU PETER SCAZZERO?
RICK WARREN AND PETER SCAZZERO UP TO MONK-EE BUSINESS
DONALD WHITNEY AND EVANGELICAL CONTEMPLATIVE SPIRITUALITY/MYSTICISM