By Ken Silva pastor-teacher on Jan 22, 2010 in AM Missives, Current Issues, Emergence Christianity, Emergent Church, Features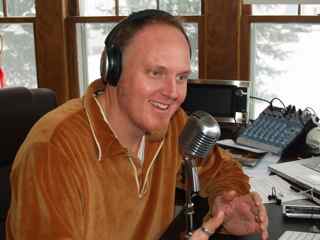 The Spirit clearly says that in later times some will abandon the faith and follow deceiving spirits and things taught by demons. (1 Timothy 4:1)
Semi-Pelagian Pragmatic Philosophy
A quick bit of backstory and clarification concerning the interview, which you can listen to below, conducted yesterday by Chris Rosebrough on his Fighting for the Faith program on Pirate Christian Radio. No doubt Apprising Ministries has been very critical of Doug Pagitt, whom I normally refer to as an heretical quasi-universalist pastor.
I've also been a prominent voice against the sinfully ecumenical Emerging Church aka Emergent Church—that morphed into Emergence Christianity (EC)—and which was originally propped up and advanced by Leadership Network (LN). That Doug Pagitt is aware of this is clear when he says in the interview:
I was hired [by Leadership Network] to create, what they refered to in internal language there, as the Young Leaders Network…the way I handled the majority of what I did in the Young Leader Network was to travel all over the country, follow up on leads, and meet people, and ask them if they would want to join together with others in these kind of conversations… I almost think that Ken Silva would have no one to write about if we hadn't created this little network.
As I pointed out in Doug Pagitt And Arrogance of Liberal/Progressive Christians, heresies refers to factions, divisions, and in line with Dr. John MacArthur I see Pagitt's teachings concerning soteriology to be a form of universalism. In other words, I have nothing against Doug Pagitt personally, and have always felt our relationship—despite our irreconcilable differences—to be a friendly one.
Like Rosebrough says in the interview, whenever I've spoken personally with Doug we've gotten on well and I've found him to be a very nice person, so none of this is at issue. The language I use re. Pagitt and the EC cult of Liberalism 2.0 is biblically factual; that others who feel as I do don't use such strong terms is of no concern whatsoever to me.
I'm not here laboring in online apologetics and discernment minstry along the oft-ugly Internet Front of this Truth War to win any populatity contests; rather, as a pastor-teacher I'm simply doing—many times even reluctantly—what Jesus has asked me to do. I happen to care deeply for those I write about, but even more so, for the purity of the Gospel of Jesus Christ.
As I point you now to this must-hear interview by Rosebrough below, here I'll also clear up one more misconception re. so-called "conspiracy theories." I have never said people in the Church Growth Movement, from which both LN and the EC extend, had clandestine meetings where they consciously conspired to take over the visible church.
What I mean by saying these people Pagitt speaks of with Rosebrough hijacked mainstream evangelicalism is actually in keeping with my opening text above. You see, however these men in the various sections of this CSM—where "the traditional way of 'doing church' [wasn't] resonating" for them—would get themselves into such a position of teaching these pragmatic doctrines of demons, they have fallen for the following:
See to it that no one takes you captive by philosophy and empty deceit, according to human tradition, according to the elemental spirits of the world, and not according to Christ. (Colosians 2:8, ESV)
See also:
DOUG PAGITT ON CHRIS ROSEBROUGH: FEAR—A POWERFUL THING
THE EMERGING CHURCH AGENDA AND DOUG PAGITT
DOUG PAGITT AND A "CHRISTIANITY" HE LIKES
DOUG PAGITT AND CHRISTIAN UNIVERSALISM
EMERGING CHURCH PASTOR DOUG PAGITT
THE NEW CHRISTIANS WITH CHRISTIANITY WORTH BELIEVING—NO SOLA SCRIPTURA: YES, WOMEN PASTORS AND QUEER CHRISTIANS