By Ken Silva pastor-teacher on Jan 24, 2010 in AM Missives, Current Issues, Emergence Christianity, Emergent Church, Features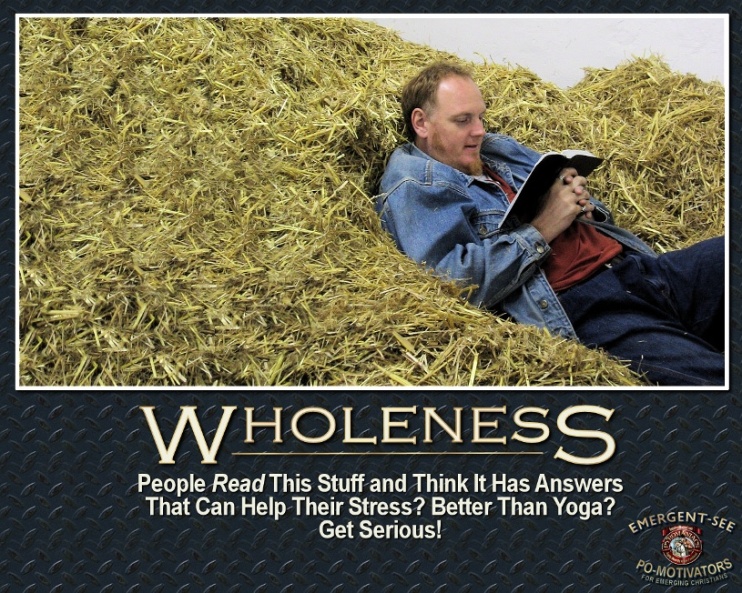 This is a quick follow up to the Apprising Ministries piece Revealing Interview With Doug Pagitt where I brought this your attention. The interview with heretical quasi-universalist pastor Doug Pagitt was conducted by Chris Rosebrough on his Fighting for the Faith program on Pirate Christian Radio. In it Pagitt tells us how the sinfully ecumenical Emerging Church aka Emergent Church—that morphed into Emergence Christianity (EC)—was originally propped up and advanced by Leadership Network (LN).
LN is a perfect product of the semi-pelagian (at best) Church Growth Movement, which essentially turns proper Christian mission work backward by placing orthopraxy (i.e. correct practice) ahead of orthodoxy (i.e. correct belief). Since it's not the point of this article here I'll simply point out that no one is advocating a dead orthodoxy (e.g. fundamentalism) where people who believe the right things are somehow excused from having to put their Christian faith into action (see—James 2:14-18).
In fact, what's at the heart of this matter was brought out very nicely by Christian Research Network contributor Mike Ratliff in his latest post Pragmatism and Mustard Seed Faith. Ratliff writes:
There are many parallels between what is going on the visible church at this time with what Charles Spurgeon called "the Down-Grade Controversy" in his time. In the latter part of the 19th Century, he began addressing the growing apostasy in the Baptist Union in Great Britain. This apostasy was fueled by those leaders who wished to move Christianity from its historical focus, i.e. preaching the Gospel in the power of the Holy Spirit with emphasis on sin and the need of a Saviour, to one that was more in line with "Modernism." (Online source)
As I've said before, this Emerging/ent/ence de-formation of the Christian faith i.e. Liberalism 2.0 advanced by Pagitt is a postmodern pragmatism and an attempt to do the same thing as the original cult of liberalism; but tragically, with today's evangelical Rodney King theology, The New Downgrade Creates No Controversy Today. Sure enough, right in line with Doug Pagitt And Arrogance of Liberal/Progressive Christians, Ratliff's article hit the target.
Interesting to note that Doug Pagitt felt the need to comment at Mike's website; but in typical EC fashion, Pagitt couldn't deal with the subject matter at hand, so he resorts to questioning Ratliff's "interpretation" while literally laying out what Mike had just finished saying in his fine post, and finishing with a plug for his latest book:
Doug Pagitt Says:
January 24, 2010 at 8:31 am

Hey Mike, I am glad you listened to the interview, but it is striking how far off your interpretation is of what I was saying in regards to pragmatism and marketing approaches.
Trying to make the Gospel more palatable was never the goal nor the practice. In fact, just the opposite. We are trying to free it from the cultural restraints that 5th century, 17th century, and 20th century movements have put on the Gospel.
I think you have read your own bias into what I was saying.
And, ironically, that was, and is, the kind of thing that many of us are trying to recognize and honestly work with – that we all have biases that change our understanding of the Gospel.
When we recognize cultural influences on Christianity we are not bemoaning that they exist (because there is no way for people to communicate without cultural assumptions and biases), we are admitting that they are powerful and try to not let the Gospel be limited to only people of any age.
So, by freeing the Gospel from the limited cultural setting of Augustine or the reformers, or any other interpretive lens is not simply making it more palatable – it is being missional.
If you want more on this I write all about it in my book A Christianity Worth Believing. (Online source)
There's no need for me to elaborate further on the pragmatic people-pleasing of Pagitt; instead, I'll point you to Ratliff's excellent right-on-target response:
Doug,

It is that very effort to change the Gospel's place in ministry that has lead to what is used in these churches as something other than the Biblical Gospel. I in no way have a bias pertaining to the Gospel other than the clear reading of Scripture. If you had read what I have trying to say in this blog since 2006 you would know that that is the case. I reject what your business model thinking and marketing strategies have done for this is nothing more than a parallel with the great Down-grade of the 19th Century, which, of course, was the move to "modernize" the church. Be honest Doug. You guys are attempting to do the very same thing those men were doing and look at the result.

True Gospel preaching is something that will offend. It will step on toes. It will, however, be totally under the control of the Holy Spirit who will use it to break people's hearts and draw them to Christ. The marketing version is nothing more than an invitation to make Jesus part of your life, to have a relationship with Him. That Jesus is not the Biblical Jesus and that is not the Gospel. You may call what you do as being "missional," but it is not obedience to our Lord to preach the Gospel. You guys are overlooking something, perhaps intentionally, that it is the "foolishness of preaching" that God has chosen to save His people from their sins, not works righteousness, which is all "missional thinking" is.

By-the-way, the Reformers and Augustine have it right. The reason they have it right is that they rely totally on Word of God being led by the Holy Spirit. Any attempt to move from that is not Reformation. It is, rather, an attempt to make the Gospel into little more than a sales pitch. Forget it. I want nothing to do with it and, as God directs, I will continue to prayerfully focus my efforts of exposing this nonsense to the Church.

Repent Doug…

In Christ

Mike Ratliff (Online source)
Yes, let us pray that pragmatists like Doug Pagitt will repent; and let's also ask God to penetrate the hard heads of the spiritually obtuse evangelicals who embrace these Emerging/ent/ence false teachers like Doug Pagitt.
See also:
DOUG PAGITT ON CHRIS ROSEBROUGH: FEAR—A POWERFUL THING
THE EMERGING CHURCH AGENDA AND DOUG PAGITT
DOUG PAGITT AND A "CHRISTIANITY" HE LIKES
DOUG PAGITT AND CHRISTIAN UNIVERSALISM
EMERGING CHURCH PASTOR DOUG PAGITT
IF YOU TRULY LOVE "JESUS" THERE ARE NO BOUNDARIES FOR THE "CHRIST-FOLLOWERS"