By Ken Silva pastor-teacher on Jun 9, 2014 in AM Missives, Current Issues, Features, Joel Osteen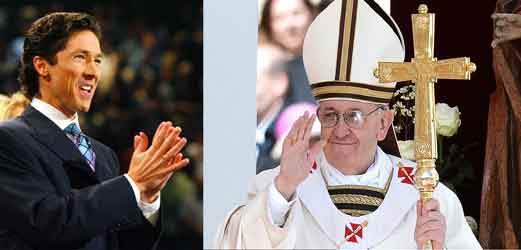 In the Apprising Ministries article Tony Palmer and Charismaniacs Embracing Pope Francis' Call for Unity I warned you that charismaniacs and practitioners of corrupt Contemplative Spirituality/Mysticism (CSM), like Pope Francis, are actually following their fickle feelings derived when they're supposedly receiving direct revelations allegedly from God Himself,
So, what we're truly dealing with here now is occultic doctrine, i.e. deceitful spirits and teachings of demons (cf. 1 Timothy 4:1). As I see it, we've now entered times of difficulty (cf. 2 Timothy 3:1), and as you're about to witness, for some charismaniacs like Joel Osteen this unity extends even to the non-Christian cult of The Church of Jesus Christ of Latter-day Saints (the Mormons).
Below, this leading Word Faith prosperity preacher tells us that as far as he's concerned faithful Mormons are "true" Christians. A couple of days before Christmas 2007 Osteen was on FOX News Sunday With Chris Wallace. What follows is a partial transcript and clip of their interaction:
WALLACE: And what about Mitt Romney? And I've got to ask you the question, because it is a question whether it should be or not in this campaign, is a Mormon a true Christian?
OSTEEN: Well, in my mind they are. Mitt Romney has said that he believes in Christ as his savior, and that's what I believe, so, you know, I'm not the one to judge the little details of it. So I believe they are.

And so, you know, Mitt Romney seems like a man of character and integrity to me, and I don't think he would — anything would stop me from voting for him if that's what I felt like.

WALLACE: So, for instance, when people start talking about Joseph Smith, the founder of the church, and the golden tablets in upstate New York, and God assumes the shape of a man, do you not get hung up in those theological issues?

OSTEEN: I probably don't get hung up in them because I haven't really studied them or thought about them. And you know, I just try to let God be the judge of that. I mean, I don't know.
I certainly can't say that I agree with everything that I've heard about it, but from what I've heard from Mitt, when he says that Christ is his savior, to me that's a common bond. (source, emphasis mine)
[mejsvideo src="https://www.apprising.org/wp-content/uploads/2014/06/OsteenMormonChristians.mp4″ width=640 height=360]
No, we're really not surprised that Joel Osteen holds this view. It's rather common in charismaniac circles. Here's Jim Bakker and New Apostolic Reformation "Apostle Rick Joyner trying to tell us many Mormons are faithful believers in Jesus Christ:
A couple of Joel osteen's other fellow charismaniacs are skating very close to his position on Mormonism as well, e.g. Word Faith Pastor Robert Morris Calls Mormon Glenn Beck "A Believer"; and I showed you not long ago in James Robison Says Jesus Is In The Heart Of Mormon Glenn Beck, so does this highly influential charismaniac figure.
That's what happens when we appeal to our subjective experiences and do theology by liver shiver. One important aside before we move on; what is a bit surprising in all of this is that multi-site "vision casting" prophet-pastors, and Evangelical Ecumenical Magisterium (EEM) members,1 like Mark Driscoll and Steven Furtick are seemingly so dense spiritually they think Joel Osteen's a solid Christian.2
With his view of Mormonism, his WF prosperity preaching, his wife as pastrix and his Robert Schuelleresque pamblum, Osteen certainly is not. Be sure we're not caught chasing down rabbit trails. The issue is not whether a Mitt Romney is a moral man; the issue is that he, like Glenn Beck, are faithful slaves of the LDS Church, which is a non-Christian cult. Yet Osteen has "a common bond" with them?
Then perhaps he's as lost spiritually as they are. From this vantage point of the battlefield I now point you to Osteen meets with Pope Francis at Vatican by Houston Chronicle reporter Carol Christian who informs us that:
On the same day his wife took 300 schoolchildren to the Bronx Zoo, Joel Osteen, the pastor of Houston's Lakewood Church, was meeting Thursday with Pope Francis at the Vatican.

Osteen said Friday it was a great honor to represent the pastors of America in the meeting with the pontiff,… (source)
Joel Osteen may have represented apostates calling themselves pastors, but he sure didn't represent actual ministers of the Gospel of Jesus Christ sent forth by our Lord. You'll see for yourself in the video below as Osteen then demonstrates his charismaniac ignorance of Church history when he bubbles:
"I like the fact that this pope is trying to make the church larger, not smaller," Osteen said. "He's not pushing people out but making the church more inclusive. That resonated with me." (source)
I'm sure it did resonate with the man-pleasing preacher; but the question we need to deal with is: What church is this rebel against God trying to make bigger? Well, I'll tell you Joel; his own little kingdom aka the Roman Catholic Church. Again, in lockstep with other charismaniacs, like WF king Kenneth Copeland, the Protestant Reformation means nothing to such as these.
Christian continues:
The day before the meeting with Pope Francis, Osteen said, he attended Mass in St. Peter's Square with 100,000 people.

"Afterward, (the pope) spent an hour and a half going through the crowd with the Popemobile, greeting people," he said. "It was very heartwarming to see him caring for people." (source)
That Osteen would attend a service in an apostate religious community (it's not a church in any Biblical sense) only serves to show just how little Joel Osteen actually cares about proper Christian doctrine; that's if he knows it at all. And Joel Osteen finds it "heartwarming" while an antichrist leads people toward his false church and further away from Jesus and His Gospel?
If Pope Francis really cared for these people then he'd repent of his blasphemy, abolish his papacy, and with it the Church of Rome. Like Church Reformer Martin Luther, who had forgotten more about Roman Catholicism than sinful ecumenicists like Osteen et al will ever know, once stated:
What kind of a church is the pope's church? It is an uncertain, vacillating and tottering church. Indeed, it is a deceitful, lying church, doubting and unbelieving, without God's Word. For the pope with his wrong keys teaches his church to doubt and to be uncertain.

If it is a vacillating church, then it is not the church of faith, for the latter is founded upon a rock, and the gates of hell cannot prevail against it (Matthew.16:18). If it is not the church of faith, then it is not the Christian church, but it must be an unchristian, anti-Christian, and faithless church which destroys and ruins the real, holy, Christian church.3
Absolutely. As per his usual M.O. Pope Francis is appealing to his comrade charismaniacs:
More than 50,000 charismatic Roman Catholics also attended the convocation, during which the pope knelt on the ground to pray, the Deseret News reported. (source)
No doubt Satan's servants can appear very pious. But now it gets worse; and here's why I brought up the Mormon comments by Joel Osteen. Mormon-owned Deseret News (DN) also reported in Sen. Mike Lee, Dirk Kempthorne, Joel Osteen meet with Pope Francis at Vatican that:
 A small group of political and religious leaders from the United States, including Sen. Mike Lee of Utah, met privately with Pope Francis at the Vatican today [June 5].

Part of a multiday, unofficial visit to Italy to promote ecumenical prayer and interfaith understanding, Lee was joined in the private audience by former U.S. Interior Secretary Dirk Kempthorne; Lakewood Church pastor and televangelist Joel Osteen; Tim Timmons, a pastor and author based in Newport Beach, California; and Gayle D. Beebe, president of Westmont College, an evangelical school in Santa Barbara, California.

Lee said The International Foundation, a private nonprofit, arranged the trip. (source)
So we find out that this group went to Rome "to promote ecumenical prayer and interfaith understanding." Nicola Menzie of the Christian Post fills us in concerning The International Foundation:
The Fellowship, or The International Foundation, reportedly organized the trip. The Fellowship is led by evangelical Christian minister Douglas Coe, who was noted by the Vatican Information Services as one of many guests received by Pope Francis on Thursday, cited simply as: "Doug Coe of the National Prayer Breakfast, U.S.A., and entourage." The Fellowship is the main organizer behind the annual National Prayer Breakfast held in Washington, D.C. (source)
DN reporter Mark A. Kellner also tells us:
The Utah Republican conversed with the Pope in Spanish, which is the pontiff's mother tongue, about the need for faith in Jesus Christ and to build families. Lee, who served a two-year mission for The Church of Jesus Christ of Latter-day Saints in the Rio Grande Valley of Texas, speaks fluent Spanish.

"I was told it would not only be the proper protocol, but also appreciated if I were to address him in Spanish," Lee said in a telephone interview from Rome. "The invitation to meet came from Pope Francis' desire to invite more people to come unto Jesus Christ," he added…

According to a Westmont College statement, the pontiff "invited the Protestant leaders to discuss the question: 'Can we find common ground in order to advance the life and ministry of Jesus so more people can experience the joy of Christian faith?'"

Lee and his wife were apparently the only members of The Church of Jesus Christ of Latter-day Saints in the delegation. (source)
As it concerns advancing "the life and ministry of Jesus" and His Gospel, what common ground does the Christian have with non-Christian cultists who worship another Jesus?4 What common ground do we have with apostates preaching another gospel?5 Answer: None. This kind of damnable activity began circa 1997 in evangelicalism with its embrace of the Emerging Church.
Now you can begin to see just how close this apostasy has slithered toward the mainstream. Kellner continues telling us how, "Lee said he told Francis about the ecumenical prayer breakfasts held in the U.S. House of Representatives and the Senate.and that the pope replied he supported such ventures." Of course he would; Pope Francis walks in another spirit.6
Kellner also points us to:
A former U.S. Ambassador to the Holy See, Francis Rooney,[ who] applauded the pope for meeting with the group. "I think the Pope, in reaching out, is broadening the concept of ecumenical dialogue, and he's reaching out to people who can touch other Christians," Rooney said. (source)
While Pope Francis absolutely is "broadening the concept of ecumenical dialogue," he is certainly not doing so as a Christian. Lastly, DN's Mark Kellner informs us that Rooney:
noted that Pope John XXIII reached out to Jewish leaders, "having served as a papal nuncio (ambassador) and appreciated (their) plight" during World War II. And Pope John Paul II, who along with John XXIII was canonized in April, continued the outreach to Jews and included Eastern and other Orthodox Christian leaders, Rooney explained, and now Francis is widening the circle.

"This pope's a whirlwind," Rooney said. "He's making a great contribution to the world, I think. He's doing great things for the world." (source)
Herein I find a point of agreement with Rooney; Pope Francis is of the world, and therefore, he is doing worldly things, and the world loves him.7 Like Peter, whom Pope Francis thinks he's successor to, Jesus would say to this Pope —"Get behind me, Satan! You are a hindrance to me. For you are not setting your mind on the things of God, but on the things of man" (Matthew 16:23) And shame on the fools who follow him.
Finally, Menzie mentions that this:
ecumenical meeting was a part of Pope Francis' on-going efforts to bring unity among Christians, previously stating in public remarks, "Divisions among us, but also divisions among the communities: evangelical Christians, orthodox Christians, Catholic Christians, but why divided? We must try to bring about unity."

He added, "Seek unity, unity builds the Church and comes from Jesus Christ. He sends us the Holy Spirit to build unity!" However, Pope Francis's call for unity goes beyond the Christian community. (source)
O, indeed it does; this phony unity is heading right toward a One World Religion, as you may remember my earlier article More Unity as Pope Francis calls Muslims "Dear Brothers". Be forewarned; you charismaniacs and practitioners of CSM may well find yourselves becoming a fulfillment of the following from God's inerrant and infallible Word:
The coming of the lawless one is by the activity of Satan with all power and false signs and wonders, and with all wicked deception for those who are perishing, because they refused to love the truth and so be saved. Therefore God sends them a strong delusion, so that they may believe what is false, in order that all may be condemned who did not believe the truth but had pleasure in unrighteousness. (2 Thessalonians 2:9-12)
Yes, I know that most evangelicals today, lusting for the approval of the world, are afraid of your own spiritual shadows; but can't you at least draw the line at non-Christian cultists such as Mormons whose "Jesus" is actually the spirit brother of Satan?
Further reading
Endnotes