By Ken Silva pastor-teacher on Apr 7, 2014 in AM Missives, Current Issues, Features, Rob Bell

"Do two walk together, unless they have agreed to meet?" Amos 3:3)
Rob Bell Is Now Walking With Oprah Winfrey Through The New Spirituality
Apprising Ministries was blessed by the Lord to be among the online apologetics and discernment ministries (OADM) who were the first to cover apostate Rob Bell, the former rock star icon of the Emerging Church aka the Emergent Church. In fact, this OADM actually became a leading critic as evidenced by the following.
Though funding is down right now, I want to encourage you who have been faithfully supporting this labor in the Lord that He is using it to reach people and putting it right in front of the various people I write about. For example, in the 2008 ABP News piece Rob Bell: Christians shouldn't fear controversy over doctrine we found out: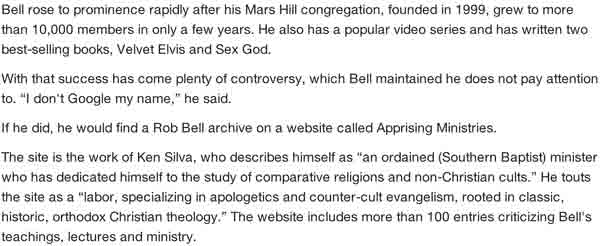 (source)
Actually, it was back in 2008 that I would feel led to write Rob Bell And Christian Universalism. Therein I began to show you that, even then, Rob Bell was already leaning toward, as well as beginning to teach, a form of universalism where—after a time in some type of a purgatory—eventually everyone will end up being saved.1
Then in 2011 Bell released his most controversial book Love Wins where he came out of the closet advancing the argument for a form of Christian Universalism.2 Keep in mind here that the Emerging Church, which Bell was aligned with, morphed into the Emerging Church 2.0 with its own postmodern Progressive Christian theology.
You need to know that under the silly circus "big tent" they erected3 these rebels against the final authority of the Word of God would refer to their mythology as Emergence Christianity; and at the very corrupt heart of this foolhardy fable is the same type of universalism Bell was arguing for as the basis for his Love Wins mythology.
Here it's very important to keep in mind that, at the time, the warped and toxic teachings of Rob Bell were being used across mainstream evangelicalism in Youth groups and Young Adult ministries. For example, in 2011—the very year that Love Wins dropped—we have Saddleback Church of Rick Warren using Rob Bell Teachings.
As I told you in Unrest With Rob Bell Inside Mars Hill Bible Church, on March 13, 2011, a meeting concerning Bell's Love Wins was held at Mars Hill Bible Church (MHBC), where he was still pastor. I also shared with you how sources I had inside MHBC informed me that Love Wins was the reason Bell would resign his pastorate.
This was later confirmed in Rob Bell Tells How 'Love Wins' Led to Mars Hill Departure where we were told that, in spite of his best efforts, Bell really didn't feel that MHBC had become apostate enough for him:
Former megachurch pastor Rob Bell, founder of Mars Hill Bible Church in Grandville, Mich., recently shared how his 2011 book, Love Wins, led to a fallout with the congregation and forced him on a "search for a more forgiving faith."

Bell details this search in a recent interview with The New Yorker, and discusses his invitation to Christians interested in a different kind of church, "one that can keep pace with the rising 'waterline of culture.'" (source)
Why is all of this important to rehash here? I'm glad you asked; because 1) Rob Bell has probably had more influence upon the young in your local evangelical church than you realize and 2) he is a leading practioner and proponent of the corrupt Contemplative Spirituality/Mysticism (CSM) I have so often warned you about.4
The fact is, the universalism Rob Bell arrived at is direct fruit of his longtime devotion to this spurious CSM promulgated by the Living Spiritual Teacher and Quaker mystic Richard Foster for years as so-called Spiritual Formation. Now consider, CSM likely forms the basis of what's been taught to your young since circa 2004.5
Against this backdrop I tell you again that Rob Bell has long had far more in common the Buddha than the Christ. Which now brings me around to talk show host turned spiritual guru, Oprah Winfrey. Let's be clear, Winfrey does claim to be a Christian and unfortunately there are many gullible Christians who buy that claim.6
Even so, as you'll hear her tell us, "I am a Christian; that is my faith" at 0:26 of the clip below:
[mejsvideo src="https://www.apprising.org/wp-content/uploads/2012/05/Oprah-Winfrey-Makes-The-Claim-2-B-Christian-4-24-12.mp4″ width=640 height=360]
You can also see that Winfrey's statement, "I respect for all faiths" was indeed a real crowd pleaser. Of course we respect people of other faiths; however, mystics like Winfrey and Rob Bell actually espouse the New Spirituality, which supposedly transcends these faiths. For them these other religions are really irrelevant.
Neo-gnostics like Oprah Winfrey, and possibly Bell himself now, are trying to get others to understand that it doesn't so much matter what you believe about God as long as you believe the world is spiritual. I showed you before, also using her own words, that Oprah Winfrey is not a Christian—though "she was raised Baptist."7
We do know that both Oprah Winfrey and Rob Bell have in common the practice of transcendental meditation in an altered state of consciousness, sometimes called Contemplative/Centering Prayer, which is at the occultic heart of the new spirituality. So, we shouldn't find it surprising that Winfrey is so keen on Bell's version of theology.
Now I can point you to Pastor Rob Bell to tour with Oprah Winfrey as I get set to close this out. Matt Vande Bunte reports that:
Rob Bell will join Oprah Winfrey this fall on an eight-city tour scheduled to include a stop at The Palace of Auburn Hills near Detroit.

Bell, the former Mars Hill church pastor in Grandville, is among the "handpicked thought leaders and pop culture icons" slated to participate, according to a news release. The other guests already announced: Deepak Chopra, "Eat Pray Love" author Elizabeth Gilbert and Iyanla Vanzant, whose "Iyanla Fix My Life" show airs on Winfrey's TV network. (source)
You can see that among the "thought leaders" in spirituality whom Bell will tour with is Living Spiritual Teacher Deepak Chopra, a leading teacher of new spirituality aka the New Age. Sounding a lot like her friend Joel Osteen, Oprah is calling this The Life You Want Weekend.8 It begins September 5 and runs through November 15.
Relevant magazine adds:
Rob Bell will be out on the road as part of a new speaking tour. But unlike the intimate theater shows he used to host, his new platform will be in arenas around the country… On her website, the TV mogul has posted an epically-scored video describing the tour if you want to learn more about finding a, ummm, "gratitude space" … (source)
Along those lines Joseph Sunde brings out:
lo and behold, Oprah's Big-Tent Self-Helpism is about to expand its posts once again. This fall, Oprah will rally a handful of preferred prophets and "tastemakers" to embark on an eight-city weekend tour, "The Life You Want," a celebration aptly titled for the self-obsessed.

Though a tour of this variety is a first for Enterprise Oprah, and despite the booming promise of the promotional trailer — "Oprah like you've never seen, heard, or experienced!" — the aim and agenda are rather routine as far as upper-middle-class heart-tingling goes. All the way down to the $99–$999 price tag.

The tour will push themes of "empowerment, resilience, and authenticity," we are told. Oprah will share her inspiring rise from poverty to media glory, followed by a series of talks by "hand-picked thought leaders" such as "spiritual teacher" Iyanla Vanzant, mind-body wizard Deepak Chopra, pastor-turned-surf-churcher Rob Bell, and all-around me-seeker Elizabeth Gilbert, author of Eat Pray Love. "The goal is to live the fullest, highest expression of yourself as a human being," Oprah declares.

Swoon. Tingle. Tear. Repeat. (source)
Below you see the list of centered of the self speakers who're supposed to help Oprah create "a transformative journey for every person in the audience" during this tour:

(source)
Let's turn your attention specifically to Deepak Chopra, who "is widely credited with melding modern theories of quantum physics with the timeless wisdom of ancient cultures."9 You might recall about four years ago now a book called A New Kind of Christianity (ANKoC) from Living Spiritual Teacher and EC guru Brian McLaren,
Within ANKoC McLaren, one of the unholy Emergent trinity of apostates with universalist EC pastor Doug Pagitt, and his friend Tony Jones—the progressive "theologian in residence" at Pagitt's Emergent Solomon's Porch—began laying out more systematically the Emergence Christianity I mentioned earlier.
Not long afterward Rob Bell, a Brian McLaren disciple,10  would become emboldened to also detail  the universalism at its heart. What you may not know is that McLaren's theology in ANKoC is largely culled from the book The Future Of Faith (TFoF) by the uber-liberal theologian Harvey Cox.
I told you before,  e.g. in Jim Wallis says your Salvation Isn't Yours, that Cox has also been very instrumental in assisting progressive Christian theologian Philip Clayton, as well as his friend Brian McLaren, in cobbling together this EC big tent Christian universalism that's now also advanced by Rob Bell.
The reason I went into all of that is in order to share with you a couple of the recommendations for Cox' TFoF off its back cover.  First, we have Brian McLaren:
This important book has not only helped me understand the past. present, futre of this amazing phenomenon called Christianity . . . it has also motivated me to keep working to help make actual the possible future Cox envisions.
—Brian McLaren, author of A New Kind of Christian
As you can see from McLaren himself, he's working along with men like Cox and Clayton to "help make actual the possible future" they're together envisioning. Then there's also the following endorsement from new spirituality guru Deepak Chopra, who clarifies what kind of future for Christianity we're talking about:
Harvey Cox has been a voice of both reason and faith in our cynical times. Now, he offers a fresh vision for the resurrection of a new global Christianity that will restore our faith both in ourselves and in the divine.
—Deepak Chopra, author of Jesus: A Story of Enlightenment
When you have a supposed resurrected "new global Christianity" that even a pantheist New Age mystic like Chopra can sign onto then you have ceased to have anything left that's Christian theology. So you see, Rob Bell has more in common with Deepak Chopra and Oprah Winfrey than he does a Bible-believing Christian.
Now that we have this understood, we can then return to the aforementioned report by Matt Vande Bunte  who goes on to tell us that:
Bell moved to southern California in 2012 to pursue TV opportunities after founding Mars Hill Bible Church, which grew into the area's largest church. His books including "Love Wins" and "What We Talk About When We Talk About God" reportedly "wowed" Winfrey, who interviewed him last year for a "Super Soul Sunday" show on her TV network.

Bell tweeted last week that he'll take part in an April 8 taping of the network's "Help Desk" show. (source)
No shock there that Winfrey was wowed by Bell's mythology; and yes, by the video clip below, Rob Bell sure does seem pretty excited about his upcoming appearance tomorrow:

(source)
As you can see from Rob Bell Speaks With Oprah Winfrey on 'Super Soul Sunday' and Watch Rob Bell talk spirituality and religion with Oprah Winfrey on 'Super Soul Sunday', it's not his first appearance for Winfrey:
Former Mars Hills Bible Church pastor Rob Bell sat down with Oprah Winfrey to talk religion and spirituality in a piece broadcast Sunday morning, Nov. 3 [of last year]. (source)
Here's the bottom line: Rob Bell's message was so far removed from orthodox Christianity that Oprah Winfrey wanted him back because she is hearing what she wants to hear.11 Forget the argument that Bell is befriending Winfrey in order to preach the Gospel to her. The truth is, he doesn't preach the Gospel in the first place.
I'll leave you with the following clip from Bell's appearance with Oprah on that Super Soul Sunday broadcast from last year. Hear for yourself that with his vague and opaque "spiritual" answers to Winfrey's rather straightforward questions, Rob Bell sounds much more like Deepak Chopra than he does a minister of Jesus Christ.
Bell's words are so nebulous he could be describing the smell and taste of good barbecue rather than God. And before you're tempted to give Rob Bell a pass on his nebulous presentation, I encourage you to listen to the truth of the words to follow from Charles Spurgeon, a real minister of the Gospel of Jesus Christ:
Our very speech should be such that our citizenship should be detected. We should not be able to live long in a house without men finding out what we are.

A friend of mine once went across [from England] to America, and landing I think at Boston, he knew knew nobody.

But he heard a man say, when somebody had dropped a cask on the quay, "Look out there, or else you will make a Coggeshall job of it."

My friend said, "You are an Essex man man I know, for that is a proverb never used anywhere but in Essex: give me your hand"; and they were friends at once.

So there should be a ring of true metal about our speech and conversation, so that when a brother meets us, he can say, "You are a Christian, I know, for none but Christians speak like that, or act like that."12
However, with apostate Rob Bell we offer that none but contemplative neo-gnostics speak like he does below:
[mejsvideo src="https://www.apprising.org/wp-content/uploads/2014/03/BellOprah.mp4″ width=640 height=360]
Further reading
Endnotes