By Ken Silva pastor-teacher on Mar 21, 2014 in AM Missives, Current Issues, Features, Steven Furtick
Among the issues Apprising Ministries has been tracking for you the past couple of years, during what may one day be known as the New Downgrade No-Controversy, is the formation of a self-appointed new Evangelical Ecumenical Magisterium (EEM) largely comprised of megachurch pastors like prophet-pastor Steven Furtick.
I explained to you recently in Indoctrinating Children into the Cult of Steven Furtick that Furtick is the spiritually nefarious prophet-leader of the highly influential multi-site megachurch known as Elevation Church, who is without a doubt a leading member of this EEM along with e.g. James MacDonald and Mark Driscoll.
You may recall from Financial Questions Surrounding Steven Furtick And His Elevation Church that I outlined for you just how the office of vision-casting prophet-pastor operates today within apostatizing evangelicalism. It virtually guarantees that these cult of celebrity leaders will effectively end up starting their own cult.
Once more briefly, the dutiful prophet-pastor begins to ardently study the holy writings of the "successful" like-minded prophet-pastors who have gone on before him. Then, filled with his lofty dreams of megachurch church-planting stardom, the prophet-pastor starts meditating upon his hero's works until finally the delusion arrives.
Now the prophet-pastor has his extra-biblical "vision," allegedly from God, as to how it is he's going to make "God's dream" come true. Next he goes about selecting his hand-chosen yes men disciples and they accompany him before his followers congregation where prophet-pastor lays down the law casts said vision before this flock.
Then it's up to the "church" to  do whatever it takes to make prophet-pastor's delusions of grandeur come to pass. In the case of Steven Furtick, should you be tempted to think I'm overstating all of this, below is a picture of the monument to Furtick and his vision taken inside his church:

(source)
We also have the following from Elevation Is The Best Place To Work where we're reminded with all the subtlety of a sledgehammer:


(source)
Lastly, for those like Steven Furtick seeking occult experience with God outside of Scriputre, eventually we'll wind up with Furtick's cultic Elevation Church and Our Code – United Under The Visionary:
We Are United Under The Visionary: Elevation is built on the vision God gave Pastor Steven.  We will aggressively defend our unity and his vision… We believe that God's given Pastor Steven the vision of where he wants to take Elevation's ministry.  And the Lord's called us all here to use our gifts and strengths corporately as a way of seeing that vision come to life…

We're not partially tied into Elevation, or partially behind Pastor Steven's vision.  We feel called to support him and what the Lord's doing here. Worship leaders, we've said it before….GET BEHIND YOUR PASTOR.  Support him and the vision God's given him…

[God] desires a unified spirit between your entire staff and your pastor.  Invest your heart and soul into that ministry.  Pour yourself out in support of the visionary. (source)
As you can see from that 2010 piece at the Elevation Worship blog, I've not overstated at all the role of the cult-like vision-casting prophet-pastor. Nor has Todd Pruitt—one with personal experience—who brings out in his The Cult of the Visioneer:
Combine unbiblical ideas of a pastor who receives visions from God with slick fashion, cutting edge marketing, and shameless self-promotion and you have a cult-leader in the making.

A recent info-graphic produced by Elevation Church includes the following statements:

1. We serve a Lead Pastor who seeks and hears from God.3. We serve a Lead Pastor we can trust.

7. We serve a Lead Pastor who pours into us spiritually and professionally.

16. We serve a Lead Pastor who goes first.

This is frightening stuff. We have a Lord who came not to be served but to serve (Matt 20:28). And yet at Elevation it is plain that "Pastor Steven" is the boss who expects to be served. (source)
It's against this tragic backdrop I'll leave you with the following from Marvin Olasky, "editor in chief of WORLD News Group and the author of more than 20 books," and his article The Second Great Embarrassment:
Protestants who treat leaders as mini-popes have fallen far from the Reformation released today.
Olasky begins by sharing how he feels:
Karl Marx was a mediocre writer, but his reference to a great philosopher has been quoted and re-quoted: "Hegel remarks somewhere that all great world-historic facts and personages appear, so to speak, twice. He forgot to add: the first time as tragedy, the second time as farce." (source)
He then offers the following insight:
If we could laugh off current evangelical scandals, our situation would not be so dim—but we cannot. Historians lecture on the Great Awakening (1730s-1740s) and the Second Great Awakening (1800s), but in our time we could mutter about the Great Embarrassment (1987-1991) and the Second Great Embarrassment (2006-present).

Both embarrassments involve sex and money, in varying combinations. The first one, featuring Jim Bakker and Jimmy Swaggart, was a farce, because both had over-the-top personalities. The current one, which began with Ted Haggard, continues with Doug Phillips, and includes others once widely respected, is a tragedy.  (source)
And Olasky is dead-on-target as he now brings Steven Furtick into this tragedy of embarrassments:
The link among all of them comes out clearly in the materials of pastor Steven Furtick's Elevation Church in Charlotte, N.C. One smoking gun is a document entitled "Reasons Elevation Church Is the Best Place to Work." Reason #1: "We serve a Lead Pastor who seeks and hears from God." Reason #3: "We serve a Lead Pastor we can trust." Reason #7: "We serve a Lead Pastor who pours into us spiritually and professionally."

All this is biblically odd. As Virginia pastor Todd Pruitt points out in a Reformation 21 blog post, "The Cult of the Visioneer," Christians "have a Lord who came not to be served but to serve." Chapter 20 of Matthew's Gospel also says those who go first will be last, but Elevation Church reason #16 is,"We serve a Lead Pastor who goes first."

There's more. Pruitt discovered an Elevation Church coloring page (designed to decrease child squirming during services) that has at its top "UNITY: We are united under the visionary." At the bottom the page states, "Elevation Church is built on the vision God gave Pastor Steven. We will protect our unity in supporting his vision."

All that is also biblically odd. We're only three years short of the 500th anniversary of the Protestant Reformation, which emphasized that we should follow only God's vision as shown in the Bible. Roman Catholics responded, in essence, We will protect our unity in supporting the vision of the Pope, or perhaps the College of Cardinals. 

The link among perpetrators of both Great Embarrassments is their followers' tendency to see them as inerrant mini-popes. After a while such adulation goes to men's heads, leading many to think, I can do anything I want. Some want to be served sexually, some financially, some both.

This idea of protecting unity by supporting the vision of a human being, rather than relying on the vision of God as shown in the Bible, was anathema to Reformation products like the Puritans, who honored pastors but listened to sermons with Bibles on their knees, lest their leaders offer a vision not of God. (source)
Indeed, as in the deluded dream of prophet-pastor Steven Furtick: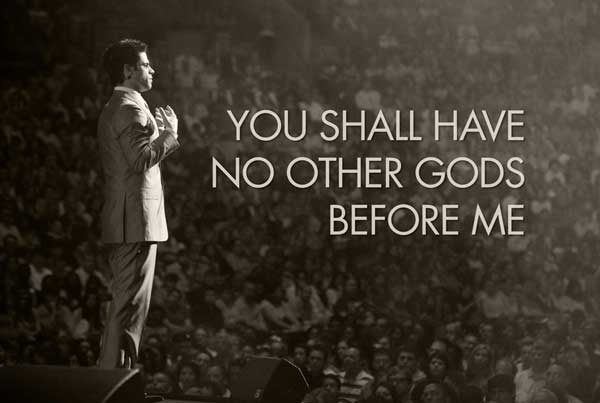 Further reading