By Ken Silva pastor-teacher on Feb 22, 2013 in AM Missives, Current Issues, Features
Apprising Ministries is doing what we can to warn you of a growing apostasy that I could never have imagined in my wildest dreams. With it has come a growing syncretism as the Gospel shifts from repentance and forgiveness of sins in Jesus' Name to let's all work together to make the world a better place.
With all of that new man-centered mythology has come the blurring and erasing of doctrinal lines at spiritual warp speed; take for example, Word Faith Slithering Closer To Mainstream Evangelicalism and Emerging Ecumenical Evangelephants And The Word Faith Movement.
The latter involves Elephant Room 2 of James MacDonald and Mark Driscoll, where the dubious duo gave a free pass into the mainstream of evangelicalism to Word Faith mogul T.D. Jakes. And who would have believed Ravi Zacharias: Word Faith Preacher Jojyce Meyer "Such A Great Bible Teacher" God Is Using.
A little over a month ago we had Louie Giglio, Passion 2013, And Jesus Culture. If you didn't know, Jesus Culture (JC) is not only a worship band, it's a movement. ((http://www.jesusculture.com/fuel, accessed 2-22-13.)) JC tells us on their Facebook page below:

(source)
So, JC itself is quick to point out that they're not "just a band, but…a ministry of Bethel Church." (BC) So, this isn't guilt-by-association; it is a fact. Therefore, now that Louie Giglio has made the decision to bring JC to his Passion 2013, JC itself witnesses for BC. Now let me introduce you to BC's pastor.
He is the very controversial hyper-charismatic Bill Johnson, who's clearly aligned with the spiritually whacked New Apostolic Reformation of spiritual wingnuts like "Apostle" Chuck Pierce and "Apostlette" Cindy Jacobs:
Bill and Brenda Johnson are the Senior Pastors of Bethel Church in Redding, California. Bethel Church is firmly aligned with the Word-Faith movement and identifies with the New Apostolic Reformation (NAR), or the Third Wave Movement with its "prophets," "apostles," and alleged manifestions. Bill Johnson is called an "apostle" by C. Peter Wagner (See  TBC  5/97, 2/07). His theology has amounted to what some call a " de facto  denial of the deity of Christ." (source)
Obviously, we're dealing with an absolute theological train wreck at Bethel Church (BC). Which makes the following from ER2 co-host James MacDonald's ministry today all the more peculiar:
——– Original message ——–
From: James MacDonald <OurJourneyOnline@WalkintheWord.com>
Date: February 22, 2013
To: AM Reader
Subject: Our Journey | It's Relationship, Not Religion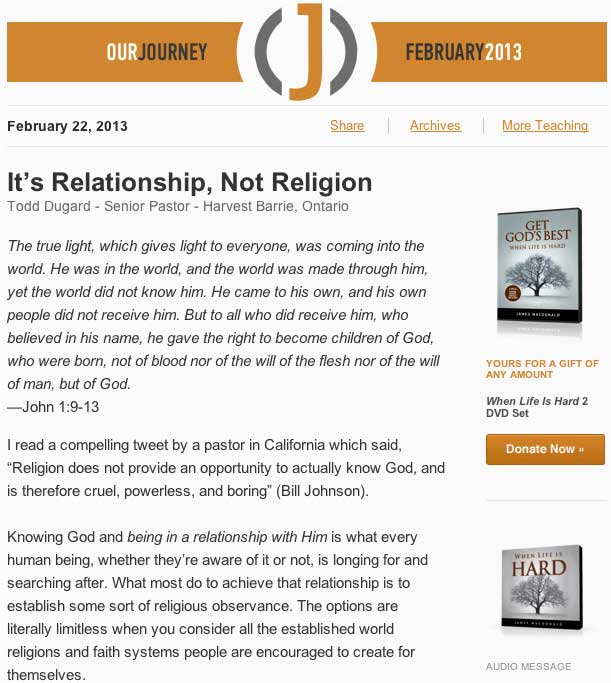 Really? MacDonald's Walk In the Word actually couldn't find a pastor who isn't involved in the dangerous hyper-charismatic signs and wonders movement who promotes spiritual phonies like Todd Bentley? ((see SOUND ADVICE FOR BETHEL CHURCH PASTOR BILL JOHNSON)) Did you know that Bill Johnson was instrumental in restoring that wolf in sheeps' clothing.
God warns us a number of time concerning introducing the leaven of false teaching into proper Christian doctrine, e.g. Matthew 16:6; Mark 8:15; 1 Corinthians 5:6-7; Galatians 5:9. Yes, I've heard the argument many times, just because we quote someone doesn't mean we endorse their ministry.
However, in the case of an outright heretic like Bill Johnson the wise Christian minister is going to keep his flock from even being exposed to Johnson's wild mystic mythology in the first place. It's akin to inviting him to feed your sheep knowing that much of the meal he brings is poisoned.
Further reading