By Ken Silva pastor-teacher on Jan 12, 2013 in AM Missives, Current Issues, Features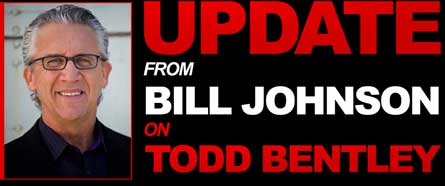 Apprising Ministries essentially covers the mainstream of the apostatizing evangelical community so Word Faith/NAR spiritual wingnuts like Bill Johnson of Bethel Church (BC) have largely remained under our radar.
Here's an immediate example of just how far off Johnson's discernment is; the graphic above comes from Update from Bill Johnson on Todd Bentley. It doesn't get much easier to recognize a false prophet than Todd Bentley.
Yet Bill Johnson was part of the "leadership" that foisted Bentley back upon the visible church. Johnson tells us:
Several of the members of Revival Alliance flew to Lakeland, Florida, in 2008 both to observe and bless what God was doing through Todd Bentley. He was taking a lot of hits from highly respected leaders pertaining to that outpouring.

We went there to lend our support and possibly add our strengths to the movement. We have all been on the receiving end of similar accusations against what God was doing in our ministries and churches. Each of us had developed a friendship and an informal partnership with Todd over the years. We have had great respect for the gift and anointing upon his life.

Before the Lakeland Revival, I had not only worked with Todd in ministry but also met with him,… My heart has always been for Todd the person, not the ministry. He's a friend…  I have now ministered with Todd in both settings—Morningstar and at a conference in Texas.

It was good to see Todd in ministry again. He handled himself well and functioned under great anointing,… The fruit of the ministry was very good… I am pleased with Todd's progress…as a minister of the gospel… In conclusion, I recommend Todd to you, believing that you will be blessed and encouraged by his ministry. (source, emphasis his)
Seriously? Bill Johnson, who says he knew his friend Todd Bentley even before the so-called "Lakeland Revival," believes e.g. this was an "anointing" from God and we'll be "blessed and encouraged" by it:
[mejsvideo src="https://www.apprising.org/wp-content/uploads/2013/01/BllJTodd.mov" width=640 height=360]
That lunacy in the Lord's Name aside, the other reason Bill Johnson is now in my crosshairs is because of Louie Giglio, Passion 2013, And Jesus Culture. Jesus Culture happens to be a ministry extending from BC itself. ((http://www.facebook.com/jesusculture, accessed 1-12-13.))
Since they're not the focus of this article, I'll just point you to Jesus Culture—Of Bethel Church—And Practicing Raising The Dead where I told you Bill Johnson aligns himself, and his JC, with a wild assortment of heretics.
Not the least of which would be "Apostle" Lou Engle and "Apostlette" Cindy Jacobs of the New Apostolic Reformation headed by Grand Poobah "Apostle" Chuck Pierce. This is information you need as you read on.
All of these truly do believe that they regularly have direct encounters with God and operate in signs and wonders; it's at the very heart of this pack of wolves. Now, I have no reason to doubt they're having spiritual experiences.
However, these encounters are not with God the Holy Spirit, which is why I would offer Bill Johnson the sound advice I did after he tweeted today:

(source)
Having been at this line of work for some 25+ years now, and from my own time in Word Faith churches, I can unpack this for you because I know the turf. Bob DeWaay just covered it in Cursed By Works Or Blessed By Faith.
Such as these are actually neo-gnostics who see themselves as "higher" or "deeper" Christians than those of us who adhere to the proper Christian spirituality of sola Scriptura. However, this is rooted in the Colossian error.
There is no higher order of deeper Christians. As DeWaay tells us:
It is important to see that Paul does not describe two categories of Christians, those who have a special blessing that puts them in a better category than ordinary Christians and the rest. That false concept is precisely what led many in Colossae astray.

They wanted to keep their superior status based on their previous higher order experience as pagans.Galatians 4:4-7 applies to all Christians, defining for all of us the reality of our status as blessed sons in Christ. Paul does not beckon us to become elite Christians more spiritual than the rest…

What is true here is true of all who are redeemed, and never true of those who are not. The siren song of the "higher" or "deeper" life is a guise for longing to go back to the days of the shamans who mediated between us and the demons. We must reject this temptation. (source)
Bill Johnson and his ilk of NAR neo-gnostics have long ago yielded to that temptation. That's why Johnson refers negatively to people he considers lower level Christians "without experience," i.e. not receiving direct revelation.
So, as one of his peers, I tweeted him a wise course of action concerning these spiritual matters:

(source)
First of all, I showed Johnson his initial arguments works just as well in reverse; so, who's to say which group's "theological theories" are correct? He's merely made a subjective decision to believe "experience" equals maturity.
If we simply argue in this subjective manner, we can make a strong case that Johnson and NAR neo-gnostics are the ones with the "interesting," in other words wrong, theological theories because of their experiences.
The truth is, Bill Johnson et al are mystics operating in the occult by trying to receive information from/about God in a way He has not prescribed. This is another reason why I pointed him back to the objective truth of Scripture.
Notice what God says about the Bereans as they were taught by the great Apostle Paul:
Now these Jews were more noble than those in Thessalonica; they received the word with all eagerness, examining the Scriptures daily to see if these things were so. (Acts 17:11)
They were commended as noble by God the Holy Spirit; but not because they were deeper spiritually and used their experience to determine truth. Rather, for turning to God's objective revelation and examining the Scriptures.
Feelings are fickle; experiences come and go, but we can trust the Word of God, for it's as unchanging as He is:
The grass withers, the flower fades, but the word of our God will stand forever. (Isaiah 40:8)

"For I the LORD do not change";… Jesus Christ is the same yesterday and today and forever. (Malachi 3:6 ; Hebrews 13:8)

I bow down toward your holy temple and give thanks to your name for your steadfast love and your faithfulness, for you have exalted above all things your name and your word. (Psalm 138:2)
Further reading