By Ken Silva pastor-teacher on Sep 1, 2011 in AM Missives, Current Issues, Features, New Apostolic Reformation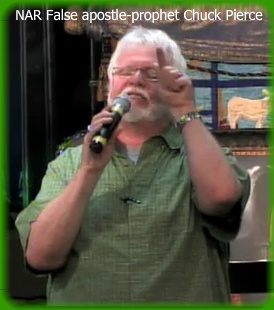 Apprising Ministries is doing what we can to warn you of a growing syncretism that I could never have imagined in my wildest dreams.
I was actually saved in a charismatic church and afterward had to move across the country for a job programming a couple of radio stations.
In time, as a young Christian, I would end up for a while in a Word Faith church, which was  heavily influenced by that uber-nefarious WF heretic Kenneth Copeland.
My point being, when I write on these subjects, you need to know I've personally been there and done that; in other words, I know these movements first-hand.
Because of some of its biggest leaders are injecting themselves into the mix of the Christian Right, the New Apostolic Reformation finds itself under increasing scrutiny.
C. Peter Wagner to the contrary, this NAR is really just a bunch of spiritual wingnuts that have simply anointed themselves prophets and apostles and apostlettes.
However, you don't need to fear these presumptuous fools because they have no real spiritual power; and further, they most certainly aren't hearing from God.
If you seriously think that leading NAR "apostle-prophet" Chuck Pierce is speaking God's Words below then you seriously need to ask yourself if you're even in the faith.
As a matter of fact, God spoke to me today; and He gave me a Word for Chuck Pierce and such as these NAR false teachers. Here, let me show you what He said:
As I urged you when I was going to Macedonia, remain at Ephesus so that you may charge certain persons not to teach any different doctrine, nor to devote themselves to myths and endless genealogies, which promote speculations rather than the stewardship from God that is by faith.

The aim of our charge is love that issues from a pure heart and a good conscience and a sincere faith. Certain persons, by swerving from these, have wandered away into vain discussion, desiring to be teachers of the law, without understanding either what they are saying or the things about which they make confident assertions. (1 Timothy 1:3-7)
See also:
RICK WARREN, DR. DESTINY LAVERNE ADAMS, AND "APOSTLE" CHUCK PIERCE
RICK WARREN, LAVERNE ADAMS, AND CHUCK PIERCE'S GLOBAL SPHERES