By Ken Silva pastor-teacher on Sep 5, 2012 in Current Issues, Features, Steven Furtick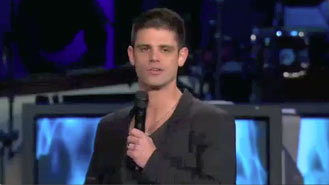 Apprising Ministries continues documenting for you what just may actually be the very beginning of the great falling away as spiritual darkness continues to fall across Christendom.
One vivid example is the syncretism of Word Faith mythology within the mainstream of the evangelical community; something, but a few years ago no one would really have expected.
A case in point is when popular Seeker Driven prophet-leader Steven Furtick came out last year and declared that blatant Word Faith prosperity preacher Joel Osteen Is A Great Man Of God.
Christian Research Network associate editor Erin Benziger told us just the other day in Steven Furtick To Preach At Joel Osteen's Lakewood Church:
The heretical Word Faith gospel continues to subtly weave itself into the fabric of the visible church. It seems that James MacDonald's Elephant Room 2 and the subsequent embracing of prosperity preacher T.D. Jakes opened the door and welcomed these aberrant teachings into the mainstream.

It is no secret that Steven "Audacious Faith" Furtick greatly admires many of the most famous propagators of the Word Faith heresy. In January 2012, we saw him gush over T.D. Jakes, calling him "my favorite preacher in the world."… ((STEVEN FURTICK: T.D. JAKES IS MY FAVORITE PREACHER IN THE WORLD))

It was not that long ago that Word Faith pastrix Christine Caine preached at Lakewood Church's youth conference, so Furtick finds himself in familiar company. In fact, Caine, who was one of the speakers at Furtick's Code Orange Revival, actually preached the Sunday service at Elevation Church in January of this year. This only aids in affirming Steven Furtick's affinity for the aberrant Word Faith gospel, of which Christine Caine is also a promoter.

 Perhaps none of this would be of interest if it were not for the continual mainstreaming of the Word Faith teachings. Steven Furtick, who once was only an up-and-coming pastor, now has the ears and endorsement of men like Elephant Room curators James MacDonald and Mark Driscoll. (

source

)
Finally on Wednesday August 29th Steven Furtick got a chance to live his dream to preach at Osteen's Lakewood Church. As you'll see in this clip below Joel Osteen himself was in the house.
Osteen refers to Furtick as "one of the great voices of our young generation," which gives you indication that Steven Furtick is an evangelical star on the rise even within the Word Faith camp:
[mejsvideo src="https://www.apprising.org/wp-content/uploads/2012/09/FurtickAtLakewood.mov" width=640 height=360]
Further reading