By Ken Silva pastor-teacher on Aug 22, 2012 in AM Missives, Current Issues, Features, Word Faith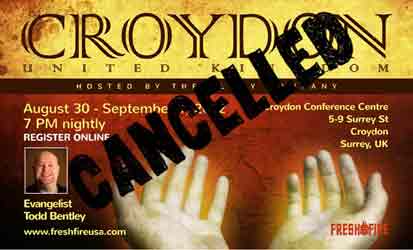 Apprising Ministries first covered disgraced Word Faith revivalist Todd Bentley back in the 2008 piece Todd Bentley Is Absolutely A False Prophet, A Phony, And A Fraud.
Here's the defining issue; in their expose Thousands Flock to Revival in Search of Miracles concerning Todd Bentley and his counterfeit "revival" that went on in Lakeland, FL ABC News, not surprisingly, points out:
When asked to present evidence of the healings, Bentley promised to give "Nightline" the names and medical records of three followers who would talk openly about his miracles. He never delivered. Instead, his staff gave "Nightline" a binder filled with what he says are inspiring miracles, but with scant hard evidence.

It offered incomplete contact information, a few pages of incomplete medical records, and the doctors' names were crossed out… (source)
This is completely opposite of miracles e.g. we see in the inspired texts of the New Testament which God did through Christ Jesus and His apostles. Hello people; "Mr. Reality on line two; says it's time to wake up now."
As a pastor I feel led of the Lord to put it like this: Todd Bentley is absolutely a false prophet and whatever power was present at his revival was not from God but from Satan.
And further, in addition to any real manifestations of demon deceptions—and they are quite real—Bentley is also a phony and a fraud using staged tricks of other Word Faith showmen like Benny Hinn.
Unfortunately he also had a fall from grace by having an affair. In the 2009 Charisma report Todd Bentley's New Wife Breaks Silence we see:
The new wife of former Lakeland Revival leader Todd Bentley said she believes it was wrong to begin a relationship with the evangelist before his divorce was final. In an interview with MorningStar Ministries founder Rick Joyner, who is overseeing Bentley's restoration process, Jessa Bentley said her relationship with Todd Bentley began after he filed for divorce from his first wife, Shonnah.

But she now believes they should have waited six months to a year after the divorce was final before beginning a relationship. (source)
Leaving that aside, note that NAR "Apostle" Rick Joyner has been "overseeing Bentley's restoration process." In a 2010 post Revival and the Todd Bentley Restoration Joyner tells us:
After nearly a year and a half of working with Todd, I recently felt that it was time to release him into some limited ministry in our local church. This does not mean that Todd has been released back into ministry in general, nor does it mean that Todd is nearing the end of his restoration process. (source)
Then on November 8, 2010 in this video clip below false apostle Joyner informs us that false teacher Todd Bentley had been restored to active ministry:
[mejsvideo src="https://www.apprising.org/wp-content/uploads/2012/08/JoynerBentleyRestored.mov" width=640 height=360]
Since his fall from the huge forum he'd had at the height of the Lakeland Revival, and his subsequent restoration, Bentley has come nowhere near that type of notoriety again.
As you'll see below, Todd Bentley was known for his "healing" through violence, which he claims was actually ordered by God Himself:
With this necessary background information I point you to my friend Bud Press of Christian Research Service who tells us in his Todd Bentley: Truly Misleading:
It appears that the August 4, 2012 article published in London, England's MailOnline has grabbed the attention of Todd Bentley, self-proclaimed prophet who claims the ability to heal by the power of God. The article warns the reader about Bentley's violent techniques with the sick and dying, and calls for Bentley to be banned from conducting his tour in England towards the end of August 2012 (Todd Bentley Controversy).

Bentley, whose popularity hit rock-bottom after the ill-fated Florida revival in 2008, commented on the article to his Facebook followers on August 5:

Uk friends and partners. Please do not believe everything you read in the Media. It is a true misleading report. Hope to see you soon.

Despite Bentley's attempts to play damage-control and deceive his followers as he has many times before, detailed articles and videos of Bentley's violence towards the sick and dying are readily available on internet websites, blogs, and YouTube.

Yet, according to the MailOnline article, Mr Bentley said: 'Kicking people in the face is not a practice of our ministry and I do not see this happening in the UK.' Truly misleading, due to the fact that kicking, slapping, and punching the sick and dying was and is Todd Bentley's trademark. Worst yet, he claims that "God" instructs him to do it.

Our friends in England would do well to avoid Todd Bentley altogether, as well as other fake faith healers and false Christians, all of whom present a clear and present danger to the physical, mental, and spiritual welfare of men, women, and children worldwide. (source)
Yesterday in her report Revivalist preacher Todd Bentley refused entry to UK Lizzy Davies of The Guardian informs us:
An evangelist preacher who has claimed he can cure people of their illnesses by hitting and kicking them has been banned from entering the UK by the Home Office.

Todd Bentley, a controversial revivalist healer based in the United States, had been due to hold a series of gatherings in England, Wales and Northern Ireland in the next few weeks. But the Home Office said Bentley, a Canadian citizen, was subject to an exclusion order and would not be permitted entry to the country.

"We can confirm that Mr Bentley has been excluded from the UK. The government makes no apologies for refusing people access to the UK if we believe they are not conducive to the public good. Coming here is a privilege that we refuse to extend to those who might seek to undermine our society," the Home Office said. (source)
Today in Todd Bentley Denied Entry Into UK Erin Benziger, associate editor of the Christian Research Network adds:
Todd Bentley is known for his outrageous and sometimes violent methods of "healing." It was concern over this style that led to a call for Bentley and his tour to be denied entrance into the UK. Wicks was not the only one to express concern, and it has now been confirmed that the UK is refusing Bentley entrance into the country. (source)
As you can see below, Todd Bentley is not pleased. He would tweet for intercessors:

(source)
Then there's this from his website:

(source)
If only American churches had the discernment of Australia and the UK regarding false prophet Todd Bentley: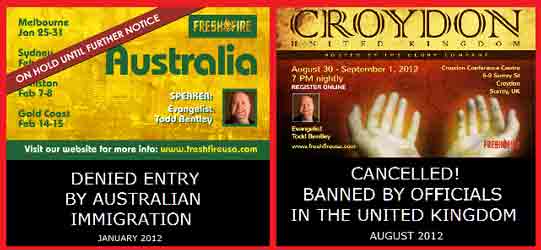 HT: Christian Research Service
Further reading