By Ken Silva pastor-teacher on Jun 25, 2012 in Current Issues, Features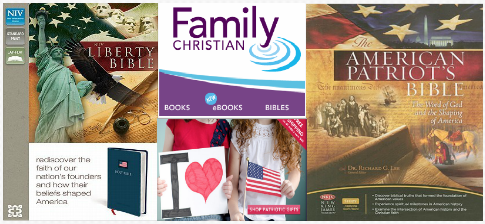 As God sends spiritual blindness upon the world, this postmodern time in which we live has headed people deeper and deeper into the shadows of darkness. Many can no longer even tell their face from their spiritual elbow.
This is one of the main reasons why, on occasion, Apprising Ministries uses satire as reductio ad absurdum in order to use illustration, such as Seeker Driven Pastor Turns Himself Into Satan to help underscore a point.
However, what you're about to see following below are actual Bibles. From Family Christian Stores (FCS) first comes The American Patriot's Bible (click to enlarge):

(source)
We're told this Bible version targets "the spiritual needs of those who love our country" and "shows how the history of the United States connects the people and events of the Bible to our lives in a modern world."
And then also from FCS there's the Liberty Bible (click to enlarge):

(source)
FCS tells us that this version of Holy Scripture "highlights the beliefs and values of the founders of our country through the writings of beloved and influential public figures-from presidents and writers to reformers."
As well as "other well-known historical figures" so we'll supposedly be able to "read the words of those whose dedication and devotion to the Christian faith formed our country's foundation" from which we'll "gain insight."
This is because these are from the "lives and thoughts of some of America's most influential believers." However, while many of the founding fathers acknowledged Christianity, there were also many unbelieving deists as well.
So while they may have talked about "God" and "prayer" it would not really have been from an orthodox Christian standpoint. I personally believe, that for whatever reason, God did choose to mightily bless the United States.
In and of itself, there's nothing inherently wrong with those of us God chose to place in America (cf. Acts 17:26) being patriotic. That said, we also need to make sure that we don't fall into idolatry and revisionist history.
This is why we are concerned about Bibles like these. Wording like "the Christian faith formed our country's foundation" certainly gives the impression we're not getting an accurate picture of the origins of the United States.
Superstitious spiritual wingnuts in the NAR slither in here to stir people up to follow their dominionist mythology. Also, people e.g. like Jonathan Cahn, author of The Harbinger, are using this stuff to prey upon the gullible.
In his review of this book, which is now sowing confusion among discernment ministries who really ought to know better, pastor Larry DeBruyn sums up our position very well:
God chose Israel. To that ancient people the Lord said: "For you are a holy people to the Lord your God; and the Lord has chosen you to be a people for His own possession out of all the peoples who are on the face of the earth" (Deuteronomy 14:2; See Deuteronomy 7:6; 26:18)…

God never uttered such "choice" words (like those spoken by the Lord to Israel in Exodus and Deuteronomy) to America. America may have chosen a generic deity, but Yahweh (That's His covenantal name.) chose Israel…

Peter told the earliest Christians: "But ye are a chosen generation, a royal priesthood, an holy nation, a peculiar people; that ye should shew forth the praises of him who hath called you out of darkness into his marvellous light" (1 Peter 2:9; Compare Exodus 19:5-6; Deuteronomy 7:6.). In the chronology of history, it's obvious the apostle identified the early Christian church, not America, as the Lord's "holy nation." (source)
The United States certainly does have a religious heritage; but I see no real evidence America was ever a Christian nation. Her only hope to avoid God's judgment is for us to preach the Gospel and let God save whom He will.
As I close this, for now, often you'll hear 2 Chroncles 7:14 quoted in regard to some hoped for national repentance. Let me put it in proper perspective for you:
if my people who are called by my name humble themselves, and pray and seek my face and turn from their wicked ways, then I will hear from heaven and will forgive their sin and heal their land.
Notice what I highlighted above, my people who are called by my name; historically this applied to God's covenant nation Israel. And in this age of grace those words can only apply to regenerated believers in Christ.
There is no universal promise of national repentance to be found here; and those who quote it as such are only revealing their Biblical ignorance to you. I wish I had better news but we're already seeing 1 Peter 4:17 judgments.
As the verse warns, if God shakes the professing Christian community, then how much more the pagan idolators. It was said elsewhere that if God doesn't punish America, then He'll have to apologize to Sodom and Gommorah.
No doubt I'm glad that the Lord had me born in America; but as a Christian, my allegiance not to an earthly kingdom, but to my Master Chris Jesus:
But you are a chosen race, a royal priesthood, a holy nation, a people for his own possession, that you may proclaim the excellencies of him who called you out of darkness into his marvelous light. Once you were not a people, but now you are God's people; once you had not received mercy, but now you have received mercy. 

Beloved, I urge you as sojourners and exiles to abstain from the passions of the flesh, which wage war against your soul. (1 Peter 2:9-11)
Further reading