By Ken Silva pastor-teacher on Apr 4, 2012 in Current Issues, Devotions, Features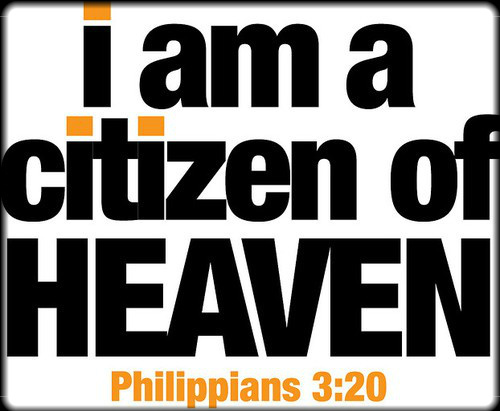 But our citizenship is in heaven, and from it we await a Savior, the Lord Jesus Christ. (Philippians 3:20)
We must do our utmost while we are here to bring men to Christ, to win them from their evil ways, to bring them to eternal life, and to make them, with us, citizens of another and better land.
Seeking the good of the country as aliens, we must also remember that it behooves aliens to keep themselves very quiet. What business have foreigners to plot against the government or to intermeddle with the politics of a country in which they have no citizenship?
So in this land of ours, where you and I are strangers, we must be orderly sojourners, submitting ourselves constantly to those who are in authority, leading orderly and peaceable lives, and according to the command of the Holy Ghost through the apostles, "honoring all men, fearing God, honoring the king"; "submitting ourselves to every ordinance of men for the Lord's sake."
We are simply passing through this earth, and should bless it in our transit but never yoke ourselves to its affairs. Christians, as men, love liberty and are not willing to lose it even in the lower sense; but spiritually, their politics are spiritual, and as citizens they look to the interest of that divine republic to which they belong.
They wait for the time when, having patiently borne with the laws of the land of their banishment, they shall come under the more beneficent sway of him who reigns in glory, the King of Kings and the Lord of Lords.
If it be possible, as much as lies in you, live peaceably with all men and serve your day and generation still, but build not your soul's dwelling place here, for all this earth must be destroyed at the coming of the fiery day.[1]
Charles Spurgeon
See also:
RICK WARREN SAYS NO KING'S WAY DOCUMENT AND NO SADDLEBACK "STAFF" INVOLVED
JOHN PIPER, RICK WARREN & FOSTER-WILLARDISM
TIM KELLER DOESN'T BELIEVE IN SIX 24-HOUR DAYS CREATION OR YOUNG EARTH