By Ken Silva pastor-teacher on Apr 4, 2012 in Current Issues, Devotions, Features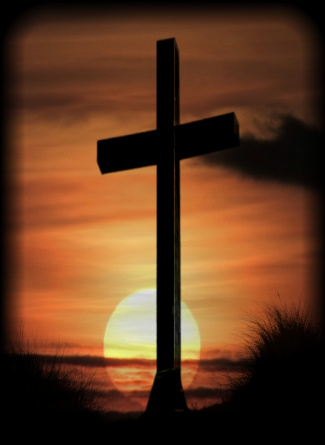 But we preach Christ crucified, unto the Jews a stumblingblock, and unto the Greeks foolishness…. That no flesh should glory in his presence. 1 Corinthians 1:23, 29 The glory of God is the purpose of all creation for both creatures and things. As it pertains to mankind, the first catechistical point of the Westminster Shorter Catechism and Charles Spurgeon's A Puritan Catechism correctly asserts: "What is the chief end of man? Man's chief end is to glorify God, and to enjoy Him forever."[1]
Though God receives glory in all things whatsoever He brings to pass, He receives special and particular glory from the preaching of Christ crucified. Why is that? For this reason: He receives ultimate and unrivaled glory through the actual work of Jesus Christ in His crucifixion.
Glory of the Cross
The glory of the cross is an eternal glory, an effectual glory, and an exclusive glory. Let's briefly review these three major aspects of God's glory by the crucifixion of His only Son.
The Eternal Glory of the Cross
The cross of Jesus Christ is exalted to glorify God by its eternal truth. Jesus Christ is "the Lamb slain from the foundation of the world" (Revelation 13:8). Peter tells us this: But with the precious blood of Christ, as of a lamb without blemish and without spot: Who verily was foreordained before the foundation of the world, but was manifest in these last times for you, 1 Peter 1:19-20
Before the foundation of the world, before ever an angel winged above the throne of glory, before Jehovah said, "Light be," and therefore, most certainly before ever He declared, "Let us make man in our image," the Triune God eternally ordained the death and resurrection of the eternal Son.
In timeless eternity, the holy conference between the Father, Son and Holy Spirit determined by the perfect counsel of His own will that the most glorious display of God's love, joy, peace, mercy, grace, wrath, justice, goodness, and faithfulness would take place before heaven and upon earth.
The Effectual Glory of the Cross
The cross of Jesus Christ is exalted to glorify God by its effectual power. Because the crucifixion of Jesus Christ was an eternal decree it is sufficient in power to save the chief of sinners among the most vile of men. It is written, And she shall bring forth a son, and thou shalt call his name Jesus: for he shall save his people from their sins. Matthew 1:21 The given name of God's Anointed is Jesus, meaning "shall save" because "he shall save his people from their sins." His name was not "might save;" but instead, "shall save" because of His sufficiency in Himself to save. Christ's perfect life alone was sufficient to satisfy every requirement for eternal restitution, needing the assistance of no other man, neither any other creature. His shed blood is sufficient for the remission of sins. The wrath He suffered for sins He did not commit secured redemption for every soul who believes. Christ's atoning death was sufficient to give life to all those who trust in Him alone for that life.
The Exclusive Glory of the Cross
The cross of Jesus Christ is exalted to glorify God by its exclusive grace. Christ's atoning and substitutionary sacrifice on that tree of wood is unrivaled. Nothing done through the combined efforts of all creation can match its infinite value or compete with its eternal distinction. Jesus said this of His own sacrificial death: And if I, if I be lifted up from the earth, will draw all men unto me. This he said, signifying what death he should die. John 12:32, 33 If men would be drawn to Him by His crucifixion, then no man would assist or could assist in the eternal work of redemption.
Although sinful men executed Christ in their hatred of Christ, their actions only exhibited the shame of mankind's sin and culpability before a holy and just God– our actions in crucifying Christ only necessitated His work of redemption; our actions did not aid, assist or participate in Christ's redemptive work. Therefore, in its exclusive glory and by its distinctive work, no man could add to its value or subtract from its reality. The work of Christ's atoning death is objective in its declaration, sufficient in its application, and unique in its execution. In this way God alone is glorified.
Glory by the Cross
God is also glorified in the proclamation of the truth of Christ crucified. God uses men redeemed by Christ's atoning work as the typical means to proclaim its redemptive truth. He may work beyond these means, but when He does, it is to our shame, as He has ordained the foolishness of preaching for the salvation of souls, as it is written in, For after that in the wisdom of God the world by wisdom knew not God, it pleased God by the foolishness of preaching to save them that believe. 1 Corinthians 1:21 God receives glory by the preaching of Christ crucified, as it is all of grace in its effectual results.
The works of men's religious hands, the thoughts of men's intellectual minds, and even the eloquence of men's utterances cannot assist the power that comes by the Spirit's wonderful work in the proclamation of the Christ crucified. The works of men's religious hands and the thoughts of their intellectual minds are addressed directly, as it is written in 1 Corinthians 1:23, But we preach Christ crucified, unto the Jews a stumblingblock, and unto the Greeks foolishness;
Unto the Jews a Stumblingblock
The preaching of Christ crucified is a stumblingblock to the Jews; in other words, it is offensive to them, and more literally, scandalous.[2] The Law of Moses was venerated by the Jews to the extent that they denied the Lord Jesus, of whom the Law of Moses spoke.[3] This truth, however, does not merely speak of the Jews of the Lord's time, or the Jews of Paul's day, but it also expresses the religious heart throughout any age that desires to achieve a righteous standing before God by religious works, actions, or activities.
The cross itself, as God's justifying work in salvation, and the preaching of the cross of Christ as the primary means by which He conveys its truth, removes every religious work of man from the realm of significance. Our religious works are not only useless in assisting God's redemptive work in Christ upon the cross, but is also useless in assisting God's means for conveying that truth. Our flesh wants so very much to help God out and to help His message out with our religious observance: by our sacrifices and our good deeds. However noble our intent, and however sincere our motivations, it does not help at all, but hinders; and only shows us to be unfaithful to the heavenly declarations of grace in God's Word.
Mr. Toplady expresses this so beautifully in his hymn, No price in my hand I bring, Simply to Thy cross I cling.[4] This doesn't mean that a virtuous life does not spring forth from a life kept near the gospel truth of Christ crucified by God's grace. A life saved by the truth of the cross will be affected by the redemptive work of the cross, as we have understood its effectual power to save as mentioned earlier. Our holy life is the result of regeneration by the gospel of Christ; not the origin of it– and as the power of the Holy Spirit was discussed briefly in the last chapter, the sanctified life is one of progression by and through the Spirit's work.
Unto the Greeks Foolishness
The preaching of Christ crucified is foolishness to the Greeks; in other words, it is stupid to them, or more literally, moronic.[5] The Greeks venerated the intellect and valued logic and philosophy. As with the Jews, this truth concerning the Greek thinking mind of Paul's day, presents a principal that transcends era and culture. Any intellectual ascent void of the revelation of the atoning death of Christ will eventually oppose the gospel. It may not initially oppose it, but it will by and by.
Additionally, as the gospel may be initially received and heard joyfully when the seed of God's Word is sown upon a rock, the gospel of Christ crucified may be pondered by the intellectual mind.[6] Yet, as the seed falling upon the rocks provides no place for revelation truth to take root, the intellectual will weary eventually through his analytical scrutiny.[7] This is because of the overwhelming nature of the heavenly revelation, together with the truths that seem to oppose one another, i.e. God's gracious mercy and His divine justice, God's sovereignty and man's responsibility, Christ's deity and His humanity, etc.
The weakness and inferiority of the human mind alone, especially in its fallen condition, will reject or simply dismiss the gospel of Christ crucified without divine faith imparted by the grace of God to trust the irreconcilable truths of heaven. Such truths can only be reconciled at the seat of God's throne by God alone– and may only be received by us through faith found at the foot of the cross.[8] We have already established in Chapter ii that the truth of Christ crucified is a heavenly revelation.[9] This is what it means to be born-again, or literally, born from above.[10] The principals of logic must flow from the central truth of Christ's redeeming work, else our conclusions will be faulty, and even our practical application of Biblical truth will miss the mark.
An example of the latter may be seen in the Biblical account of Joseph from Genesis 37. Joseph was Jacob's eleventh son, as well as his favorite. Jacob gave Joseph a distinctive place in his heart and distinguished Joseph as his particular favorite by giving him a special coat. Joseph's brothers were jealous and hated him. God gave Joseph two dreams, which he told to his family: the first, as he and his brothers were binding sheaves in the field, Joseph's sheaf rose up from among the others and the sheaves of his eleven brothers bowed to his; the second, the sun, the moon, and eleven stars bowed to his star. His brothers were furious. Eventually, they desired his death and conspired to kill him, but instead, sold him as a slave unto Egypt. If we were to draw conclusions from this episode with non-gospel vision, the lesson we might apply to our lives is that we should be very careful to whom we tell our dreams; or even suggest that it might be best not to even bring spiritual matters up before others unless you were sure they would receive them– because you're only asking for trouble otherwise– for people will betray you, conspire to kill you, shut you up, shut you in, and sell you out.
Yet, from Genesis 39 to the end of the book of Genesis, all of this was orchestrated magnificently by a sovereign God in order to save the entire family, as well as to paint portraits foreshadowing Christ along the way. Joseph summed it up for his brothers at the very end of the book: And Joseph said unto them, Fear not: for am I in the place of God? But as for you, ye thought evil against me; but God meant it unto good, to bring to pass, as it is this day, to save much people alive. Genesis 50:19-20 When we look at the same episode in Genesis 37 through the blessed and prophetic lens of Christ crucified, we realize that when God has given us a heavenly dream, it is to be lived out prophetically in Christ; when He has given us a spiritual vision, we must attend to its reality in our mortal flesh; when the Lord has provided for us illumination to His will by His Word, then we must live it out and speak it forth.
The results from the unbelieving world will be just as the scripture tells us– they will hate us, they will persecute us, and we will have tribulation, as it is written, If the world hate you, ye know that it hated me before it hated you. If ye were of the world, the world would love his own: but because ye are not of the world, but I have chosen you out of the world, therefore the world hateth you. John 15:18-19 Yea, and all that will live godly in Christ Jesus shall suffer persecution. 2 Timothy 3:12 These things I have spoken unto you, that in me ye might have peace. In the world ye shall have tribulation: but be of good cheer, I have overcome the world. John 16:33
 But We Preach Christ Crucified
As the gospel of Christ crucified cannot be attained through the religious works of sinful men, nor can be attained through the logical thinking of sinful men, neither can it be more effective, more persuasive or more savingly executed through the eloquent proclamation of sinful men, to suggest such a thing would certainly contradict what the apostle stated prior to his telling the Corinthians that he determined to know nothing among them except the gospel truth of Christ, and Him crucified: And I, brethren, when I came to you, came not with excellency of speech or of wisdom, declaring unto you the testimony of God. 1 Corinthians 2:1
Neither excellent speech nor cunning wisdom was used by Paul in declaring the gospel truth. It is the work of the Holy Spirit alone regardless of whether one is on the receiving side or the delivery side of the gospel. Why? God tells us in a verse just prior to what we've read in 1 Corinthians 2:1-2, That no flesh should glory in his presence. 1 Corinthians 1:29 Glory in the Cross God receives glory from the work of Christ's crucifixion and He also receives glory from proclamation of Christ's crucifixion, in those to whom God is saving, and in those by whom God is using to preach His truth.
Therefore, if man's chief end, ultimate goal and reason for existence is to glorify God, then we glorify God when our boast is in the crucified Christ, as it is written, God forbid that I should glory, save in the cross of our Lord Jesus Christ, by whom the world is crucified unto me, and I unto the world. Galatians 6:14 When we can boast in anything apart from the redeeming work of Jesus Christ, by His righteous life lived, His prophetic word taught, His heavenly declarations proclaimed, His obedient servitude exemplified, His perfect substitutionary death, etc., we sin, straying from the gospel, departing from its glory and its power.
* * *
But we proclaim Christ crucified, Offensive to the Jews,
And unto Greek minds foolishness: Rejected by both views.
Yet, for all those whom God has call'd, Both Jews and Greeks alike,
Jesus Christ, the great pow'r of God And wisdom from on high.
For God's apparent foolishness Is wiser than all men;
And what seems to be God's weakness: Stronger than all heaven.
For, brethren, won't you bring to mind, God's calling, ye can see,
Not many wise or strong are call'd, Noble, too, not many.
But God had chosen from this world The foolish things to stun
The wise; and weak things He chose too, Confounding those things strong.
And the lowly and despis'd things, The world considers base,
God has valued and has chosen; The lofty He laid waste.
The reason God has done these things:
That no flesh should glory In His presence– for God's Word Knows no other story.
Cardwell, Jon J. (2011-12-25). Christ and Him Crucified (pp. 49-50). Vayahiy Press. Kindle Edition.
V ENDNOTES
[1] Scripture proofs: 1Corinthians 10:31; Psalms 73:25, 26 [2] Stumblingblock is translated from the Greek word skandalon, which is where we get our English word, scandalous. [3] John 5:39 [4] Augustus M. Toplady (1740-1778), "A Living and Dying Prayer for the Holiest Believer in the World" (also known as "Rock of Ages"); written, 1774; first published, Gospel Magazine, March 1776. [5] Foolishness is translated from the Greek word morian, which is where we get our English words, moron and moronic. [6] Luke 8:6 [7] Luke 8:10, 13 [8] Deuteronomy 29:29 [9] 1 Corinthians 2:14 [10] John 3:3
__________________________________________________________________________
End notes:
[1] Cardwell, Jon J. (2011-12-25). Christ and Him Crucified (pp. 41-52). Vayahiy Press. Kindle Edition.
See also:
THE POWER OF THE CROSS (PART TWO)