By Ken Silva pastor-teacher on Feb 1, 2012 in AM Missives, Current Issues, Features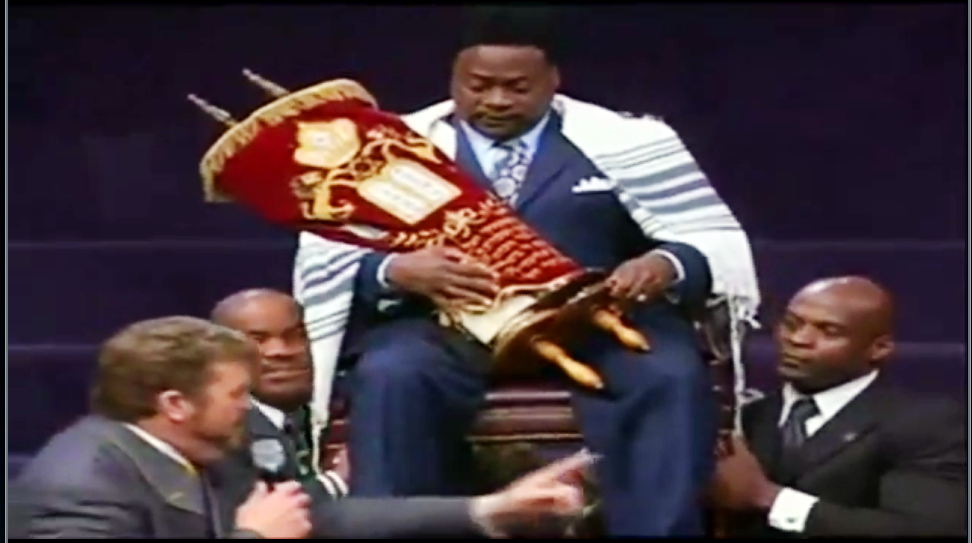 Spiritual darkness continues to grow and 1 Peter 4:17 judgments are being sent by Jesus to rain upon the visible Christian church.
As apostasy increases Apprising Ministries functions with other soldiers against error in the mission field of online apologetics and discernment along the Internet Front of this Truth War.
Unfortunately, the delusion descending upon contemporary evangelicalism is that God wants us to put away doctrinal differences and embrace unity with people who've never before been considered mainstream such as Word Faith preacher T.D. Jakes.
In fact, his acceptance has apparently even become a racial issue as you see in Voddie Baucham Responds To James MacDonald's ER2 Race Card.
While Jakes' declaring himself a trinitarian preferring to express himself with the language of modalism has been the lightening rod, let me remind you of another important thing to keep in mind.
With Jakes now in the mainstream evangelical camp, WF preachers like Eddie Long move that much closer as well. Syncretism is seeping into contemporary evangelicalism.
As I told you in Steven Furtick And Word Faith Heresy, Long does an endorsement inside Prophet-Pastor Steven Furtick's first book of fables called Sun Stand Still.
Following is what Word Faith superstar Eddie Long tells us about Furtick's hybrid Seeker Driven and Word Faith mythology:
Sun Stand Still invokes the omnipotent power of God by challenging the reader to embrace God's will for our lives by strengthening our faith through prayer.

This book is enthralling and moves you to believe in the impossible as you learn to live a life of boldness for the kingdom of God.
This is not guilt-by-association; it's guilt-by-endorsement. T.D. Jakes accepts the heretical Eddie Long as a legitimate minister of Gospel of Jesus Christ.
For example, here he is in all of his true Jakesonian splendor from August of last year preaching at Long's 24th Anniversary Celebration in his New Birth Church:
Against this backdrop I point you to Video of Bishop Eddie Long Being 'Crowned King' Leaves Viewers Confused by Christian Post Reporter Luiza Oleszczuk. The video being referred to is found below.
Confused is huge understatement; try one of the most bizarre things I've yet to see in an ostensibly evangelical church. Talk about a spiritual train wreck. Oleszczuk informs us this:
video clip showing Bishop Eddie Long of New Birth Missionary Baptist Church being crowned by Rabbi Ralph Messer during one of the church's televised services has gone viral, with members of the Christian community expressing complete confusion over the video. (Online source)
Unfortunately, postmodernism is a bane of our existence; this travesty should actually provoke outrage. At first glance, a supposedly Christian pastor being crowned king by a Jewish Rabbi?
Well, actually we're about to go off-roading mentally into muddy Humpty Dumpty language. "Rabbi" Ralph Messer heads up Simchat Torah Beit Midrash® (STBM):
Not only is this "inter-faith" STBM itself a rather confusing mishmash, but upon further research we discover that Messer himself is a modalist who specifically rejects the Trinity. Oleszczuk now continues:
The episode took place during the Sunday, Jan. 29 service, as announced on New Birth's Facebook page as well as Messer's, and was watched by thousands. The YouTube clip, making the rounds on the Internet, was uploaded to the video network Jan. 31.
(Online source)
You'll also have the chance to watch it below yourself. In closing this, for now, Oleszczuk gives you a little peek at what you'll witness:
Messer offered Long on air what he claimed was a 312-year-old priceless Hebrew scroll saved from the Auschwitz death camp after World War II. He then wrapped the New Birth minister in it as mood-enhancing music played in the background, and called for Long to be lifted up on a chair, similar to a throne.

While Long was being carried across the podium, Messer spoke of biblical kingship, which Long was supposed to represent. The rabbi went on to say that Long sits now between two courts, the court of justice and the court of blessings. Worshippers in attendance applauded as Long was ushered about in the air on the chair. (Online source)
As you watch remember, with ER2 embracing T.D. Jakes, this lunacy is closer than ever to your church.
___________________________________________________________________________
End notes:
[1] Furtick, Steven (2010-09-21). Sun Stand Still: What Happens When You Dare to Ask God for the Impossible . Multnomah Books. Kindle Edition.
See also: