By Ken Silva pastor-teacher on Jan 24, 2012 in AM Missives, Current Issues, Features, Word Faith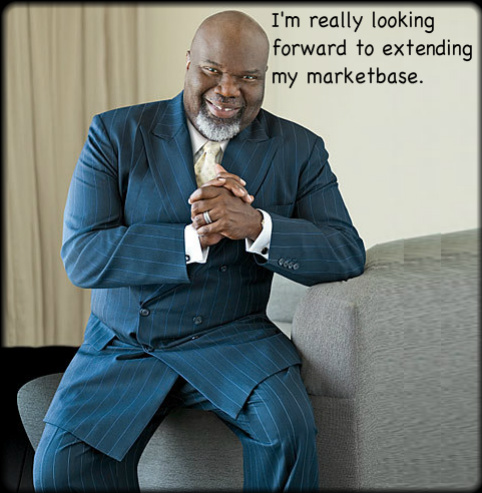 Apprising Ministries has been covering how even the heretical Word Faith movement continues heading toward acceptance within the mainstream of evangelicalism.
On the eve of The Elephant Room 2, put on by caretaker James MacDonald, I will remind you that it's actually starting to contribute to this.
The problem with the upcoming ER2 is two-fold as I see it. First, returning ER veteran Prophet-Führer Steven Furtick is even more off-track now than before.
In Steven Furtick, James MacDonald, And Joel Osteen I presented you with plenty of evidence of Furtick's heading further toward Word Faith teaching himself.
Not a real surprise as we consider that fact that Furtick is a huge fan of another WF mogul, T.D. Jakes, who will also be in ER2 with him. ER2 has also led to a shake up within The Gospel Coalition; rather than accept godly council that MacDonald should not bring T.D. Jakes in to ER2, he would instead resign as you can see in There's More To The Resignation Of James MacDonald From Gospel Coalition.
Prophet-Führer Steven Furtick even excitedly introduced heretical T.D. Jakes as "The Greatest Preacher Of Our Time" to a cheering crowd last Friday night as Jakes preached at Furtick's Code Orange De-vival, where MacDonald himself would preach the next night. Furtick has been busy blending a unique hybrid of the Seeker Driven aka attractional church growth model, which adds to it the charismania of the Word Faith movement—along with its acceptance that a church may be headed by a female pastrix.
All of this has even led to a budding bromance between James MacDonald and T.D. Jakes. The other day MacDonald tweeted:
To which Jakes replied:
Since they've yet to meet, MacDonald is referring to Jakes' Friday night show at Furtick's De-vival. Having once been involved with the Word Faith movement I've seen Jakes do that show myself many times. If you want to know what "blessed" the MacDonald's I refer you to A review of T.D. Jakes' Code Orange Revival sermon by Apprising Ministries special correspondent Daniel Neades.
Ok, because T.D. Jakes is moving mainstream, let me now show you what else comes with him beside modalism because I already pointed out that T.D. Jakes Is Heretical Concerning Modalism Whether He Believes It Or Not. So, because of ER2 and Steven Furtick, you'll need to know about he fruit of the ministry of T.D. Jakes. Following I'll bring you a few examples.
The below is from the 9/1/11 TBN Praise the Lord program. The three WF pastrixes you'll see him introduce were featured speakers at his Woman Thou Art Loosed 2011 hosted by the Lakewood Church of Joel Osteen. That would lead to Megachurch Pastors Joel Osteen And T.D. Jakes Unite And Why You Should Care. You watch, if there's an ER3 don't be surprised to see ol' smilin' Joel invited.
Watch for yourself as Jakes introduces three of his favorite WF pastrixes. Pastrix Paula White, whom Jakes calls "pastor extraordinaire" and Pastrix Cindy Trimm, recently given an award by The Billy Graham Evangelistic Association. The last is Pastrix Sheryl Brady of The Potter's House North, whom T.D. Jakes called personally called as pastrix:
You should be able to see Oneness Pentecostalism isn't the only baggage T.D. Jakes comes with because it's simply beyond question that he is a WF prosperity preacher. In closing this, for now, I encourage you to get prepared to become more acquainted with the Trinity Blasphemy Broadcasting Network because all of these pastrix friends of Jakes are regulars on TBN along with him.
Finally, this is T.D. Jakes performing his show shilling for TBN during one of their annual Fleece-A-Thon's…
See also:
T.D. JAKES SAYS KEN SILVA IS BEING OBNOXIOUS
JAMES MACDONALD, T.D. JAKES & THE TRINITY
STEVEN FURTICK: T.D. JAKES IS MY FAVORITE PREACHER IN THE WORLD