By Ken Silva pastor-teacher on Sep 22, 2011 in AM Missives, Current Issues, Emergence Christianity, Emergent Church, Features, Rob Bell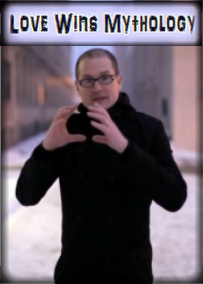 Apprising Ministries is an online apologetics and discernment work that's been a leading voice against one of the major players within the sinfully ecumenical neo-liberal cult of the Emergent Church aka the Emerging Church; its original iconic rock star pastor Rob Bell.
You may know that Bell's co-teaching pastor at Mars Hill Bible Church (MHBC) has been his good friend, and fellow heretic, Shane Hipps. I say again, evangelicals made a tragic mistake embracing such as these, thereby igniting a very rapid penetration of apostasy into the heart of it's own younger sectors.
They are only beginning to pay the cost of infecting their own young with the postmodern form of Progressive Christianity derived from the demonic practices involved with the corrupt Contemplative Spirituality/Mysticism (CSM) spewed by the Living Spiritual Teacher and Quaker mystic Richard Foster and his spiritual twin, Southern Baptist minister Dallas Willard.
UPDATE: ROB BELL EXPLAINS RESIGNATION
Now AM is in possession of an email from the MHBC Elder Team entitled Important News About Rob Bell that confirms Rob Bell has resigned from Mars Hill: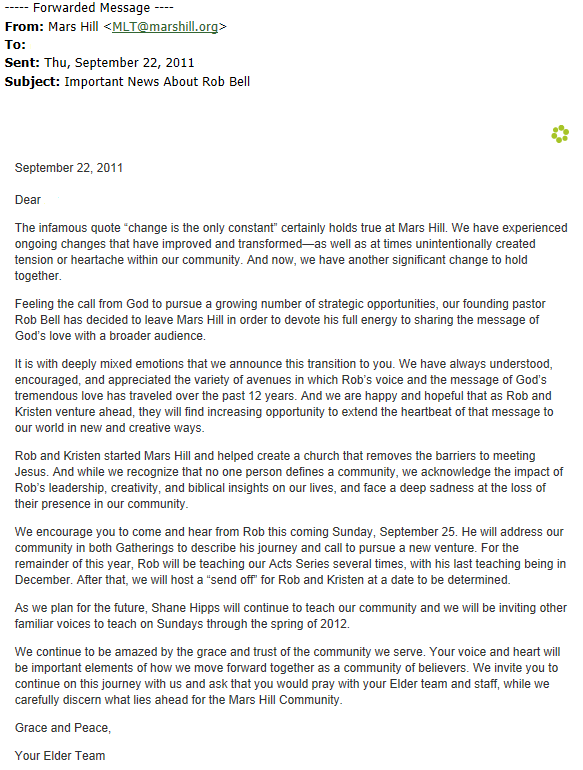 The text of email above is also on the MHBC website here.
See also:
ROB BELL AND POSTMODERN NEO-LIBERALISM