By Ken Silva pastor-teacher on Sep 15, 2011 in Contemplative Spirituality/Mysticism, Current Issues, Features


The critics of online apologetics and discernment works such as Apprising Ministries are under the mistaken impression that someone like myself goes "looking for" these issues I've been covering these past 6 years as Jesus has built this ministry of His Gospel.
No, they couldn't be more wrong. What usually happens is I'll receive an email at apprisingministries@gmail.com
Either that or the contact forms, here at or at our sister outreach Christian Research Network, where oftentimes someone is distraught to find these kind of things are being perpetrated within their local church. Jesus knows I tell the truth when I say that I don't take pleasure in documenting the beginnings of the falling away of the mainstream evangelical community.
In fact, it may have now cost me AM itself. Yet I have warned you that there is a tsunami of apostasy—pushed along by 1 Peter 4:17 judgments—headed toward the church visible. Against this backdrop I remind you that  Contemplative Spirituality/Mysticism (CSM), smelly spiritual skubalon ala the Living Spiritual Teacher and Quaker mystic Richard Foster.
Assited by his spiritual twin Southern Baptist minister Dallas Willard, under the guise of supposed Spiritual Formation, they've helped this spurious CSM to slither deeply into the mainstream visible church. This stupid spirituality was even a core doctrine of the neo-liberal cult within the Emerging Church.
In Donald Whitney, Mysticism, And Spirituality Without Boundaries Christian apologist Bob DeWaay discussed the so-called "safe" spiritual disciplines that Whitney's adapted from the cult of Foster-Willardism.
DeWaay is dead-on-target as he fires on the heart of the matter concerning this Protestant fad of "soft" CSM:
The Emergent/postmodern crowds speak of "open source" spirituality (a metaphor borrowed from current internet and software practices). This is a colorful way of describing syncretism (the blending of religious beliefs and practices). One can take an idea and make it work within his own system. Like Wikipedia, the users create the content. Whitney has a similar approach. He has blended beliefs and ideas from various sources into a program that promises to sanctify those who follow it.

That he has done so can easily be shown from his opening chapter on "spiritual disciplines." He writes:

This book examines the Spiritual Disciplines of Bible intake, prayer, worship, evangelism, service, stewardship, fasting, silence and solitude, journaling, and learning. This is by no means, however, an exhaustive list of the Disciplines of Christian living. A survey of other literature on this subject would reveal that confession, accountability, simplicity, submission, spiritual direction, celebration, affirmation, sacrifice, 'watching,' and more also qualify as Spiritual Disciplines. (Whitney: 17)

Notice he states, "and more." It is not a minor claim. This more exposes the fundamental flaw in Whitney's thinking that leads him and his followers astray. The practices that purport to sanctify Christians qualify as "open source." There are no boundaries. Some of those listed above are from the Bible, but many are not. We do not find new scriptural sanctifying practices from a survey of "other literature." I have done such a survey and have written a CIC article about it entitled "Contemporary Christian Divination,[5] Can just any practice invented by someone in a "Christian" context actually move people closer to God and be legitimate and truly sanctifying? If not, what criteria would Whitney give to determine the boundaries of valid versus invalid practices? He has provided no such criteria.

Let us apply some simple logic to this matter. Who determines what constitutes valid, sanctifying practices? Does God or does man? Unless we want to open the door to everything (e.g., "Christian Yoga,") we must say God determines them. Furthermore, if God exists and God has spoken, then obviously God determines the pathway to Himself. Any version of Christianity outside of liberalism would agree in principle to that. If we reject that idea we must embrace the concept that "all paths lead to God."

Since God determines how we come to Him and how we grow in Him, either God has spoken once for all to reveal the pathway to Him or this pathway is discovered mystically by persons in church history, as the Roman Catholic Church teaches. Reformed Theology, such as that taught at Southern Seminary[6] where Donald Whitney teaches, has always stood on the principle of sola scriptura. Scripture alone is binding and authoritative; mystical experiences or pragmatism are not. So if God determines how we come to Him and grow in Him, He has done so in Scripture (unless we choose to reject the principle of sola scriptura in the manner that many do today).

Since Scripture alone reveals how we come to God and grow in God, then Scripture alone must reveal sanctifying practices. Unless God said (through Scripture), "If you come to me in faith according to these terms and means, I will meet you," then we cannot proceed validly in faith by any particular practice.
In closing this, for now, I'll give you yet another example of soft CSM even penetrating the Reformed camp. Dr. Erwin Lutzer, Senior Pastor of The Moody Church and a member of the Gospel Coalition Council, hast embarked on a sermon series based upon supposed "spiritual disciplines."
His personal list was "worship, meditation, generosity, prayer and fasting, and servanthood," which he calls, "A great companion to The Disciplines Of The Soul." However, Dr. Lutzer himself is now treading dangerously close to the thinnest ice of abuse of God's Law and teaching Pietism.
When he says these disciplines "bring us to a more intimate knowledge of God"; and further, when Dr. Lutzer also tells us that these are, "Disciplines That Grow Godliness," he's making them a means of grace. In other words, it implies we can't have a more intimate knowledge of God without them.
Below is the page as it looked in August of 2010: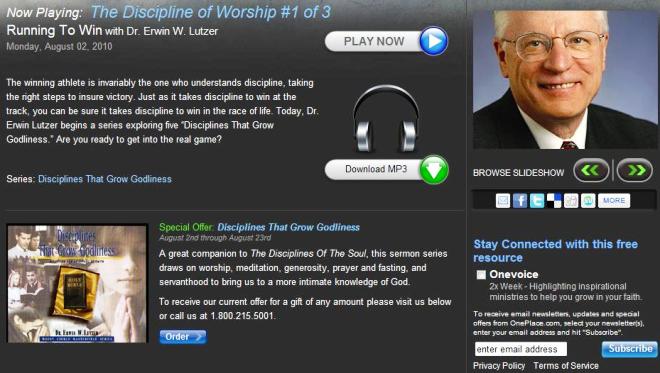 Here it is as of this writing:
See also:
"INWARD JOURNEY" ESPOUSED BY RICHARD FOSTER IS A FORM OF DIVINATION
JOHN PIPER, RICK WARREN & FOSTER-WILLARDISM
SADDLEBACK CHURCH, RICK WARREN, AND SPIRITUAL DISCIPLINES
MARK DRISCOLL AND NEO-REFORMED NEW CALVINIST CONTEMPLATIVE SPIRITUALITY
9 MARKS: INTERVARSITY PRESS SEEMS ADRIFT
CONTEMPLATIVE SPIRITUALITY/MYSTICISM AS METHODOLOGY FOR SPIRITUAL FORMATION
SPIRITUAL DISCIPLINES ACCORDING TO MARTIN LUTHER