By Ken Silva pastor-teacher on Sep 10, 2011 in AM Missives, Current Issues, Features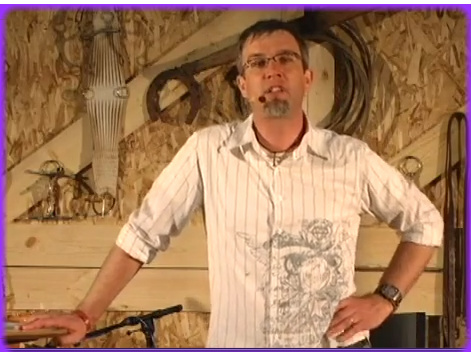 Apprising Ministries first introduced you to prophet-pastor Eric Dykstra, who's good friends with Steven Furtick and a disciple of Bill Cornelius, in Eric Dykstra And The Crossing Church.
You may recall I explained that he's "lead pastor" of The Crossing Church (TCC) in Elk River, MN—along with pastrix Kelly Dykstra—so this church is already off the rails in rebellion against God.
In that earlier piece I pointed you to the Our Crossing Story blog of Jeremy and Tracey Rogahn. It turns out the Rogahns "attended The Crossing from Jan. 2009 to Aug. 2010.″
As a matter of fact they were even, "Small Group leaders and also were leaders of the First Impressions Team. (Greeters and ushers)." It's not like they weren't in a position to know what's going on in TCC and their eyewitness testimony is really quite disturbing.
We're really not surprised at the cult-like trappings in these Seeker Driven circles because their social clubs, they're not churches in the Biblical sense, all begin the an occult "vision-casting." It starts as the prophet-pastor ardently studies the holy writings of like-minded prophet-pastors before him.
Then, filled with lofty dreams of megachurch church-planting stardom, the prophet-pastor meditates upon his hero's works until finally the delusion arrives; and the prophet-pastor receives his extra-biblical "vision," allegedly from God, as to how he's going to help make God's dream come true.
After that the prophet-pastor selects his hand-chosen yes men disciples and they accompany prophet-pastor before his followers congreagation where prophet-pastor lays down the law casts said vision before this flock. Then they are do whatever it takes to make his delusion of grandeur come to pass.
That has its very real consequences, which is now why Crossing Church Of Eric Dykstra Draws Controversy. Therein I brought to your attention a report by Liz Collins of WCCO-TV Channel 4 CBS Minnesota.com where she told us:
On Friday night, dozens of families are expected to discuss how they believe a church in the north metro has too much control. On its website, The Crossing in Elk River states it is "A church for people who don't do church."

But, many families said becoming a member comes at too high a cost. (Online source)
Collins refers to a meeting last night where our source in attendance tells us there were around 250 people gathered:
Below gives you an vivid example of what Kimberly Marshall talked about in the video above. This clip comes from Dykstra's sermon Audacious Contribution; and if you know anything about Word Faith prosperity preaching you'll recognize a little sow a seed (financial offering) then reap a reward:
Today in Community In Elk River Discusses Controversial Church, a report by WCCO's Lindsey Seavert, we find out:
On Friday night, more than 100 people met at Elk River High School to talk about what they call spiritual abuse. The group brought up several questions, including: Is the church a cult?

Do The Crossing followers believe pastor Eric Dykstra is acting upon a vision from God? The crowd of families listened to speaker Chris Rosebrough, host of Pirate Christian Radio, who says he has analyzed Crossing sermons and compared them to bible teachings.

He says he studies religious deception, because he himself spent a year in a cult. Rosebrough analyzed sermons from Eric Dykstra at the meeting, playing sermon clips where Dykstra outlined church codes and church values.

"We orbit our lives around The Crossing church," said Dykstra, in one clip. "We think it's the only hope in all the world." Rosebrough responded to the statement.

"I've never heard a grass roots, ordinary pastor make such a statement ever. I've only, in my 25 years of studying religious predators, seen religious predators talk like this," said Rosebrough to the audience. (Online source)
The report goes on to talk about a "support group for those who left the church." Seavert also says that pastrix Kelly Dykstra:
declined to comment on camera Friday night, but told WCCO-TV over the phone that The Crossing's fruits speak for itself.

Dykstra says this weekend, the church plans to focus on a new sermon series on relationships, "Smokin' Hot" and do what God called them to do. Last she said, they prefer to "Let God defend his church." (Online source)
O yes indeed, the fetid fruit does speak for itself; which you can see below. Actually, I received a vision from God myself; and so, I have some news for the Dykstras. You see, the Lord spoke to me, too. Here's what He said:
undermine the claim of those who would like to claim that in their boasted mission they work on the same terms as we do. For such men are false apostles, deceitful workmen, disguising themselves… Take no part in the unfruitful works of darkness, but instead expose them. (2 Corinthians 11: 12-13; Ephesians 5:11) 
No pastrix Kelly, God isn't defending TCC; He's exposing it. After viewing what follows from prophet-pastor Eric Dykstra, pals with another notable Seeker Driven P-P Steven Furtick, you may have to take a spiritual shower. By the way, the blasphemy spewed here by Dykstra is from his Easter sermon.
In this clip from the opening message in his series Strong and Wild Dykstra shows an incredible ignorance of the mission of Christ Jesus, not to mention an appalling lack of reverance. However, what you see and hear is rampant within the new breed Seeker Driven cult of church planting prophet-pastors.
The video evidence does not lie:
See also:
SEEKER DRIVEN PROPHET-PASTORS BEATING SHEEP
STEVEN FURTICK BRINGIN' ON WORD FAITH AND THE PASTRIXES