By Ken Silva pastor-teacher on Sep 8, 2011 in AM Missives, Current Issues, Features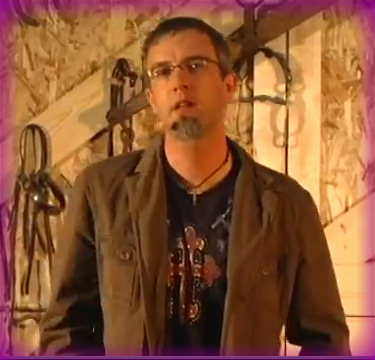 UPDATE: ELK RIVER DISCUSSES ERIC DYKSTRA, CROSSING CHURCH
Apprising Ministries has been covering the new breed Seeker Driven prophet-pastor's ala Steven Furtick as part of our online apologetics and discernment work during this New Downgrade No Controversy.
1 Peter 4:17 judgments fall as spiritual darkness spreads throughout an evangelicalism in flaming lust for acceptance of the world.
I first introduced you to prophet-pastor Eric Dykstra, who's good friends with Steven Furtick and a disciple of Bill Cornelius, in Eric Dykstra And The Crossing Church.
You may recall I explained that he's "lead pastor" of The Crossing Church (TCC) along with pastrix Kelly Dykstra, his wife:
So you can see with pastor and pastrix Dykstra we're already dealing with rebels against the authority of God's Word. The Lord forbids women to have authority over men (cf. 1 Timothy 2:12-15), which is why there's no qualifications for female elders. However, this is no concern for the new breed rebels.
You see, such as these evangelicals don't adhere to the proper Christian spirituality of sola Scriptura; these are the products of the Church Growth Movement arm of the Purpose Driven/Seeker Driven who lost faith in the all-sufficiency of the Bible. Instead, we now have occultic "vision-casting," which has replaced Scripture.
The prophet-pastor receives direct communiques—allegedly from God—and then casts that vision before his leadership/staff; after that before the congregation, who are then bound to go an accomplish said vision. Oddly enough, these visions always involve creating a megachurch where numbers, not spiritual maturity, is the goal.
Since bait and switch is the hallmark of these social gatherings—they really aren't churches in the Biblical sense—they must constantly "innovate," (means make stuff up) to stay on the cutting edge of our most capricious culture. This means each new sermon series will have to be even more outrageous than the next.
Now your have the proper backdrop against which to better see what's actually being discussed in Elk River Church's Practices Stirs Controversy, a report by CBS Minnesota's Liz Collins.
She tells us:
On Friday night, dozens of families are expected to discuss how they believe a church in the north metro has too much control. On its website, The Crossing in Elk River states it is "A church for people who don't do church."

But, many families said becoming a member comes at too high a cost. (Online source)
You meet one of these families in my earlier piece Eric Dykstra And The Crossing Church when I pointed you to the Our Crossing Story blog of Jeremy and Tracey Rogahn. It turns out the Rogahns "attended The Crossing from Jan. 2009 to Aug. 2010″; and as a matter of fact they were even "Small Group leaders and also were leaders of the First Impressions Team. (Greeters and ushers)."
Their eyewitness testimony is really quite disturbing as to what goes on with TCC. Now that you understand TCC began with a personal Word from God to prophet-pastor Eric Dystra, it's little wonder why he'd be in complete control; to disobey his directives will be to go against the very Word of God Himself for their joint church effort.
Collins continues:
Eric Dykstra and his wife Kelly lead The Crossing in Elk River along with three satellite locations. The church is known for its unconventional approach to weekly worship. What started as 40 members six years ago has now grown to more than 2,000…

While no one from The Crossing would talk to WCCO-TV on camera on Wednesday, Kelly Dykstra did respond to a list of e-mailed questions to say they are not a cult, they follow Jesus and "That anytime an organization does something differently it becomes suspect." (Online source)
As one who's been in counter-cult ministry for 24 years now I can tell you this is precisely the way cult-leaders respond. The issue isn't really about "an organization," interesting chioce of words, doing "something diffrent." No, it' s about being good Bereans and judging this organization—that has church in its title—by God's Word.
Finally Collins reminds people in Elk River, MN:
People concerned with The Crossing's teachings will meet at Elk River High School at 6:30 p.m. Friday. People attending are asked to use Door H. (Online source)
This would be tomorrow night as of this writing. If you possibly think this blasphemous nonsense you're about to witness by prophet-pastor Eric Dykstra, who seems to me as if he may be on some sort of spiritual crystal meth, really came from the Holy Spirit then I give you the following Biblical advice:
Examine yourselves, to see whether you are in the faith. Test yourselves. Or do you not realize this about yourselves, that Jesus Christ is in you?–unless indeed you fail to meet the test! (2 Corinthians 13:5)
As I close this I point you to the video clips below. In this first one prophet-pastor Eric Dykstra takes you through a ridiculous rendition of what he, and he says Mark Driscoll, dream the Book of Mark is all about. Dykstra main focus after that is to teach us that the Lord God Almighty in human flesh—Christ Jesus of Nature—did the things He did because He understood we human beings are easily bored.
Dykstra's lack of grasp on Biblical doctrine borders breath-taking:
[mejsvideo src="https://www.apprising.org/wp-content/uploads//2012/05/Eric-Dykstra-Tells-Us-Christ-Jesus-Said-Did-Things-He-Did-To-Keep-Us-From-Boredom.mp4.mp4″ width=640 height=360]
In this second clip from the same sermon series, Strong And Wild—Week 3 Wild Heart, our prophet-pastor's ego seemed to me to be quite on display as he expounds upon what's become a classic Seeker Driven and Word Faith mythology as to why Jesus walked upon the water and had Peter do the same:
[mejsvideo src="https://www.apprising.org/wp-content/uploads//2012/05/Eric-Dykstra-With-Seeker-Driven-Word-Faith-Mythology-Concerning-Why-Jesus-Walked-On-Water.mp4″ width=640 height=360]
Finally, in great similarity to Word Faith hucksters Seeker Driven prophet-pastor Eric Dykstra tells his flock some of them must even give their 401k's to his Crossing Church:
[mejsvideo src="https://www.apprising.org/wp-content/uploads//2012/05/Eric-Dykstra-Tells-Congregation-Some-Must-Give-Their-401Ks-To-The-Crossing-Church.mp4.mp4″ width=640 height=360]
See also:
STEVEN FURTICK BRINGIN' ON WORD FAITH AND THE PASTRIXES
STEVEN FURTICK AND JAMES MACDONALD