By Ken Silva pastor-teacher on Aug 16, 2011 in Current Issues, Features, Word Faith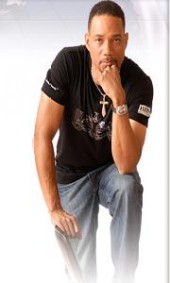 Apprising Ministries continues our coverage of the New Downgrade No-Controversy within mainstream evangelicalism, which is where even this type of Word Faith circus church is headed.
I bring to your attention a Christian Post report by Nicola Menzie where we find the sad news concerning the sudden death of Dr. Zachery Tims, Jr, who was "the Senior Pastor, CEO and founder of New Destiny Christian Center (NDCC)." [1]
Menzie tells us:
Grieving members of the Florida megachurch founded by Zachery Tims have announced plans to bury their late leader. Administrators at New Destiny Christian Center (NDCC) in Apopka, Fla., announced during an emotional service Monday night that Tims, founder, CEO, and senior pastor of the ministry, would have his homegoing this Saturday.
(Online source)
In Pastor Zachery Tims of New Destiny Christian Center found dead at Times Square W Hotel we find out:
A preacher who led one of the largest congregations in central Florida was found dead in a Times Square hotel, police sources said Sunday.

The body of Zachery Tims, 42, the senior pastor of New Destiny Christian Center in Apopka, was discovered in his 37th-floor room of the posh W Hotel on Broadway near W. 46th St. about 6 p.m. on Friday, the sources said. (Online source)
Unfortunately, NDCC was already off the rails from its very inception:
Tims and his wife, Riva, founded the church in an Orlando hotel room in 1996. The church now boasts a congregation of about 8,000 members… Riva Tims, who is also a pastor, left the church to pursue her own ministry, Majestic Life Institute. (Online source, bold mine)
No, she's not a pastor; and being in rebellion against God, like the late pastor Zachery Tims and pastrix Riva Tims, can certainly open us to sad consequences. That is a statement of fact, it is not to say God struck him down.
Today the Orlando Sentinel informs us:
Church officials announced that Tims' funeral will be held 11 a.m. Saturday at First Baptist Church of Orlando. A wake and public viewing will be held from 3-7 p.m. Friday at New Destiny Christian Center in Apopka…

New Destiny Minister Wanda Robinson told the congregation that the cause of Zachery Tims' death on Friday night in a New York hotel room had not been determined.
(Online source)
As you can see, this sector of the black church community is in gross violation of God's Word with women usurping the position of pastor. This means God is not behind these various moves of the propsperity gospel and Word Faith. 
With this in mind, it seems there may be more to this tragic story as The Wall Street Journal is reporting:
Tims's body was discovered Friday afternoon when a worker trying to check the minibar in his room at the W Hotel, and found the room's door latched from the inside. A maintenance worker opened the door and found Tims lying on his back between the bedroom and living room area.

According to a law enforcement official, police found a glassine envelope with a white powerdery substance inside the right pocket of his shorts. The substance was being tested, according to a law enforcement official. (Online source)
I encourage you to be in prayer for the four children Tims leaves behind, including a son with Cerebral Palsy, during this difficult time that may even grow worse.
________________________________________________________________________________
End Notes:
Back to note 1 — http://www.zacherytims.com/about.html, accessed 8/16/11.
See also:
RICK WARREN, LAVERNE ADAMS, AND CINDY TRIMM
WORD FAITH HERETICS LIKE CREFLO DOLLAR DRAW NEARER TO EVANGELICAL ACCEPTANCE
INSIDE EDITION EXPOSES WORD FAITH PREACHERS LIKE KENNETH COPELAND