By Ken Silva pastor-teacher on Aug 16, 2011 in AM Missives, Current Issues, Features, Homosexuality/"Christian"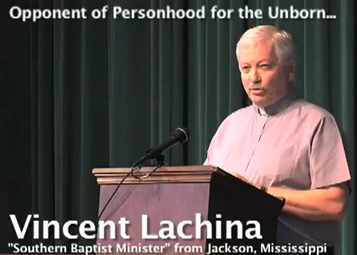 As part of my continuing coverage of the growing New Downgrade No-Controversy here at Apprising Ministries, which is actually accelerating in the mainstream evangelical community, I focused your attention upon "the Reverend" Vincent Lachina.
We're told he's "former pastor at the Grace Gospel Chapel" and a full time chaplin with Planned Parenthood in Seattle. [1] 
As you can see in the Planned Parenthood Deception in Mississippi video below from Personhood Mississippi (PM) Lachina bills himself as a "Southern Baptist Minister" at an August 9, 2011 event described in the PM newsletter I showed you in Openly Gay Southern Baptist Clergy?
In that piece I pointed out that I spoke personally on the phone with Les Riley, the Founder & Director of PM, who assured me Lachina did indeed make that claim at this August 9 event. I also showed that homosexual activist Vincent Lachina himself tells us that he's "queer folk" and a "gay" man.
He does so in a January 30, 2007 letter to the editor of the pro-gay publication The Advocate, concerning their piece "The good boy." As I said in my first article concerning Lachina, if he was an SBC minister, he certainly isn't in line with its much-vaunted Baptist Faith & Message, let alone the Bible.
Now, I personally didn't believe Vincent Lachina was/is a Southern Baptist minister in the first place. Today this seems to have been verified as David Schmidt of Live Action was kind enough to contact me with his Planned Parenthood Chaplain Vincent Lachina: Not a Minister at a Southern Baptist Church.
Schmidt says:
Many people over the last few days questioned whether Vincent Lachina was actually a Southern Baptist minister based on his statements in support of abortion and work on behalf of the largest abortion chain in the U.S., Planned Parenthood.

Southern Baptists generally oppose abortion and support the right-to-life of unborn children. (Online source)
Having been with the SBC since the early 90's I can tell you Schmidt is correct which, in addition to opposing gay clergy, was why I immediately suspected Lachina was playing fast and loose with the truth. Schmidt continues:
A Google cache of Planned Parenthood Votes! Northwest shows a profile of Vincent Lachina that you can see in its original size by clicking on the graphic…

The profile reads of Lachina: "He is now aligned with the more progressive American Baptist Conference and the United Church of Christ."
Schmidt then informs us:
A current Southern Baptist Minister with personal connections to the Southern Baptist national executive committee confirmed that one must currently be connected with a Southern Baptist congregation to be a "Southern Baptist Minister."

He said that claiming to be a Southern Baptist Minister while not even attending a Southern Baptist church was "misrepresentation."

Southern Baptist North American Mission Board Chaplaincy Coordinator Dr. David E. Mullis commented of Lachina's deception, "unbelievable hubris to think he would not be found out!" (Online source)
Indeed, and as Schmidt surmises:
This revelation means that a Planned Parenthood Chaplain traveled from Washington State to Mississippi and made false religious claims to influence Mississippi voters against a pro-life ballot measure.

Questions now are being raised over Planned Parenthood's involvement in Lachina's appearance in Mississippi. Did Planned Parenthood as his employer plan and pay for this religious manipulation of voters? (Online source)
That's a very good question; David Schmidt goes on to show Lachina's profile has since been removed from that website. And this false claim by LGBT advocate Vincent Lachina is certainly not a good example for the aggressive pro gay lobby attempting to advance into the mainstream of the visible church as well.
With the help e.g. of heretical EC universalist Doug Pagitt and Dr. Tony Jones, his equally heretical progressive/liberal "theologian in residence" at his Emerging Church, they labor to make the deviant lifestyle of unrepentant homosexuality acceptable for even the evangelical Christian.
________________________________________________________________________________
End Notes:
Back to note 1 — http://tiny.cc/py5b5, accessed 8/16/11.
See also:
AFFIRMING CHRISTIAN NETWORK, PHILIP YANCEY, AND GAY CHRISTIAN NETWORK
DOUG PAGITT AND HIS SOLOMON'S PORCH AFFIRM HOMOSEXUAL SIN