By Ken Silva pastor-teacher on Jul 21, 2011 in AM Missives, Current Issues, Features, Homosexuality/"Christian"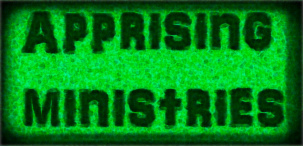 As you know, Apprising Ministries is blessed by God to be one of His leading online apologetics and discernment works helping to blaze a new mission field that was previously largely unused. [1]
I've told you before we never dreamed this would be the case; even so, the Lord has seen fit to steadily increase the exposure and readership greatly in the 5+ years now that AM has been online.
For example, our rating as of this writing:
We remain thankful for the small handful of faithful financial supporters, a couple of which have been with us from the beginning, making it possible for me to do this work. I'm very grateful for your generosity because a ministry like this depends entirely upon the gifts of God's people.
The Lord be praised, it's very rewarding, and humbling, to receive feedback like the following:
Dear Ken,

I give you my sincerest heart-felt thanks for your work at Apprising Ministries. We may be few in number, but those of us who care about Scriptural truth cannot thank you enough for your diligence.

I hope this small gift will help you continue your work.

AM Reader

_________________________________________________________________________

Pastor Silva,

Thank you again for contending for the faith and opening the eyes of those of us contending as well to the current church "downgrade" happening everywhere.

I continue to remember you, Jan Markell…& others in discernment in prayer.

AM Reader
_________________________________________________________________________

Dear Pastor Silva,

Thank you for your excellent ministry. Please accept this gift as a contribution toward your work, something I plan to continue doing starting this month.

May God richly bless you. In Christ,

Pastor AM Reader
Maybe you've been blessed through the work here and you might consider helping to support this labor in the Lord. At this time a gift of any amount—whether one time or on a regular basis—goes a long way toward helping to keep AM available on the Net.
If you'd like to donate via PayPal you may click here; or you can make your checks/money orders payable to Connecticut River Baptist Church with Apprising Ministries in the memo and send them to:
Connecticut River Baptist Church
P.O. Box 340
Claremont, NH 03743
I now offer the following as further encouragement to those of you standing with AM as we labor along the oft-ugly Internet Front of this spiritual Vietnam of a Truth War. Let this be a good reminder that, glory to God, I've been given a forum where I can fire info right into the very camps of the very people who's evil deeds I am exposing, which even involves some of the biggest names around the church visible.
While not yet the case with Randy Roberts Potts, this is more indication concerning how God is using this work. My latest article is Randy Roberts Potts And The Gay Son Of Oral Roberts. Literally, within 10 minutes of it going online around 9:30pm last night Potts had already read my piece and posted it to his Facebook wall, which I noticed as traffic from that location suddenly spiked at Apprising Ministries.
So, within a half hour of that article being online I was able to add the below right into it:
We do thank God that Potts has already read this work:
This medium allows us to speak directly to people whose paths would not likely ever cross ours in normal everyday life. Now here's what also very important; and a main reason why I share this with you. Please understand that this piece really isn't so much about Oral Roberts' gay son and grandson Randy Roberts Potts as it is the universalist spiritual blackhole at which Potts spoke.
If you've read this article then you'll know that I showed you the growing convergence of other universalists with the many leaders within the Emerging Church [2] who're following the Wild Goose Chase [3] of postmoderm Liberalism 2.0 Christian Universalism, which Emergent Church icon Rob Bell is, right now, arguing for in his Love Wins mythology. [4]
As I close this, for now, I'll tell you that I've been closely monitoring the Intel along the Net front from those professing Christians involved with the evil pro-gay agenda to infiltrate the mainstream evangelical community. Let me point out that what you should see in the Potts piece is that the agenda (promoting homosexual sin) is much more important to them than the theology, i.e. what God says.
You wonder why I warn that there's a very dark and threatening same-sex storm—now rapidly approaching hurricane force—looming just off the coast of your own local evangelical church? Then remember that much of the younger sector of evangelicalism has been already captured by slimy Emergent snakes who are more than willing to promote that pro-gay agenda with anyone, regardless of their beliefs.
________________________________________________________________________________
End Notes:
BACK TO POST 1 – AM is a fully integrated auxiliary from Connecticut River Baptist Church (SBC), where I serve as pastor-teacher. And as I've mentioned previously, even though my local church is affiliated with the SBC (for now), this online apologetics and discernment ministry itself is designed as a non-denominational outreach.
BACK TO POST 2 – The sinfully ecumenical neo-liberal cult of the Emergent Church aka the Emerging Church has now been upgraded to the Emerging Church 2.0—with its newer, more clearly delineated, postmodern Progressive Christian theology, which these rebels against the final authority of the Word of God will often refer to under their circus "big tent" as Emergence Christianity.
BACK TO POST 3 – As you'll see e.g. in articles like The Emerging Church On A Wild Goose Chase and Apprising Ministries Hits Mark On The Wild Goose Festival and The Wild Goose Of The Emerging Church Is Not The Holy Spirit the Emerging/ent Church is actually on a wild goose chase after another Jesus than the one we've always proclaimed, and to receive a different spirit from the one we received, and to accept a different gospel from the one we've always accepted (cf. 2 Corinthians 11:4).
BACK TO POST 4 – See Rob Bell Defending Love Wins Mythology.
See also:
JAY BAKKER CRITIQUES KEN SILVA AT RELIGION DISPATCHES
THE SIN OF HOMOSEXUALITY IS DIFFERENT
BIG TENT CHRISTIANITY IS A POSTMODERN PROGRESSIVE LIBERALISM
MYSTICISM AND POSTMODERNISM, THE EMERGING CHURCH, AND EVANGELICALISM
POSTMODERN MYTH AND SOME HOMEBREWED ROB BELL
MORE ON—THE gOD OF THE EMERGING CHURCH