By Ken Silva pastor-teacher on Jun 17, 2011 in AM Missives, Current Issues, Features, Word Faith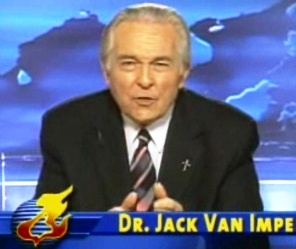 Apprising Ministries is a online apologetics and discernment labor in the Lord and part of my commission as pastor-teacher is to help make you aware of trends within the church visible.
I wish I had better news but as I survey the horizon I see a tsunami of apostasy on the way; in large part because spiritually obtuse leaders within seriously squishy evanjellyfish didn't fight the neo-liberal cult operating in the Emerging Church, but rather, tragically they would embrace it.
Sadly, spiritual blindness continues to slowly spread across the lukewarm landscape of the visible Christian church—pushed along as it is by 1 Peter 4:17 judgments—leading to a real dearth of discernment within.
Into this vacuum have come all kinds of deceptions and false prophets, many of whom have been there all the time, eg. the brood of vipers on and associated with the Trnity Broadcasting Network, but were until now relegated to slithering along the shadows at the edge of evangelicalism.
Now however, through the foolishness of men like Purpose Driven Pope Rick Warren of the highly influential Saddleback Church, you need to realize that the TBN stable of Word Faith Heretics Like Creflo Dollar Draw Nearer To Evangelical Acceptance.
The way things are going, as the murkiness of the false philosophy of postmodernism and the embrace of critical-thinking skills numbing Contemplative Spirituality/Mysticism also spread, people will become even more tolerant of virtually any kind of spiritual snake oil salesmen.
Frankly, it wouldn't surpise me that in the near future even the following "wisdom" from Creflo Dollar wouldn't be cause for apostatizing evangelicals to awaken from their growing love of the self:
Now, you know, we're under the Blood of Jesus, so we can't shoot and stone people like we used to. All we have to do is repent and God will forgive us and take us where we need to be. But I can tell you, man, if it wasn't for the Blood, there'd be a whole lot of us being stoned and being in Hell right now over the tithe. But for ["if not for"?] the Blood of Jesus, we'd be doomed.

I mean, I thought about when we first built "The Dome," I wanted to put some of those little moving bars and give everybody a little card. They'd stick it in a little computer slot. If they were tithing, beautiful music would go off and, you know, [Creflo sings] "Welcome, welcome, welcome to the World Dome." [Congregation laughs.]

But…if they were non-tithers, the bar would lock up, the red and blue lights would start going, the siren would go off, and a voice would go out throughout the entire dome, "Crook, crook, crook, crook!" [Congregation laughs.] Security would go and apprehend them, and once we got them all together, we'd line them up in the front and pass out Uzis by the ushers and point our Uzis right at all those non-tithing members 'cause we want God to come to church, and at the count of three "Jesus"-es we'd shoot them all dead. And then we'd take them out the side door there, have a big hole, bury them, and then go ahead and have church and have the anointing. [Mostly silence in the congregation, but one or two still actually laugh.]

Aren't you glad we're under the Blood of Jesus? ["Yeah, yeah," from the congregation.] Because if we were not under the Blood of Jesus, I would certainly try it. Folks, this is a serious thing. (Online source)
It's against this backdrop I bring to your attention this important breaking story concerning Jack Van Impe and TBN. Please understand that this is not to be construed as an endorsement in any way of Van Impe or the sources which I cite below.
We begin with Van Impe ministry abandons TBN in clash over Islam where Bob Unruh of World Net Daily reports:
A Christian ministry's decision to expose as "false teachers" several  celebrity ministers it believes are corrupting biblical teachings has prompted a  rift, with Jack Van Impe Ministries  dropping plans to work in the future with  Trinity Broadcasting Network, where it has broadcast for more than two decades.

"I Will Not Be Silenced! I will not allow anyone to tell me what I can and  cannot preach," Van Impe said in a statement when TBN would not allow his  program to air. (Online source)
Then in Van Impe Censored by the Trinity Broadcasting Network Over 'Demonic Interfaith' and Apostasy Accusations By God Discussion Reporter we're told:
Jack Van Impe, who focuses on end times preaching, has parted ways with the Trinity Broadcasting Network over his characterization of "apostate" ministers who embrace what he calls "Chrislam."

"Chrislam" is an interfaith outreach.  Van Impe accused Rick Warren (author of "The Purpose Driven Life") of Saddleback Church and Robert Schuller of the Crystal Cathedral of practicing apostasy due to their outreach to Muslims. (Online source)
An odd irony in all of this is that, in the first place, the Word Faith movement's TBN itself is nearly entirely comprised of—as well as heavily promotes—apostate ministers such as Creflo Dollar and his mentor Kenneth Copeland. AM has recently been discussing Chrislam in The Rise Of Chrislam and Explaining Chrislam.
That said, as of this wriitng, the lastest update dated June 15, 2011 (click to enlarge) at the Jack Van Impe website is below:
Ken Vancil, Executive Director of Jack Van Impe Ministries, tells us that:
we have cancelled our program on the Trinity Broadcasting Network, effective Friday, June 10, 2011. Late on Monday afternoon, June 13, 2011, I received a voice mail message from Paul Crouch, Sr. stating that he had reinstated our program for this week (Airing a program from April 2nd, not the latest program from June 6th) and his desire to talk with Dr. Van Impe.

In a conversation with Dr. Crouch later that evening, I told him that I had left a message on Dr. Van Impe's phone regarding his call… In our conversation Dr. Crouch again cautioned me regarding Dr. Van Impe's naming of names and publically rebuking ministers and their teachings.

After much time in prayer the Van Impe's determined that we could not come back to TBN. We would not be able to minister effectively if we had to look over our shoulder wondering if a program was going to be censored because of mentioning a name.

This was not an easy decision; we have had a relationship with TBN for 23 years. While there is hurt over this incident, we hold no animosity towards TBN. Dr. Van Impe has often expressed his appreciation to Paul and Jan and all that they have accomplished in broadcasting to the world. (Online source)
I will say that it is admirable Jack Van Impe wants to stand against Chrislam, which is truly an unbiblical attempt at synthesizing the false religion of Islam with the Christian faith. I can also tell you that this kind of syncretism is near and dear to the corrupt heart of the Emergent Church aka the Emerging Church.
However, because his discernment is so off that Van Impe would express "his appreciation" for obvious false prophets like Paul and Jan Crouch, lauding their exposure of Word Faith heretics as something noble to "have accomplished," is more than enough reason for me to encourage you to turn away from Jack Van Impe.
See also:
JIM WALLIS AND SOJOURNERS MAKING MUSLIM-CHRISTIANS
IS SHANE CLAIBORNE A CHRISTIAN-MUSLIM?
EVANGELICAL IMAMS WOOING ISLAM
INSIDE EDITION EXPOSES WORD FAITH PREACHERS LIKE KENNETH COPELAND
KENNETH HAGIN AND KENNETH COPELAND: DO REGENERATED CHRISTIANS REALLY TEACH JESUS CHRIST IS A "BORN AGAIN MAN"?