By Ken Silva pastor-teacher on Mar 3, 2011 in Current Issues, Emergence Christianity, Emergent Church, Features, Rob Bell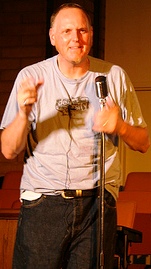 A main focus of this particular online apologetics and discernment work here at Apprising Ministries, has been monitoring and exposing of the Emerging Church,  now upgraded to 2.0 with its newer, more clearly delineated, postmodern Progressive Christian theology.
This new, and not improved, progressive/liberal theology—a Liberalism 2.0—is what this sinfully ecumenical neo-liberal cult of the Emergent Church will often refer to under their circus "big tent" as Emergence Christianity. 
You're likely aware of leaders within this EC—seeker driven for the "counter-culture"—movement like the Emerging Church trinity of apostates, Living Spiritual Teacher and EC guru Brian McLaren, universalist Emerging Church pastor Doug Pagitt, and his friend Tony Jones, the progressive "theologian in residence" at Solomon's Porch. Having been embraced by spiritually obtuse evangelicals, false teachers such as these have long been teaching counterfeit forms of Christianity to young mainstream evangelicals.
EC rock star pastor Rob Bell likes to deny he's with them; but I say, paraphrasing an old adage: If his doctrine looks Emergent, and it does; if it acts like Emergent, and it does; and if it sounds like Emergent, and it does…then it's as just as Emergent as one of his favorite contemplative mentors Living Spiritual Teacher and Roman Catholic mystic Richard Rohr who, like most mystics eventually are deceived to believe, is a Christian Universalist.
This Rob Bell And Universalism is what has started a real firestorm as people began discussing a promotional video for Bell's upcoming book, which Al Mohler astutely likened to a theological striptease. I can tell you that this is about the first time I've seen so many in the Emerging Church coming to the defense of one of their own.
For example, Bell's friend Doug Pagitt—who's told us universalism is too small for him—would tweet yesterday:
The link takes us to Can we overstate the Love of God? Unfortunately Pagitt's asking the wrong question; what needs to be asked is: Can we overemphasize the love of God? You see, this is the heart of the matter; and the answer is, absolutely yes. The original liberals managed to create the mush god, and now these postmodern neo-liberals are falling into the exact same trap. Pagitt then goes on to say:
For I am convinced that neither death nor life, neither angels nor demons, neither the present nor the future, nor any powers, neither height nor depth, nor anything else in all creation, will be able to separate us from the love of God that is in Christ Jesus our Lord. (Online source) 
Of course this is actually quoting Romans 8:38-39; however, Pagitt apparently doesn't see that there is a condition for someone to experience the love of God being discussed there, one must be in Christ Jesus our Lord—this promise is only for the Body of Christ, the invisible Church. As professing Christian pastors Pagitt and Bell should know this; they have no business lying to people and promising the unregenerate they are in right standing before God.
The Bible is clear:
Whoever believes in him is not condemned, but whoever does not believe is condemned already, because he has not believed in the name of the only Son of God… Whoever believes in the Son has eternal life; whoever does not obey the Son shall not see life, but the wrath of God remains on him. (John 3:18, 36)
In closing this, for now, Dr. John MacArthur sets the record straight and offers the Good News of repentance and forgiveness of sins in Jesus' Name:
The relationship of mercy and justice is a confusing one because on the surface they seem the exact opposite. Justice gives exactly what is deserved; mercy gives less punishment and more help than is deserved. So the great question is: How can God be both just and merciful at the same time? The truth is God does not show mercy without punishing sin. For Him to offer mercy without punishment would negate His justice.

Mercy that ignores sin is a false mercy and is all too common today. Some think it is unloving and unkind to hold people responsible for their sins. That is what is known as cheap grace—which is neither merciful nor just, nor does it offer punishment or pardon for sin. Because it overlooks sin, it leaves sin untouched and unforgiven. The one who relies on this sort of mercy is left in his sin.

The good news of the gospel, however, is that Christ paid the penalty for all sins so that God might be merciful to all sinners. On the cross Jesus satisfied God's justice. And when a person trusts in His sacrifice, God opens the floodgates of His mercy. God did not gloss over sin and compromise justice. The good news is that in the shedding of Christ's blood, He satisfied His justice, forgave sin, fulfilled righteousness, and made His mercy available.

There is never an excuse for sin, but there is always a remedy.[1]
________________________________________________________________________________
End notes:
[1] John MacArthur, Daily Readings From the Life of Christ [Chicago: Moody, 2008], March 2.
See also:
DOUG PAGITT, THE EMERGING CHURCH, AND AFFIRMING HOMOSEXUALITY
DOUG PAGITT EXCITED ABOUT INTERFAITH POWWOWS AT SOLOMON'S PORCH