By Ken Silva pastor-teacher on Feb 3, 2011 in AM Missives, Current Issues, Emergence Christianity, Emergent Church, Features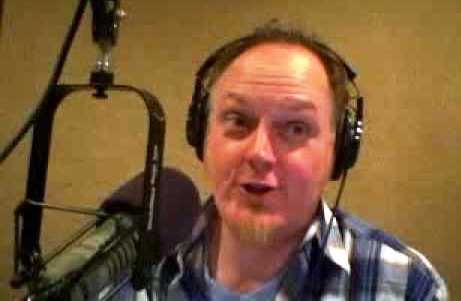 The online apologetics and discernment work Apprising Ministries has been documenting the growing falling away of the mainstream evangelical community; and I've warned you that there is a tsunami of apostasy—pushed along by 1 Peter 4:17 judgments—headed toward the church visible.  
Not a few of these judgments have come through evanjellyfish's foolish embrace of the sinfully ecumenical Emergent Church, headed by the unholy trinity of apostates, Living Spiritual Teacher and EC guru Brian McLaren, universalist Emerging Church pastor Doug Pagitt, and his friend Tony Jones, the progressive "theologian in residence" at Solomon's Porch. 
And speaking of Solomon's Porch, its chief spiritual director Pagitt tweets today:
The link takes us to the You Tube clip below, which in part we have because Fuller Seminary Sponsors Emerging Church Heretic Doug Pagitt; such is the growing syncretism within rapidly apostatizing evangelicalism. As you'll see Pagitt's excited that tonight the "Holistic, Missional, Christian Community" Solomon's Porch kicks off its new "Thursday Torah Teaching with Rabi Joseph Eidelheidt [sic]"[1] series at something called "Solomon's Porch Gathering Space." FYI, the wine and food requires a donation but "Torah Teaching (Free)." If you didn't know, Rabbi Joseph Eidelheit (w/Pagitt below) refers to himself as the "Rebel Rabbi" and has been serving as Director Religious and Jewish Studies at St Cloud State University.[2]
Under the oxymoronic subheading A Return to Tradition—and a Woman Rabbi we're told that Edelheit was formerly with TEMPLE ISRAEL, Minneapolis (TIM):
Overseeing the festivities now at TIM is "Rabbi" Marcia A. Zimmerman, "the first woman Senior Rabbi of a congregation of over 2,000 families."[3] Between having a woman leader and Eidelheit's interfaith shtick we can see TIM's already headed off the rails by orthodox Jewish standards. But Eidelheit's no stranger to the Emerging Church of universalist Doug Pagitt as we can see when his progressive/liberal theologian in residence Tony Jones, "an adjunct professor at Fuller Theological Seminary," invited us to watch the Rebel Rabbi Eidelheit lead the sermon with him at Solomon's Porch a couple of Sundays ago:
After a lively discussion concerning Pagitt's tanning proclivities, in the video below, we're told by Pagitt that in his obstensibly Christian church the Jewish Rabbi Edelheit will be the one "leading" these teachings from the Torah, which is the first five books of the Old Testament; but says Edelheit, that's "another conversation." Then he informs us that because of his "ongoing relationship" with Pagitt:
I think, we could be the first ever to have a weekly inter-faith Thursday night that prepares Jews for the Friday-Saturday Torah reading, and will get Christians ready for understanding an element of Scripture that their Jewish brothers and sisters— (2:40-3:5)
Unfortunately Edelheit doesn't finish his thought concerning Pagitt's "Jewish brothers and sisters" so we're left to guess Edelheit dreams that he can get Christians to come to understand what this part of the Bible really means; after-all Edelheit isn't a Jewish Rabbi because he has been regenerated by God's grace alone, through faith alone, in the finished work on the Cross of Christ alone. As you'll also hear in the video Pagitt and Edelheit proudly announce that these interfaith/interspiritual powwows at Solomon's Porch are not "evangelistic." Perhaps they've found a better way than the inspired Apostle Paul because God the Holy Spirit told us:
he reasoned in the synagogue every Sabbath, and tried to persuade Jews and Greeks. When Silas and Timothy arrived from Macedonia, Paul was occupied with the word, testifying to the Jews that the Christ was Jesus. And when they opposed and reviled him, he shook out his garments and said to them, "Your blood be on your own heads! I am innocent. From now on I will go to the Gentiles." (Acts 18:4-6)
Yeah, being among actual ambassadors for Christ as we're imploring people on behalf of Christ, be reconciled to God (cf. 2 Corinthians 5:20) tends to put a damper on that whole insterspiritual adultery thing. Leaving the postmodern Wonderland, in the real world the Christian—having been called out of darkness (cf. 1 Peter 2:9) and transferred us to the kingdom of his beloved Son (cf. Colossians 1:13) Christ Jesus, has no Jewish brothers and sisters. Ah, but for men like Doug Pagitt the Scriptures only get in the way; you might recall that e.g. in Remembering The Awful Reality Of Hell I told you that Tony Jones, along with his friend Dr. Philip Clayton of the Transforming Theology network, continue cobbling together the new postmodern version of Progressive Christian theology—aka "big tent" Emergence Christianity—now being spread by the upgraded Emerging Church 2.0.
As I've been showing you just some of what makes up its spiritually bankrupt theology, as well as looking at a few of the spurious sources this Liberalism 2.0 is drawing from, you should be able to see why it is they're so interested in "finding our God in the other" faith traditions.[4] The reason is simple; here, I'll show you from Pagitt's own words. The following is from a transcript of an interview Doug Pagitt gave to Todd Friel; when Friel asked Pagitt about how God will deal with a practicing Muslim when he dies Pagitt reveals his own universalism:
there's going to be no difference between the way God going to interact with you when you die and the way God's going to interact with a Muslim when a Muslim dies…  the way God's going to interact with you is the same way that God's going to interact with everybody. The same experience of all of humanity. God will… God will interact with all of humanity in judgment the same, no matter who you are, or what your parents have taught you, or what you believe. (Online source)
O yes, it plays quite well for the pouty postmodern people-pleasers; but it isn't Christian theology, which begs the question: Why are Christians listening to fools in the Emerging Church like Doug Pagitt when they epitomise the following — To the teaching and to the testimony! If they will not speak according to this word, it is because they have no dawn (Isaiah 8:20). And lest you think I'm being too hard on Doug Pagitt, I'm only doing what he asked me to:
________________________________________________________________________________
Endnotes: 
[1] http://tiny.cc/g4rzj, accessed 2/3/11.
[2] http://tiny.cc/6dslo, accessed 2/3/11.
[3] http://www.templeisrael.com/about_us_clergy.htm, accessed 2/3/11.
[4] http://tiny.cc/6fc0b, accessed 2/3/11
See also:
THE NEW DOWNGRADE AND ITS APOSTLES OF UNBELIEF
DOUG PAGITT, THE EMERGING CHURCH, AND AFFIRMING HOMOSEXUALITY
MENTAL OFF-ROADING RADIO WITH DOUG PAGITT AND MICHAEL DOWD
DOUG PAGITT EXCITED ABOUT EVENTS THROUGH THE LENS OF THE ENNEAGRAM