By Ken Silva pastor-teacher on Feb 5, 2011 in AM Missives, Apologetics, Current Issues, Emergence Christianity, Emergent Church, Features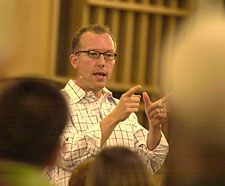 Apprising Ministries is doing what we can to help you understand that theological poison is, right now, seeping into the veins of the mainstream evangelical camp because of its tragic mistake of embracing the upgraded sinfully ecumenical neo-liberal cult of the Emergent Church aka the Emerging Church with its postmodern Progressive Christian theology—a Liberalism 2.0—that they often refer to as "big tent" Emergence Christianity.
One would be hard-pressed to show others who have done more harm to the advance of the Christian faith than the unholy Emergent Church trinity of apostates, Living Spiritual Teacher and EC guru Brian McLaren, universalist Emerging Church pastor Doug Pagitt, and his friend Tony Jones, the progressive "theologian in residence" at Solomon's Porch. Truly a "conversation" the church visible would have been infinately better to have never listened to.
Now Tony Jones tells us in his lastest post of mythology, I Don't Believe in Demons; then he gives a crystal clear demonstration that one need not believe in demons to depart from the faith by devoting themselves to deceitful spirits and teachings of demons (1 Timothy 4:1):
As I've been writing the posts exploring the possibility of Christian universalism, it's become clear to me once again that I have a pretty different worldview from Jesus.  Had I lived in his time, I'm quite sure that our worldviews would have been more similar, but a lot of water has passed over the dam since Jesus' day, and it's sometimes difficult to build a bridge back there.

I also — no surprise here — hold a different worldview than some of this blog's readers.  Like about demons, for instance.  I mentioned in yesterday's post that most of us would see schizophrenia where Jesus saw a legion of demons.  That discomfited a couple readers, and caused a couple more to shout, "Heresy!" (Online source)
Ya think? Forget demonology; Tony Jones just demonstrated amazing arrogance denying the Master (cf. 2 Peter 2:1) trying to tell us Christ Jesus of Nazareth was wrong about the universe and the spirit world. Then again, we're not surprised because we already know Tony Jones Of The Emergent Church Says: "The Bible Is An F***king Scary Book". Well, considering Jones' rancid fruit, and how many youth he's helped make shipwreck of their faith (cf. 1 Timothy 1:19), he doesn't even know the half of it. Jesus said:
to his disciples, "Temptations to sin are sure to come, but woe to the one through whom they come! It would be better for him if a millstone were hung around his neck and he were cast into the sea than that he should cause one of these little ones to sin.
(Luke 17:1-2)
Leaving aside Christian universalism, which is precisely what these vipers in the Emerging Church are peaching in their spiritual circus, Jones actually tells us that he isn't even a Christian as he says, "I have a pretty different worldview from Jesus." How can a disciple of Jesus Christ have a diffrent worldview than his Master? Answer: He can't. No one has any business claiming to follow Jesus and then not share the same views as Christ concerning God's Word. The Bible clearly says Jesus of Nazareth, the Christ of God, is the very Creator of the world. i.e. cosmos:
In the beginning was the Word, and the Word was with God, and the Word was God. He was in the beginning with God. All things were made through him, and without him was not any thing made that was made. (John 1:1-3)
Did you catch that; all things, an all-inclusive statement, nothing in the entire cosmos came into being apart from Jesus Christ. It's rather poor reasoning on the part of Tony Jones to try and convince us that He Who created the material and spirit worlds would not know everything about them. However, this is what happens when one kicks out sola Scriptura in favor of sola feelings-a. Let me focus your attention on the phrase in the beginning above because God the Holy Spirit moved His inspired Apostle to use that for a very good reason.
It should sound familiar because it's also the very first words of Holy Scripture; verse one of the Book of Genesis — In the beginning. And this is what the word Greek word genesis means — beginning. Genesis 1:1 — In the beginning God created the heavens and the earth. I want to point out to you that the Hebrew here for In the beginning — bereshith – means "before anything came into existence." And so, God already was. So, with this in mind, we turn back to John 1:1.
New Testament translator Dr. Edwin Blum is correct when he says:
[John's Gospel] begins…as if the Apostle had said, "I want you to consider Jesus in His teachings and deeds. But you will not understand the Good News of Jesus in its fullest sense unless you view Him from this point of view. Jesus is God [Himself] manifest in human] flesh, and His Words and Deeds are those of the God-Man."
You should now see a very interesting parallel to the opening words of the Book of Genesis as we look closer at John 1:1 — In the beginning was the Word. En arche en ho Logos. Literally in the Greek this passage means — "Before anything ever was; the Word already was." And of course we know that the Word mentioned here is Jesus of Nazareth, Whom we refer to at times as the living Word of God. The Greek word Logos is used here for "Word"; and it essentially means, "speaking a message," as in a "word" spoken that reveals something.
In this case you can see why John chose to use it; as the Man, Jesus, the Carpenter from Nazareth, is the very revelation of the Creator God—Who has now become a Man and has walked into His Own Creation! The term Logos was actually quite common to John's first century readers and would easily have been understood by anyone reading this Book at the time it was originally written. This would be expected as John was himself a fisherman by trade; a "common" man so to speak.
It makes sense then, since Jesus didn't choose any "scholars" among His disciples–but rather selected "everyday" people–so that for the most part the writings in the New Testament don't really require a doctorate in theology to be understood. The meaning is obvious to anyone who wants to see, and who wants to hear God. And so we are left to contemplate, what exactly does this tell us about Fuller Theological Seminary Professor Tony Jones. I'd say it's worth meditating upon.
See also:
TONY JONES AND CHRISTIAN UNIVERSALISM
TONY JONES, THE EMERGING CHURCH AND PROGRESSIVE CHRISTIANITY
DOUG PAGITT EXCITED ABOUT INTERFAITH POWWOWS AT SOLOMON'S PORCH
DOUG PAGITT, THE EMERGING CHURCH, AND AFFIRMING HOMOSEXUALITY
DOUG PAGITT AND CHRISTIAN UNIVERSALISM
ROB BELL AND CHRISTIAN UNIVERSALISM